Tottenham's 'animal' energy makes them league's best, says Quique Sanchez Flores
The Watford manager saw his side lose narrowly at White Hart Lane on Saturday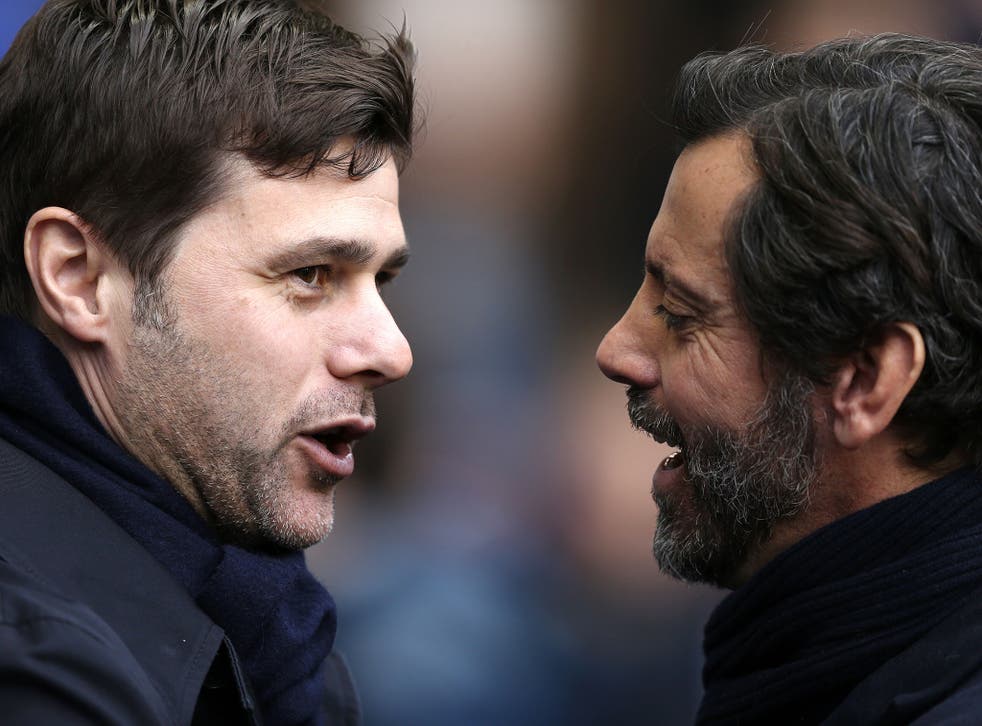 Watford's manager, Quique Sanchez Flores, describes facing Tottenham Hotspur as like playing "animals" because of how relentlessly they press, and believes they are the best team in the Premier League.
Spurs beat Watford 1-0 at White Hart Lane on Saturday thanks to a 64th-minute Kieran Trippier goal, but the scoreline could have been much bigger after what the Tottenham manager, Mauricio Pochettino, felt was one of his team's finest displays of the season.
The victory moved Spurs into second place in the table, five points behind Leicester City, and led to talk of the title. Flores has no doubt about Tottenham's quality, having said after the game that Pochettino's side "have everything" necessary to win the league.
"For me, it's the best [team we've played]," the Watford manager said. "We play twice against [Manchester] City, twice against Tottenham, twice against Chelsea, and I think this is the more complete team.
"It was impossible... we try to train a lot, and try to take care [of] a lot what happens in transition. We know perfectly what we want to do when we [recover] the ball, we try to play, but it was impossible. It was impossible because they are like animals there, trying to beat and [recover] the ball as quick as possible.
"You need high velocity in thinking and playing, and it was impossible today.
"They [the Watford players] know that we were playing against an amazing team. They recognise that this may be the best team we play this season. When you are on the pitch and the level of the other team is better than you, the most important thing is to recognise it.
"We tried to survive. We had an option till the end because at 1-0 everything is possible in football, but that was the only good news for us."
Pochettino, meanwhile, feels his side are "different" from the historic perception of Spurs as a flaky team, and that they have shown they have a "winning mentality".
He said: "I think we are different people now. It is difficult to explain but we live in the present and the group of players and the staff and the club and the president and the supporters believe we are strong and we can compete in different competitions and we can win every game – and this is important."
"Tottenham have great supporters, staff [and] players and we show we have a winning mentality today. I think that to speak about the past is not fair because from the beginning of the season we show with our supporters we can get success from the season."
He also believes Tottenham can beat Manchester City at the Etihad on Sunday, and that this 1-0 over Watford win actually rivalled September's 4-1 thrashing of Manuel Pellegrini's side in terms of performance.
"Always [confident], always," he said. "Because you need to translate the belief in your players, make the players feel that you believe. And then it's football, you can win, you can lose, but you need to believe and now we need to prepare for the next game and ensure that we can be ready.
"Manchester City 4-1, yes, one of the best games. I think today was one of the best games. Maybe only 1-0 but I think if we analyse the game we play very well."
Register for free to continue reading
Registration is a free and easy way to support our truly independent journalism
By registering, you will also enjoy limited access to Premium articles, exclusive newsletters, commenting, and virtual events with our leading journalists
Already have an account? sign in
Register for free to continue reading
Registration is a free and easy way to support our truly independent journalism
By registering, you will also enjoy limited access to Premium articles, exclusive newsletters, commenting, and virtual events with our leading journalists
Already have an account? sign in
Join our new commenting forum
Join thought-provoking conversations, follow other Independent readers and see their replies