Multi-talented Dele Alli could play as Tottenham's goalkeeper, jokes Mauricio Pochettino
'Anything is possible' for the 20-year-old, says Pochettino, after he helped Spurs to an ugly win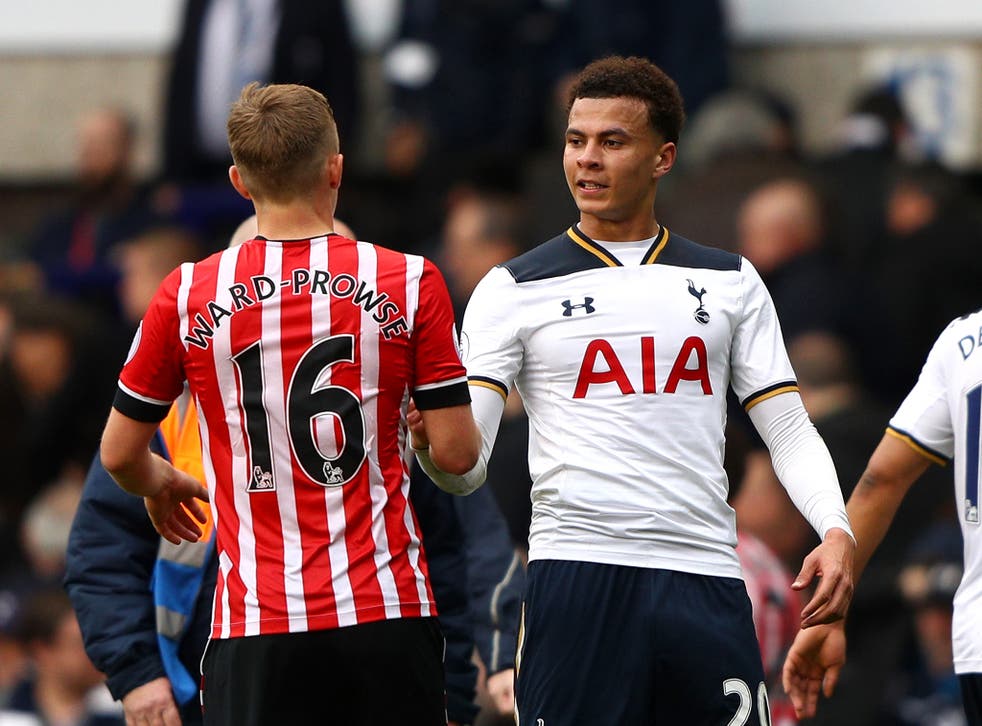 Mauricio Pochettino joked that Dele Alli could end up playing in defence or even in goal after the 20-year-old midfielder scored his 15th Premier League goal of a remarkable season today.
Alli's first half penalty helped Spurs to a crucial 2-1 Premier League win, their first league game since Harry Kane injured his ankle last Sunday. Alli has been playing higher up the pitch this season in a system that is almost 3-5-2. Today he almost led the line for Tottenham, winning the penalty which he then converted to double Spurs' lead.
It is a remarkable evolution for Alli who spent more of last season playing either as a number 10 or from the left of Pochettino's 4-2-3-1 system. But Pochettino said that he had seen Alli flourish in holding midfield at the age of 18 for MK Dons, showing how versatile the England international is. The Spurs manager even joked he could imagine moving Alli all the way around the pitch if he had to.

"I watched him when he was 18 years old at Milton Keynes as a holding midfielder against Manchester United," referring to MK Dons' famous 4-0 win in the League Cup back in August 2014. "He always surprises me. Maybe one day he plays as a goalkeeper, full-back or centre back. Dele Alli can always surprise you. He has an unbelievable personality and character. Anything is possible for him."
Pochettino said that Alli's intelligence meant that he could play more than one role. "He likes to run to the box and is very offensive," Pochettino said. "He is very clever into the box. Into the box he looks like a striker because he is more than clever, he is very smart. Outside the box, he plays like a midfielder."
While Pochettino was thrilled with how Spurs won ugly, Southampton manager Claude Puel was frustrated with the refereeing decisions, saying it was "difficult to accept" the penalty decision when Alli was brought down by Steven Davis in the first half.
"It is the same," Puel said of a decision Southampton did not get. "If the referee gives a penalty for the first then he needed to give penalty for us. I cannot see the difference."
Puel was also frustrated that, just before the second Spurs goal, Shane Long could not come on as a substitute to replace the injured Manolo Gabbiadini, even though Gabbiadini had already gone off the field. "Manolo stayed on the pitch for a long time and Shane was ready to play," Puel said. "It was not possible, I don't know why. Shane was ready and could play." Gabbiadini will now miss Italy's games this international break because of his groin injury.
Overall Puel was impressed by Saints' performance in defeat. "It was a strange game," Puel said. "In the first half, without a lot of pressure, we lost two goals. It is dfficult to accept the second goal. The second half was better, interesting because we recovered well. We did not find a clinical edge to finish the situation."
Register for free to continue reading
Registration is a free and easy way to support our truly independent journalism
By registering, you will also enjoy limited access to Premium articles, exclusive newsletters, commenting, and virtual events with our leading journalists
Already have an account? sign in
Register for free to continue reading
Registration is a free and easy way to support our truly independent journalism
By registering, you will also enjoy limited access to Premium articles, exclusive newsletters, commenting, and virtual events with our leading journalists
Already have an account? sign in
Join our new commenting forum
Join thought-provoking conversations, follow other Independent readers and see their replies