Mauricio Pochettino believes trusting Eric Dier as a midfielder was the biggest gamble of his Tottenham career
The 23-year-old was signed as a defender but quickly given a chance further up the field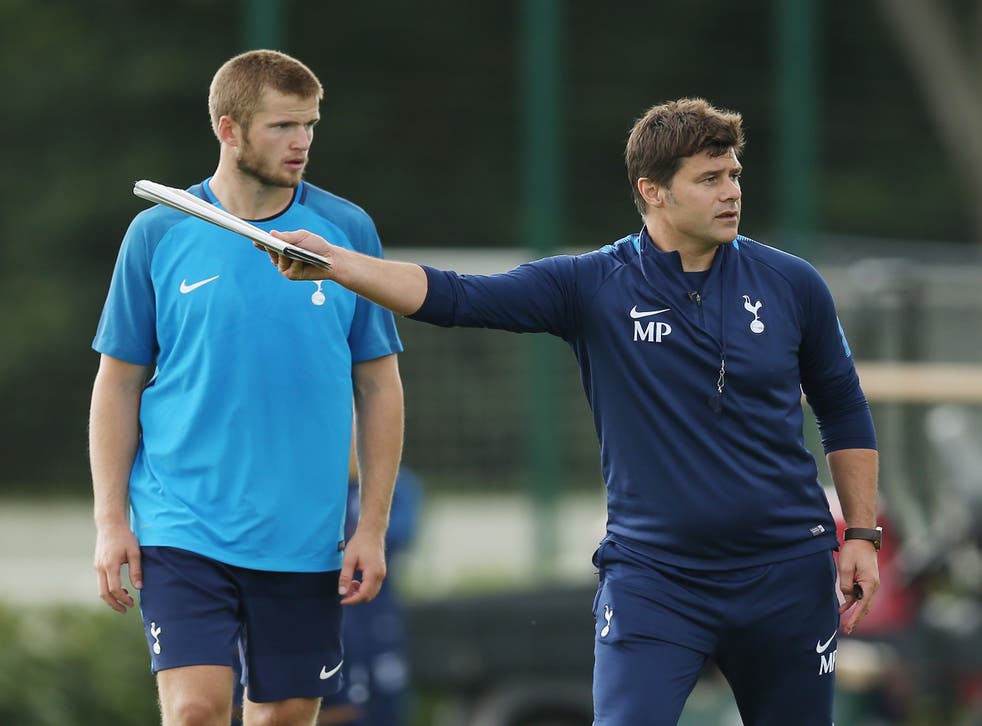 Mauricio Pochettino has revealed his decision to put complete faith in Eric Dier's midfield qualities was the biggest gamble of his Tottenham Hotspur career so far.
The Argentine also quashed rumours that the England international was set for a £50m summer move to Manchester United by insisting he was not told about any bids.
Dier was signed originally as a defender but has been able to play simultaneously in midfield, so much so that Pochettino decided to prioritise transfers in other areas.
Tottenham's new stadium: Now and in the future

Show all 22
Now three years on from his goalscoring debut against West Ham United, Pochettino has heaped praise on the 23-year-old as his side prepare to meet their London rivals again on Saturday.
"Managers love a player like that in their squad," he said. "We are very proud of him.
"We signed him as a young centre back but we decided to give him the possibility to play in midfield when we signed Toby Alderweireld.
"The club decision was to sign another midfielder or give that possibility to Eric. It is true we found a way for him to play comfortable on the pitch - without possession to play like a third centre back dropping his position between Toby and Jan [Vertonghen] and in possession to move in front, playing with Ryan Mason or Mousa Dembele and try to be a midfielder.
"We took a big risk not signing another midfielder and it was fantastic. He deserved all the praise and our decision paid off to be brave and give him the possibility to play in a club like Tottenham when you fight for big things.
"We feel very proud of his last three seasons with us because I think he achieved many, many more things than he expected.
"In football you must take risks if you want to win. When you have your philosophy and you are brave and you trust, you keep going forward and move on."
Pochettino moved to assure fans that a summer switch to Old Trafford was never likely.
"I am a bit away from all that happens," he said. "The only thing I have is the final decision when we sign or sell players.
"Daniel Levy says when we have an offer but I am always involved in the end of the negotiation. Did I have a decision to make with Eric? No."
Meanwhile Tottenham will continue to assess midfielder Mousa Dembele's persistent foot problem with Pochettino all too aware of his value to the side.
"He is such an important player for us," said the Argentine. "I think it is so important to manage properly, it is the key, to keep him fit and try to provide all the quality that he has to the team.
"We have a very good communication with doctor, physio, sports science, coaching staff to try to help him. To help him is to help the team.
"He is a player who I have told you many, many times that, for me, he is one of the geniuses that I have met in football."
Register for free to continue reading
Registration is a free and easy way to support our truly independent journalism
By registering, you will also enjoy limited access to Premium articles, exclusive newsletters, commenting, and virtual events with our leading journalists
Already have an account? sign in
Join our new commenting forum
Join thought-provoking conversations, follow other Independent readers and see their replies