Tottenham's new chief scout Steve Hitchen helped Liverpool sign Luis Suarez to continue Spurs reconstruction
Hitchen was instrumental in the January 2011 signing of the Uruguayan striker who went on to change football history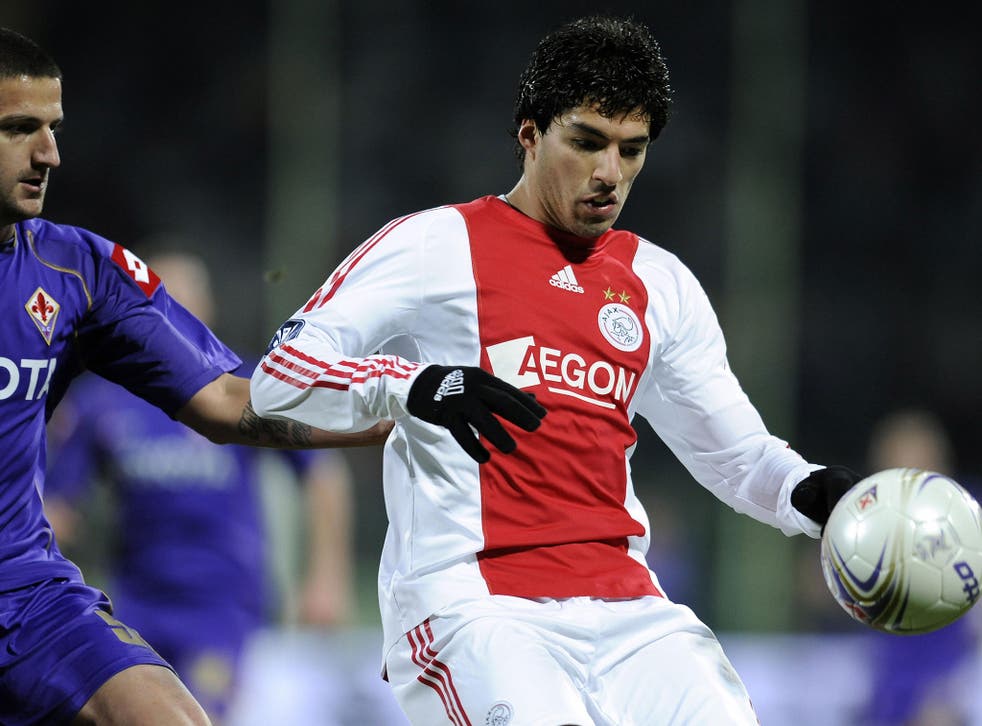 Tottenham Hotspur's new chief scout Steve Hitchen was the most important man in one of the most important signings in English football this century.
When Hitchen worked for Liverpool in 2011 he masterminded the signing of Luis Suarez from Ajax for £23m. Suarez scored 82 goals for Liverpool and nearly delivered the 2013-14 Premier League title, winning both PFA and FWA player of the year awards, before leaving for Barcelona for £65m.
It all started in the mid-2000s when Hitchen was in his first spell at Tottenham Hotspur, working as a part-time European scout based in France, a big part in the signings of Luka Modric, Younes Kaboul and Benoit Assou-Ekotto. Damien Comolli, who arrived as director of football in 2005, was impressed by Hitchen's knowledge, contacts and work-ethic. So Comolli gave Hitchen more responsibility and a more international role.
Hitchen saw a brilliant 19-year-old Suarez playing for Groningen in the 2006-07 season but after just one year there he was signed by Ajax. But Hitchen kept a close eye on the player as he started to impress at the biggest club in Holland.
In November 2010 two things happened. First, Comolli, who left Spurs in 2008, started a new job as Liverpool's director of football strategy, bringing Hitchen with him as part of his new scouting team. Then, during a match between Ajax and PSV Eindhoven, Suarez bit opponent Otman Bakkal on the shoulder.
Hitchen had followed Suarez's career very closely and during his seven-game ban Hitchen went to Amsterdam to watch him train. He reported back to Liverpool on Suarez's attitude and fitness during his enforced absence from the team. Crucially, Hitchen learned before anyone else that Ajax were putting Suarez up for sale in the January 2011 transfer window, giving Liverpool an advantage on every other team hoping to sign him.
"Steve was the main reason why we signed Suarez," Comolli told The Independent. "He knew Suarez very, very well from his time at Spurs. And he got the intel that Ajax had made Suarez available for transfer. Nobody else knew that. It gave us a head-start. That is typical of Steve."
What has always stood out to those who know Hitchen is his honesty in judging players, rather than sitting on the fence, as well as his ability to get information through his network. He was an expert in the French lower leagues very soon after moving there, despite not speaking the language.
"Steve is very dedicated and committed with a great work ethic," Comolli said. "He is incredibly well-connected and his network is very, very good. So he is the centre of a web of information. He is very popular in the scouting community, if you speak to scouts from anywhere in Europe, they all know Steve."
Hitchen started work at Spurs on Monday, leaving Derby County where he was joint director of recruitment, having previously worked for Queens Park Rangers. Hitchen returns to Spurs in a new chief scout role which is part of a major restructuring of how Tottenham sign players after a turbulent few months.
Paul Mitchell, the head of recruitment and analysis, handed in his resignation last August and is serving his notice period. Rob Mackenzie, who was head of player identification, left in August to join Derby, working alongside Hitchen for the last six months.
So Tottenham are building a new structure, with Hitchen filling the new chief scout role. He will report to the three-man football committee of chairman Daniel Levy, manager Mauricio Pochettino and academy manager John McDermott.
Pochettino confirmed that the appointment of Hitchen was "a club decision" which he was part of. Given how Spurs' title rivals all spend more money than Tottenham, Pochettino said that they must continue to be "creative" with their recruitment under Hitchen.
"Recruitment is always important," Pochettino said. "We have talked a lot about that with Daniel. We are in a position where it is difficult to compete with the big clubs that in the last five to ten years have invested a lot of money every season. That is why we need to be creative, smart and clever. Not too clever because when you try to be too clever it's not good. But it's important to be creative."
Register for free to continue reading
Registration is a free and easy way to support our truly independent journalism
By registering, you will also enjoy limited access to Premium articles, exclusive newsletters, commenting, and virtual events with our leading journalists
Already have an account? sign in
Register for free to continue reading
Registration is a free and easy way to support our truly independent journalism
By registering, you will also enjoy limited access to Premium articles, exclusive newsletters, commenting, and virtual events with our leading journalists
Already have an account? sign in
Join our new commenting forum
Join thought-provoking conversations, follow other Independent readers and see their replies