Tottenham to smash pay scale with £150,000-a-week contract in attempt to tie Gareth Bale to club
No possibility of forward being sold as Tottenham ready to offer over £150k per week on a longer contract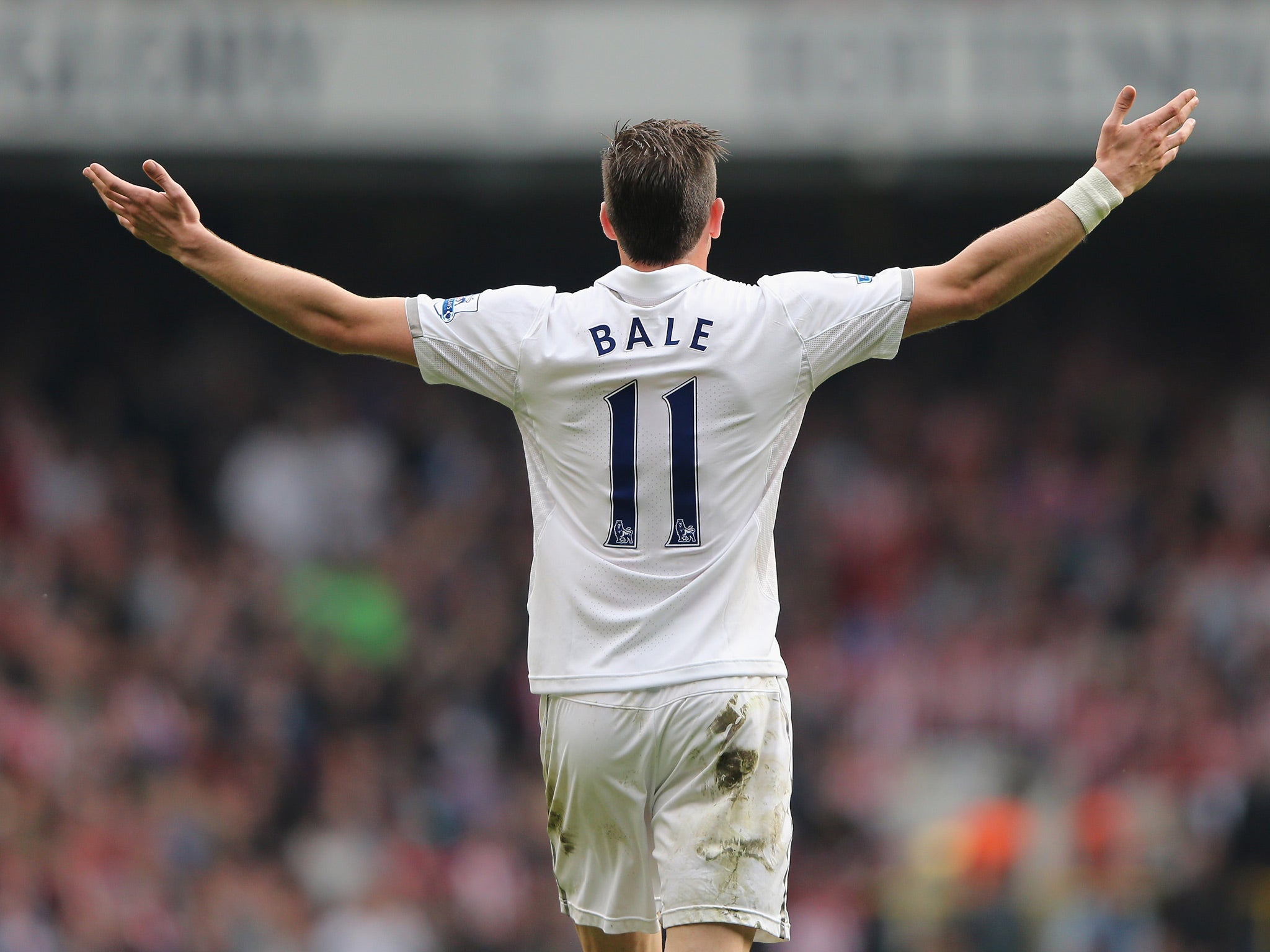 Gareth Bale will be offered the opportunity to sign yet another lucrative contract at Tottenham Hotspur this summer, in excess of £150,000 a week, or stay on his existing deal and be sold next year – but he has been told by the club that there is no prospect of him leaving this summer.
The 23-year-old and his advisers are currently pondering their next move, with Spurs prepared to offer him his sixth contract in six years at the club, and this one breaking further ground. Bale is already Spurs' highest-ever earner on £100,000 a week and any new deal would reflect his status as the pre-eminent player in the league, having swept the board in the major awards this season.
Negotiations could be pitched as high as £200,000 a week, putting him in a bracket with the highest-paid players in the Premier League, but the reality is likely to be a deal somewhere between £150,000 and £175,000 a week – far in excess of anything his team-mates earn.
The club's failure to qualify for the Champions League again this season has not changed the attitude of the Spurs chairman, Daniel Levy, towards his star player. There is no chance that he will be sold this summer, Bale has been told, and Levy's recent record on that front, especially with Luka Modric in the summer of 2011, has been consistent.
Levy has a close relationship with Bale and his representatives, Jonathan Barnett and David Manasseh, who, among others, represented the former club captain Ledley King. There is no tension in the negotiations but the fundamental question facing the player's camp is whether he wants to take the pay rise and sign a longer deal, but in doing so give greater control over his future to the club.
Bale currently has three years remaining on the deal that he signed in July last year. Were he to remain on that, the club would feel that they had no option but to sell him next year when he reaches the critical two-year cut-off point – a cornerstone of Levy's strict contract renegotiation policy. It would mean that the player could plan for a move next summer, with one of the big two clubs in Spain or Bayern Munich the most likely destination.
Nevertheless, the considerable improvement in a deal that goes over £150,000 is not to be ignored. Bale has the potential to be an extremely lucrative draw in the commercial market, with an Adidas deal of around £2m a year and a new endorsement with BT Sport. Were he to join Real Madrid or Barcelona he would have to give up as much as half those image rights, albeit it in return for another major salary rise.
Previously, Spurs' manager, Andre Villas-Boas, had said that securing Champions League football next season would be key to making sure that Bale stayed at Spurs. However, the club feel confident that in spite of them missing out on a Champions League place by a point to Arsenal for a second year running, there is no prospect of the player agitating for a move away this summer.
The Spurs midfielder Gylfi Sigurdsson has urged the club to keep hold of Bale, who scored 21 league goals this season, most of them decisive, and won the PFA Player and Young Player of the Year and FWA Footballer of the Year. Bale will be one of the best talents outside the Champions League next year but Sigurdsson would love to see him continue at Tottenham.
"It's very important," said Sigurdsson. "It's always very important when you keep good players and he is a fantastic player."
If Bale were to leave, Sigurdsson admitted he could not be replaced by just one player. "For us to push forward it would be fantastic if he stays but if he goes then I'm sure the club will get a lot of money for him and, hopefully, he will be replaced by a few players, because I don't think there will be one player that can replace him because he's been that good."
Not many players in the world could match Bale's remarkable displays for Tottenham this season. "There are only a couple of players that could replace him, if you're going to bring in one player, that's how good he was this season," Sigurdsson said. "He was very important for us. He's been here for a long time, he's happy and enjoying his football, so hopefully he will stay."
Join our commenting forum
Join thought-provoking conversations, follow other Independent readers and see their replies