Tottenham vs Chelsea match report: Dele Alli shines in memorable victory as Spurs halt Blues in their tracks
Tottenham Hotspur 2 Chelsea 0: Mauricio Pochettino's men put in a spirited and resilient performance to stop the visitors from securing a 14th consecutive league victory
Jack Pitt-Brooke
at White Hart Lane
Wednesday 04 January 2017 22:04 Comments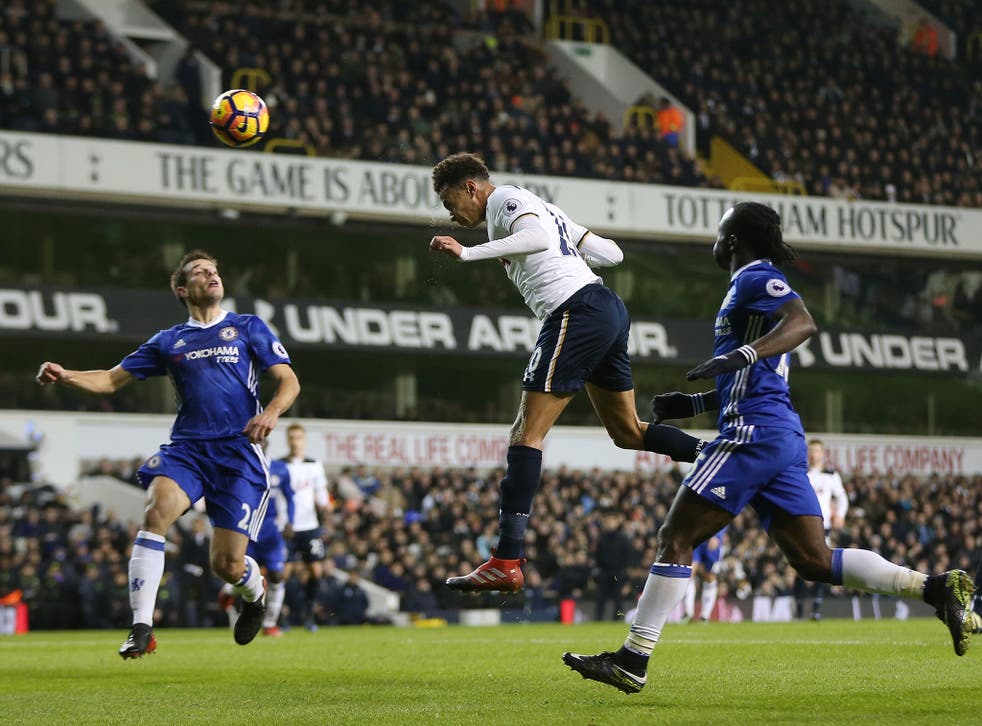 Chelsea will have to make do with sharing their place in the record books. Their historic 13-game winning streak ended last night, finally running into a juggernaut of another colour. Tottenham Hotspur did to Chelsea what Chelsea have done to everyone else since October. They beat them with tactics, with effort, with skill and, above all, with power. If this was a clash of two steamrollers then Spurs brought the latest model, achieving the same result as they did against Pep Guardiola's Manchester City three months ago.
The result leaves Chelsea five points clear of Liverpool and propels Spurs up to third, above City and Arsenal. Mauricio Pochettino's team are certainly playing far better than either of those much richer sides right now, and are now, for the first time this season, looking just like the team who should really have won the Premier League title last season.
This win had deep roots, all the way back in that dramatic collapse last spring. Eight months ago Chelsea gleefully sabotaged Tottenham's title run. This time Spurs took great pleasure in ending Chelsea's own history bid.
The two games had one shared start, as Spurs took a 2-0 lead, just as they did in the battle of Stamford Bridge. That day Spurs wilted under pressure, and lost their heads, which Pochettino blamed on their lack of maturity and experience. This time, Spurs kept their heads, the lead and the three points. There were no scuffles, no red cards and no violence. It was a good clean fight and one that Spurs won by a distance.
Spurs were the better team throughout, but won the game by scoring the same goal twice, just before half-time and just after. Kyle Walker passed to Christian Eriksen, who crossed to Dele Alli, galloping towards the far post, leaping, and heading past Thibaut Courtois. They were Alli's sixth and seventh goals in the last four games, an implausibly good run showing that, like his whole team, last season was not just a one-off.
Those two Alli goals were also a vindication for Pochettino, and his decision to stick with a 3-5-2 system in which Alli is essentially playing as a second striker behind Harry Kane. Pochettino sees Alli as his "wild horse" and wants to free him from defensive duties. He has been emphatically rewarded, as Alli's instinctive runs into the box and ruthless finishing make him almost impossible to stop.
From the start here it was clear that Spurs were sharper, fresher and stronger than Chelsea, even though they have had less rest recently. Pochettino's coaching tries to make his players peak at the right times and they are playing better football right now, with more speed and drive, than they have since Chelsea stuck a spanner in their works last year.
Mousa Dembele was untouchable in central midfield, with Victor Wanyama as his enforcer sat just behind. With Eriksen floating around as a third man they could out-number Nemanja Matic and Ngolo Kante in midfield, causing Chelsea problems that Conte did not know how to solve. Eriksen shot wide from distance, then broke free again, forcing Gary Cahill to bring him down and take the yellow. Eric Dier nearly scored from Danny Rose's free-kick.
Rose and Walker were dominating their counterparts in the wing-back areas, a double vindication for Pochettino making them his two most important players this year. Chelsea had to kick Rose to stop him and it was when Marcos Alonso could not get out to Walker that the opening goal came. He squared to Eriksen, who looked up and crossed, to where Alli had found space to run into and head back across goal.
This made it so surprising when, nine minutes into the second half, Chelsea conceded precisely the same goal a second time. Again, Walker on the right, free from Alonso. Again, Eriksen, floating in space. Again, Alli at the far post, between Moses and Azpilicueta. If this header was from closer range that was the only difference.
Chelsea had a brief flurry straight after half-time, when Hazard missed a close-range header and Moses went down in the box looking for a penalty. But that was as much as they could muster. It was clear when Spurs went 2-0 up that Chelsea had nothing left in the tank.
Conte tried to go for it, putting Willian on for Alonso, switching to an attacking 3-2-5. But Spurs could drop into a 5-4-1 easily enough, and when Harry Winks came on for Dembele they had even more control. Spurs managed to see the game out with remarkable ease, looking like a completely different side from the one that collapsed in tearful rage against Chelsea back in May. Lloris barely had a save to make and no-one watching this game in ignorance would have said that Chelsea were the presumed champions.
Of course they are allowed an off-day and are still title favourites. But why shouldn't another team in London have an eye on that trophy too?
Register for free to continue reading
Registration is a free and easy way to support our truly independent journalism
By registering, you will also enjoy limited access to Premium articles, exclusive newsletters, commenting, and virtual events with our leading journalists
Already have an account? sign in
Join our new commenting forum
Join thought-provoking conversations, follow other Independent readers and see their replies