Tottenham news: Mauricio Pochettino jokes that Spurs 'do not exist' without Mousa Dembele
While the Belgian midfielder sits out his suspension, Spurs are still struggling to find their rhythm, and it showed again on Saturday in their 1-1 draw with Liverpool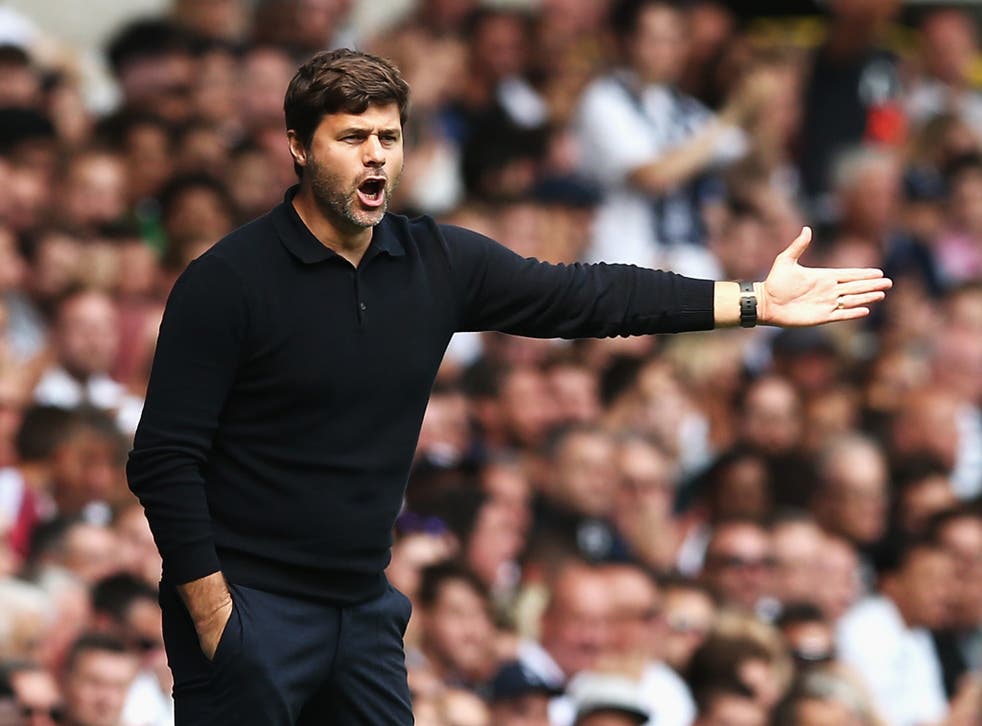 There is a bit of truth in every joke, but not often this much. "Without Mousa Dembele, we do not exist," said Mauricio Pochettino on Saturday afternoon. "Tottenham does not exist."
Of course Pochettino did not fully mean it. "I am joking because it is a difficult question," he clarified, after seeing his team fight to a 1-1 draw. "We played against Liverpool, and we need to show respect to the players that played."
But there is no avoiding the glaring fact that Tottenham with and without Dembele are two very different teams. As scarring as Spurs' meltdown at Stamford Bridge was in May, the worst damage was the six-game ban Dembele earned for poking Diego Costa in the eye. He still has one game left to serve and will not return until the middle of September.
Dembele is a rare player, a midfielder who can beat opponents in the middle of the pitch. Spurs' system has been built around those skills. He takes the ball in tight spaces, tempting opponents onto him, freeing up his attacking team-mate. Dembele is good enough to wriggle away from tackles, before finding Dele Alli, Christian Eriksen and Erik Lamela in space.
Since Dembele returned from a foot injury in October last year, he has been Spurs' most important player, and the statistics prove it. In 23 Premier League games he has started, Spurs have never lost, taking 53 points, an average of 2.3 points per game. Title-winning form. In the 10 games he has missed, including this season's three, Spurs have taken nine points. 0.9 points per game. Relegation form.
Spurs, in fairness, are not looking like a relegation team. They are looking like a good team with something missing. Pochettino signed Victor Wanyama this summer, heralding his imposing athletic qualities. But Wanyama, quite simply, is not in the same technical league as Dembele. He cannot be expected to do the same job. Liverpool rushed Spurs in midfield, and they could never get a foothold in the game.
Tottenham V Liverpool - Post-match comments from Jack Pitt-Brooke
There is little that Spurs can do about this now. There are not many Dembele-equivalents in the market. All they can do is try to get a result from Stoke City on 10 September before welcoming him back.
But that does not mean that Spurs are done in the transfer market. Pochettino knows that his squad is not quite there yet. His two signings, Wanyama and Vincent Janssen, look more like squad players than those to take the team onto the next level. But Pochettino wants another fast wide player, someone to run in behind, to solve the lack of pace which is one of Spurs' few deficiencies.
Tottenham vs Liverpool player ratings

Show all 23
"We need a player who is more direct, more aggressive offensively," Pochettino said. "Because we have players like Eriksen, [Heung-Min] Son or Lamela who like the ball played into their feet. So we need someone who has characteristics like we saw from Liverpool, like Sadio Mané, the type of player that can break the defensive line. I'm not talking about kicking or punching someone, only running and having the right mentality."
That is why Spurs are still trying to sign Marseille winger Georges-Kevin N'Koudou before the window shuts, in a deal that has been dragging on for months. And why they even made a speculative bid for Wilfried Zaha last week, hoping to take advantage of his contract stand-off with Crystal Palace. "We're working very hard to try to add the right player but it's very difficult now at the end of the market," Pochettino said. "We'll try but if not, I'm very happy with the squad we have." They will be even happier when Dembele returns.
Join our new commenting forum
Join thought-provoking conversations, follow other Independent readers and see their replies