Tottenham vs Manchester City match report: Dele Alli pounces as Spurs brush leaders aside in stunning fashion
Tottenham Hotspur 2 Manchester City 0: Spurs, whose goals came from an own goal and the golden-booted Dele Alli, were quite simply superb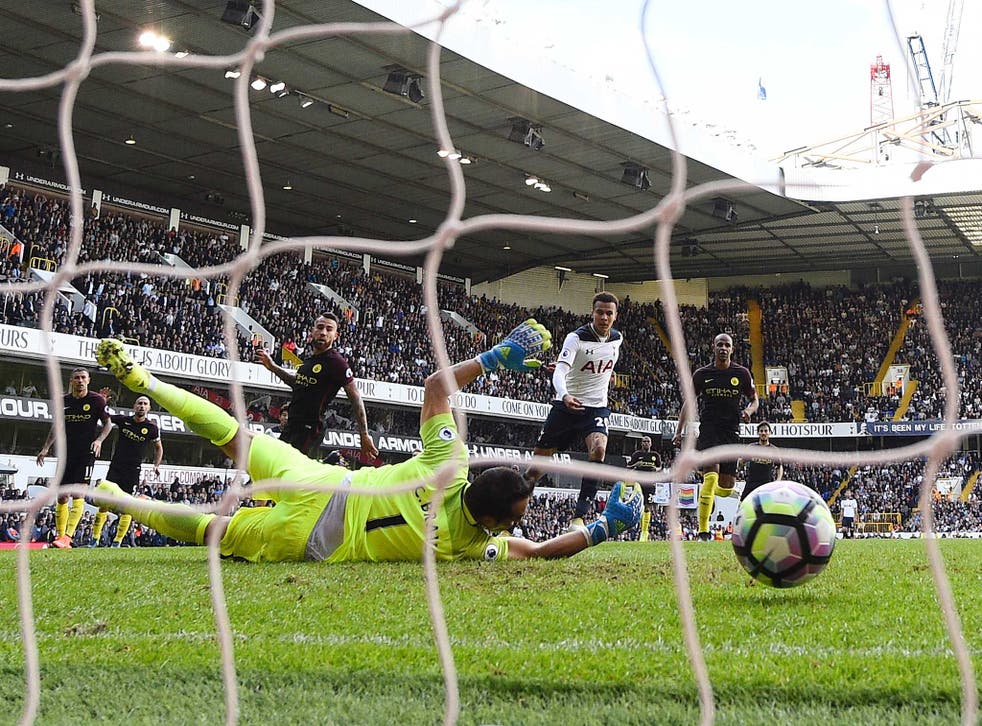 If Mauricio Pochettino never takes charge of another game his managerial career will have a couple of lovely winning bookends: victories over expensively-assembled Pep Guardiola teams.
His first win as a coach was against Guardiola's Barcelona back in 2009 and now he can add this devastating 2-0 victory by his Tottenham side over Manchester City at White Hart Lane that has taken some of the gloss off the Etihad club's impressive start to the season that had them crowned champions elect in some quarters already.
Spurs, whose goals came from an own goal and the golden-booted Dele Alli, were quite simply superb – and even missed a second-half penalty. On this form they deserve to be considered title challengers every bit as much as City for whom this was Pep's first defeat. Can Spurs maintain this high-tempo brand of football or will they run out of puff as they did last season is the question?
Well, the squad is deeper and new signing Victor Wanyama ran midfield on Sunday adding steel alongside Mo Sissoko while Heung-Min Son, Alli and Christian Eriksen brought the style to the party.
Spurs started brilliantly with Kyle Walker, Sissoko and Son combining from the kick-off with quick, neat interplay down the right. Son found space in the box with a clever touch before driving his shot over the bar. Seconds later Danny Rose almost threaded a pass through to the Korean playing in the No 9 role he took up for the last 20 minutes in Moscow in midweek and in such rich goal-scoring form of late. There was barely a minute on the clock and the Spurs intent was there for all to see.
This match was the resumption of the Guardiola-Pochettino rivalry they had enjoyed in La Liga when they were in charge of Barcelona's two clubs, Barca and Espanyol respectively. Pep had said before kick-off how much he admired Pochettino teams who had always sought to be attacking – rather than containing – against his sides. High praise, of course, given the calibre of Pep's Barca and the no doubt huge temptation to park the bus when confronting them.
And Spurs, just like Espanyol, were certainly not overawed by Pep's players and their perfect start to the league season on Sunday running City ragged in the early stages.
There was a Jesus Navas cross that dribbled through the six-yard box but that was a rare trip into enemy territory for City and John Stones had to deny Son with a brilliantly-timed sliding tackle in the box as the Korean continued to threaten.
Pochettino prowled the technical area, Pep sat back.
On nine minutes, the imposing Wanyama stole the ball back in midfield as City tried to pass their way out of their half. He fed Danny Rose on the wing and the England full-back whipped in a vicious, dipping, swerving cross. Aleksander Kolarov at the back post missed with his swinging right foot as he tried to clear, the ball instead diverting in off his standing leg. So much for Pep teams playing it calmly out from the back.
Son broke through again and Claudio Bravo saved with his feet as the white waves washed over sinking City.
Alli was next in on the act, his nifty footwork and attempt to play Son in resulting in Nicolas Otamendi going to ground and handballing. Eriksen's free-kick was inches wide.
Pep joined Pochettino on the sidelines now fearing the worst - and he was right to as Spurs doubled their lead in the 37th minute. Alli tried to find Erik Lamella breaking into the box but the ball ran to Son who fed Alli. The midfielder swept past Bravo.
City stuck to Pep's philosophy of playing the ball out from the back but the Tottenham energy was too much for them to do it comfortably. Bravo's bravado often caused mild panic in the City back four. Apart from in Stones perhaps, so easy on the ball, who at one point weaved through four Spurs tackles.
The second half continued in the same manner as the first with Son and Wanyama shooting dangerously, the first narrowly wide the other tipped away by Bravo.
Bravo then highlighted why Pep wants a passer in goal as his long ball to Navas cut out several pushing Spurs players and led to Sergio Aguero getting in for a shot that bobbled off Hugo Loris and on to the post.
Most of the action, though, was in the other penalty area and Spurs had the chance to kill the match when Fernandinho clipped Alli as he broke on to a loose ball and charged into the area. Alli needed no great encouragement to collapse. Lamela's left-footed penalty was too weak and the perfect height for Bravo diving to his left to beat away.
The miss could have been costly had substitute Kelechi Iheanacho scored when through but Loris saved and then he did so again when Aguero shot. For all this, Spurs never really looked in trouble.
There is only one unbeaten manager in the Premier League now…and it ain't Pep Guardiola.
Join our new commenting forum
Join thought-provoking conversations, follow other Independent readers and see their replies