Tottenham vs West Brom: Harry Kane hat-trick fires Spurs up to second as England striker sends out a title warning
Tottenham 4 West Bromwich Albion 0: A Gareth McAuley own-goal completes the rout as Spurs leap ahead of Arsenal to close the gap to league leaders Chelsea
Jack Pitt-Brooke
White Hart Lane
Saturday 14 January 2017 15:21 Comments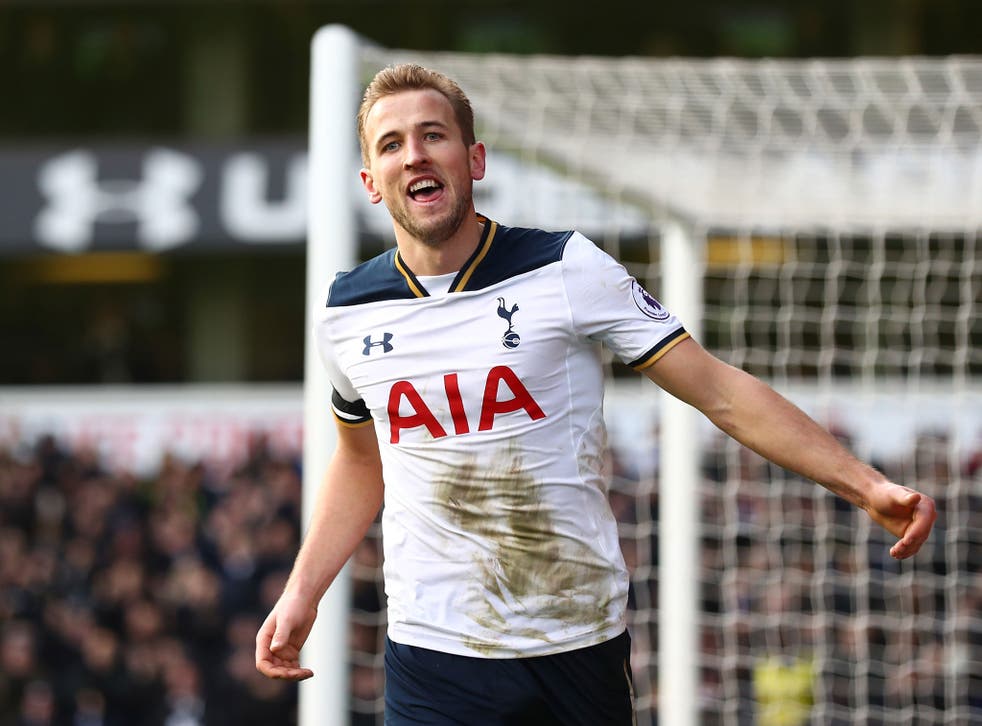 Why shouldn't Tottenham Hotspur win the league this year? They played the best football in the country last season and now, half-way through this one, they look like the best team again. This 4-0 scoreline against West Bromwich Albion does no justice to their domination or the chances they created. They should have scored 10 and Harry Kane, who scored a hat-trick, might have had twice as many. There will not be a more one-sided Premier League match in all of 2017.
This was Spurs' seventh straight win in all competitions, their best run since this time last year. They are in second place and are playing at least as well now as they did at their peak last season. They could not catch Leicester City then, but Chelsea this year could yet be catchable, depending on whether Diego Costa is more committed to the team or to himself.
This was not quite the best Spurs performance of their great run. That has to be the 2-0 masterclass against Chelsea last Wednesday, a perfect display of controlled power. But this was a demolition job at least as emphatic as their thumpings of Southampton and Watford just after Christmas.
When Spurs play this well they render the opposition totally irrelevant. West Brom only wanted to defend but they could not even do that. Spurs dominated the ball, attacked every time they had it and never even left themselves open to the counter-attack. It was a complete display of Pochettino football, as good as any in his two and a half year tenure here.
If there was one downside it was an ankle ligament injury to Jan Vertonghen which forced him off in the second half and will keep him out for the next few weeks, including Saturday's trip to Manchester City. He left the pitch distraught and it hit the atmosphere at White Hart Lane, which had been buzzing up until that point.
The first half was one of the most one-sided sessions of football that will take place in the Premier League this year. Even though West Brom came to White Hart Lane to defend in a 6-3-1 set up, their attempts were made meaningless by Spurs' speed and strength. As hard as they tried to close down space, to dig in, make life difficult and all the rest of it, Spurs still sliced through them every time they wanted to.
It only took a succession of minor miracles for the game not to be over at half-time. Spurs scored twice in the first half but they should have scored five or six. Every time they attacked they looked like scoring, the best sign of a team at the top of their game. It is incredible that it took them until the final minutes to score their third and fourth goals.
Kane did not play against Aston Villa last Sunday in the FA Cup due to the birth of his daughter the morning of the match. Here he looked like he was making up for lost time, running West Brom to pieces, getting on the end of every ball Spurs put into the box. He should have given Spurs after just five minutes, deflecting Danny Rose's cross just wide of the far post.
Kane is not a confidence player, his head his always up. Five minutes later he had a far harder chance and took it. Wanyama drove forward and found Eriksen, who lifted a delightful little pass to Kane, played onside by Craig Dawson. Finding himself free, onside and in possession in the box, Kane waited for Ben Foster to go down and stabbed the ball over him into the top corner.
Last year Spurs went 1-0 up in this game, could not hold their lead and paid for it. Not this time. They tore into West Brom with the fury of a side who refused to make the same mistake twice. When Wanyama whipped in a shot from the edge of the box, Kane met it with a diving header which hit Foster on the legs.
The flow did not stop, and one minute later Spurs had their second. Eriksen, conducting masterfully again, started a move with Rose and Walker. When he got the ball back he shot, and it flew in thanks to a double-deflection. With his neck trick, he found Dele Alli, whose volley in was disallowed by an offside flag. Once the crowd had got over the annoyance, they gave the move a standing ovation.
Twice more before the end of this remarkable half Kane could have had his second: from close range from a Walker pass, and then from distance, but both times Foster denied him.
The second half was not quite as intense but Spurs continued to pepper Foster's goal. The West Brom keeper, who had an exhausting afternoon, had to save from Alderweireld, Vertonghen, Kane and Wanyama. He must have felt, with 13 minutes left, that he would get away with just conceding two, but it was not to be.
Kane got his hat-trick in the end, with two in five minutes to drag the scoreline somewhere towards fair representation. Walker tore down the right, away from Gareth McAuley and pulled a cross back. Kane swivelled to volley it in. Then, five minutes later, Kane ran onto Alli's little chip and volleyed in another.
Spurs were having so much fun out there they never looked like they wanted the game to end. They are quite a sight when they are in full flow, as they are right now. There is no other team in England who can play quite like this.
Teams
Tottenham (3-5-2) Lloris; Dier, Alderweireld, Vertonghen (Davies, 65); Walker, Eriksen, Dembele (Winks, 82) , Wanyama, Rose; Alli, Kane (Son, 90)
West Brom (4-5-1) Foster; Dawson, McAuley, Olsson, Brunt (McClean, 53); Chadli (Robson-Kanu 63), Fletcher, Morrison, Yacob, Phillips; Rondon
Man of the match: Eriksen
Match rating: 8
Register for free to continue reading
Registration is a free and easy way to support our truly independent journalism
By registering, you will also enjoy limited access to Premium articles, exclusive newsletters, commenting, and virtual events with our leading journalists
Already have an account? sign in
Join our new commenting forum
Join thought-provoking conversations, follow other Independent readers and see their replies