Tottenham chairman Daniel Levy has a decision to make as Jose Mourinho's reign reaches new low
Spurs' chairman will have to consider Jose Mourinho's future at the club after a dismal Europa League exit revealed glaring flaws in his coaching
Miguel Delaney
Chief Football Writer
Thursday 18 March 2021 21:39 Comments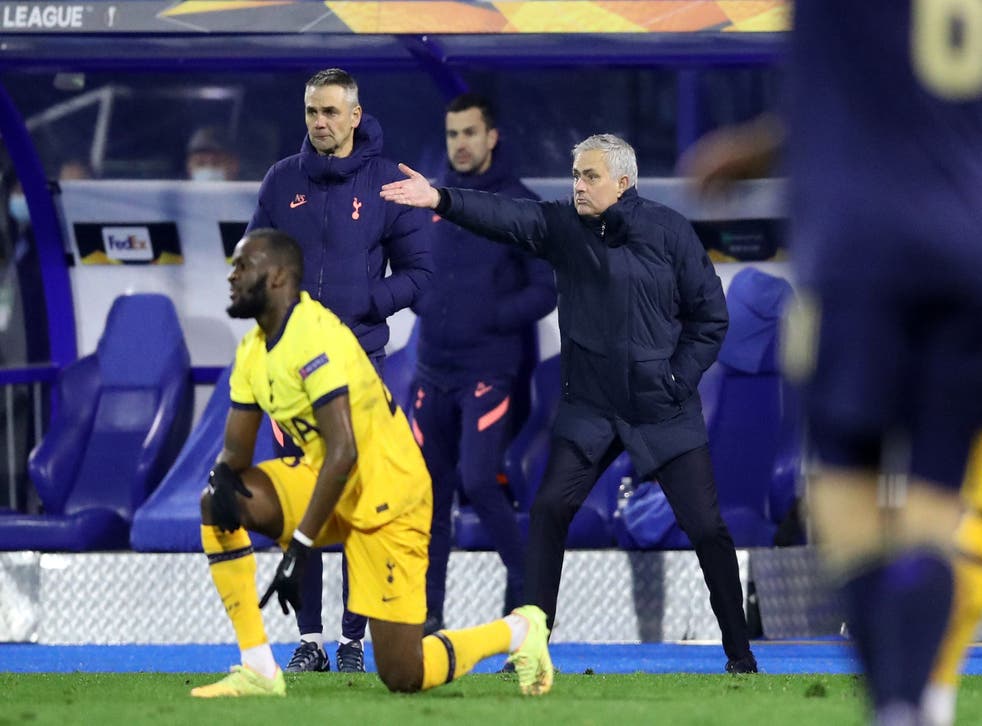 A match that should have been a dead rubber could well prove fatal to Jose Mourinho's time at Tottenham Hotspur.
Spurs' defeat by Dinamo Zagreb should certainly give Daniel Levy an awful lot to think about. The nuclear option must be on his mind, given how central the Europa League had been to this season.
When Spurs suffered their first major slump in January – which is probably really still continuing – the boardroom rationale for persisting with Mourinho was that they were still in contention for three trophies as well as the top four. The Europa League was seen as the big target, since it could deliver that long-awaited silverware, while offering a route back into the Champions League. It could have brought it all together. It might now be where it all falls apart.
That's how bad this elimination was. The Europa League has gone with the FA Cup, and you wouldn't back them in either the League Cup or Premier League after a performance like this.
Even before you get to the horror of a manager who bases his approach on defence seeing his team squander a 2-0 lead, or the farce that Dinamo Zagreb's manager was in prison, there is the fact that they lost to a team from the league ranked 19th in Europe.
That just shouldn't be happening. It is an embarrassment, probably Mourinho's worst European elimination, and much worse than the nadir of that Champions League loss to Sevilla with Manchester United.
No arguments about the quality of the squad cut it when the opposition is this moderate. It points to something much deeper.
It shouldn't be forgotten, either, that Mourinho had told Levy on getting the job that this Spurs' squad could win the league. They are playing far, far beneath that.
Many might point to Hugo Lloris' form, or the disappointment of Matt Doherty, to go with a multitude of other complaints. Against that, you only have to consider a previous nadir for Spurs, which was a 4-0 destruction at the feet of Liverpool in April 2014. Jan Vertonghen looked a joke that day, the sort of player who should be the first in any clear-out. Under a different manager, he became one of the greatest centre-halves in the history of the club.
The point here isn't to hark back to Mauricio Pochettino, or reach to an example of years ago. The point is the folly of buying into any ideas this is on the players, or to back Mourinho on a clear-out.
The truth of football – and especially modern football, which has so much more tactical variation – is that players can look totally different under a different manager. It would be a mistake to judge many under this.
This prolonged drop-off is the consequence of many aspects of Mourinho's management that just aren't top-level any more. There's the man-management, which is of a confrontational approach from 15 years ago, that the modern player just doesn't react to. Some have privately talked of how getting berated has sapped their confidence, exactly as happened at Manchester United and Chelsea. Is it any wonder they look so devoid of belief in such games?
There's the coaching, particularly in attack, which some players have described as among the most "basic" they've come across. Is it any wonder they look so devoid of ideas in such games?
There's then the tactics, which just seem so reactive, and defensive. Is it any wonder, well, we're seeing this.
A potentially brutal reality for Levy is that maybe he got a big calculation wrong. It is possible Tottenham's season was salvageable had they dispensed with Mourinho in January or February. The Premier League is that open. Their squad is that good, particularly in attack, where it's excellent.
As it is, Levy will be hoping Mourinho can salvage this, and turn it around to win either the League Cup or scrape back into the Champions League. It almost feels like the chance of both are receding by virtue of him just being in the job.
If he is to turn this around, it is coming from an awfully low point. There is a strong argument this might be the worst defeat of his career, given the status, given the stakes, given the state of the game.
It isn't beyond him to turn it around – depending on what the definition of that is. Mourinho still has some qualities, that have occasionally presented themselves this season.
Whether those qualities justify an upwardly mobile modern club persisting with him is another argument entirely, though. It's got so bad that "turning it around", or even somehow winning that League Cup, probably aren't enough.
On that, the value of that trophy is questionable. The last managers to win it for Spurs were Juande Ramos and George Graham. They are very far off legends in the club's history.
That was something that Levy had hoped for Mourinho. Right now, he has to consider something else entirely.
Register for free to continue reading
Registration is a free and easy way to support our truly independent journalism
By registering, you will also enjoy limited access to Premium articles, exclusive newsletters, commenting, and virtual events with our leading journalists
Already have an account? sign in
Join our new commenting forum
Join thought-provoking conversations, follow other Independent readers and see their replies