Transfer news: Manchester United striker Wayne Rooney is a 'great player' says Chelsea goalkeeper Petr Cech
The Blues have made an offer in the region of £20m for Rooney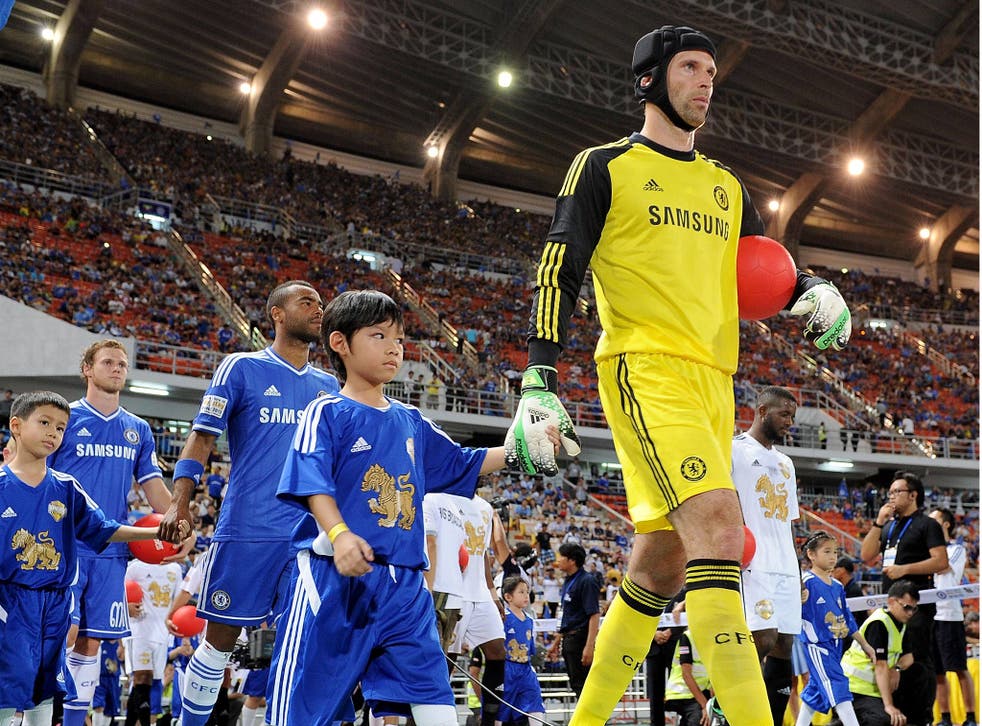 Petr Cech was there the first time that Jose Mourinho arrived at Chelsea, has witnessed every big transfer saga in the interim and seen some of the biggest names come and go. Yesterday he became the latest player to endorse the club's move for Wayne Rooney
Cech was in goal for the first half of Chelsea's 1-0 win over Singha All-Stars in Bangkok, the first game of Mourinho's new era at the club. Before the game, the club issued a statement to confirm that they had bid for Rooney on Tuesday, understood to be around £20m, but they have not offered United Juan Mata or David Luiz as part of the deal.
Chelsea travel to Kuala Lumpur this afternoon ahead of Sunday's match against a Malaysia XI in the Shah Alam stadium. Cech acknowledged that Rooney would be a good acquisition for the club. He said: "Wayne Rooney is a great player but at the moment he's a Man United player. We'll see what's going to happen. He's a great player. Let's see.
"In terms of players, at this time of year, we want to do well and to earn your place in the team. If you end up with three more players because the clubs wants three more players then your attitude is the same. You do your best to help the team to win things. If you buy players or don't buy players, personally, I feel the same.
"I do my best to earn my place in the team. It's the same for every team. You always want to have the biggest and strongest squad so you can challenge for titles. That's why you have a manager and sporting director to take care of that and you have to do the most important part and that's the work on the pitch.
"During the pre-season the only conversation between players is: 'Okay, I need to lie down or put my feet up and survive until another session'.
"We already have a few more players and a great squad. If the manager doesn't think we have enough he will try to get players in. It is only his decision. For players, we concentrate on getting fit and doing our best, to play as much as they can. That's all we can do.
"In football things are changing every day with every squad and every time. As time goes on, every team can make some changes. Anything can happen."
Chelsea have announced that they will play Roma in Washington DC on 10 August, their final pre-season friendly. It is anticipated that the left-back Wallace Oliveira Dos Santos, who made his debut in Bangkok, will go on loan to the Serie A club next season. Chelsea retain an interest in Daniele De Rossi, the Roma midfielder.
Manchester United lost their game against the same opposition on Saturday in Thailand and Cech said that in spite of the demanding pre-season fitness regime, Mourinho and his players had been determined to win yesterday. Cech said: "He doesn't do things just for nothing, he always wants to win games, no matter if it is in the Premier League, a pre-season game or a Champions League game. We wanted to do well, we wanted to win the game and we did.
"He is as hungry as ever, he wants to be successful, when you have someone who works at such a high standard every day it never changes. It's the same."
Cech joked that it was a case of "first game, first trophy" after the Chelsea players were presented with the Singha 80th anniversary cup after the game, beating a Thai select XI of Thai and overseas players. Frank Lampard missed the game with an Achilles injury but Cech, John Terry, Ashley Cole and Michael Essien all played the first half.
Mourinho said that Lampard's omission from the squad was "a precaution". He added: "I always say the players have to be intelligent in this period. No risks. If they feel a little thing in competition you have to risk something. In pre-season, the worst thing that can happen is an injury while taking a risk.
"He was feeling discomfort on his Achilles, so we decided he wouldn't play. Ramires is a natural runner so it wasn't a drama for him to play 90 minutes [the Brazilian was the only Chelsea player to feature for the full 90 minutes yesterday]. Frank will rest like everyone [today] and in two days' time he will be back in training."
One the longevity of that group of players at Chelsea, Cech said: "I'm young! We said at the start there are no differences between players. If you are good you play, if you are not good you don't play. It's the same whether you are 40, 31, 45, 28 or 15. Everybody will play on merit, we have to earn our places and we are working to do so.
Join our new commenting forum
Join thought-provoking conversations, follow other Independent readers and see their replies