Troubled times at Old Trafford: What went wrong for David Moyes at Manchester United?
With United in a mess, Sam Wallace analyses how it came to this and what manager Moyes is doing to salvage the situation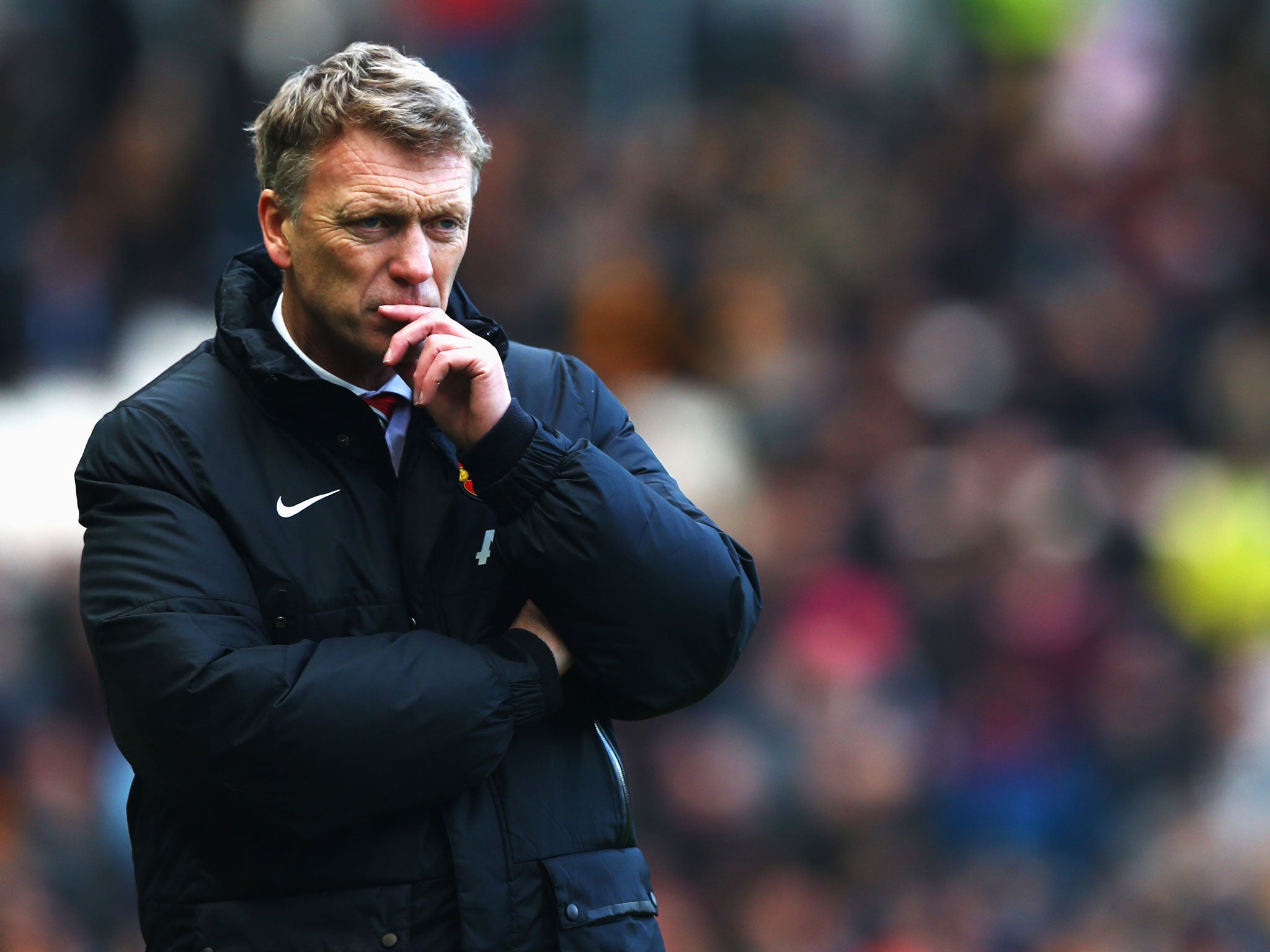 When did it all go wrong?
In the cold light of January, Manchester United see last summer's transfer window as the great missed opportunity. It was then that the club needed to strike but a perfect storm of factors prevented them from moving decisively and the opportunity for long-overdue acquisitions was lost.
The double change at the top, in manager and chief executive, meant there was no forward-planning and a lack of time to formulate a new strategy. David Moyes had inherited the champions but was unable to make big decisions on the squad before he worked with them. Energy was expended placating Wayne Rooney. All these factors conspired against an effective summer window.
When Sir Alex Ferguson began discussing his retirement, he felt that his successor should have a full say over new signings, so no new players were pursued until Moyes was in place. That was in contrast to Manchester City, for example, who began their summer recruitment under technical director Txiki Begiristain long before Manuel Pellegrini was appointed.
Now, seventh in the Premier League and eliminated from the FA Cup in the third round at home to Swansea, United have a plan but precious little scope in January to make the kind of high-end, big-name signings that they want.
What has Moyes changed?
At Old Trafford there has been no questioning his appetite for work. While the club find themselves bruised by the experience of the last five months on the pitch, there is an acceptance that no manager could have worked harder away from it to try to get to grips with steering the post-Ferguson era.
He inherited a scouting system that, although comprehensive, Moyes felt needed to be recalibrated to give him exactly what he required. The top of that organisation remains in Jim Lawlor, an appointee of Ferguson, but Moyes has brought with him Robbie Cooke, who worked as his chief scout at Everton, and added another analyst.
Moyes is recreating the recruitment and contract renewal model that he used at Everton, but this time with a completely different level of player. He spends hours watching game footage, in addition to taking first-team training.
He has had more senior members of the scouting hierarchy travelling across Europe in the last few months to follow up the recommendations of regional scouts. Moyes is in the process of deciding whether he wants a tighter, smaller squad next season of around 18, in which players are kept happy with a higher number of games, or a bigger pool of around 28, which can cope better with injuries.
The system that was not in place when United found themselves buffeted in the summer by an escalating transfer market now exists. The club believe that they have their targets and the resources to deliver them – the big doubt is whether they can do so this month.
Who are United's targets?
The Borussia Dortmund attacker Marco Reus, who can play as a No 10 or across the attacking three, is among those being scouted intensively by Moyes, who believes in exhaustive testing of a player's credentials before he makes a signing. So too the likes of Jorge Resurreccion Merodio – Koke – at Atletico Madrid, long-term target Leighton Baines and the former Chelsea academy boy Nemanja Matic, of Benfica.
The problem is simply that so many clubs can now offer the high wages that once gave United an advantage in the transfer market. The club believes it still has a wage bill in the top four in European football but must compete with the new order of Paris Saint-Germain and Monaco, not to mention Manchester City and Chelsea.
Even at the zenith of United's success, with the financial supremacy they enjoyed in the days before Russian oligarchs and Middle East oil money, Ferguson did not always get his man. Missing out on the likes of Patrick Kluivert, Ronaldinho and Karim Benzema showed that they have never been an irresistible draw to some leading players.
What if they fail to qualify for the Champions League?
The rough estimate at the club is that should United qualify for the Champions League next season they will have around £110m to spend on transfer fees alone. Failure to qualify for the Champions League will reduce that to around £90m. Given that a big fee can be split over two financial years, the club has no doubts over its resources.
The problem is with the damage to prestige that not being in the competition brings. Whether that is in signing players or attracting sponsors to the commercial behemoth that is the modern United, the impact is unlikely to be felt immediately. As with all things in football, this tends to happen incrementally until the bigger picture changes.
The message at United is that, as ever, they will prepare next summer as they always do: as a club aiming to win the Premier League. They do not begin any season from the perspective that finishing fourth is acceptable. Although from where they are now, fourth place in May – and what would be their lowest ever Premier League position – would be a considerable relief.
Who will get a new contract?
Fabio da Silva, a free agent this summer, will leave and any chance that he might be given another deal was ended with his self-defeating red-card challenge on Jose Canas in the 80th minute of Sunday's Cup tie. Rio Ferdinand and Patrice Evra are both out of contract at the end of the season and they are only likely to be offered new deals if Moyes has no prospect of signing replacements by the start of June.
Ferdinand and Evra both have options in their contracts that mean United effectively have first refusal on them for another year. Ferdinand was given his first start since 10 December against Swansea and it was not judged a success.
By contrast, Nemanja Vidic, also in the last year of his contract, will stay. Moyes believes that the captain, 33 in October, has much to offer in spite of his injury problems. Ryan Giggs' deal is up in the summer but his relationship with the club is such that United feel any one-year extension can be left until the last moment. As for Rooney, out of contract in the summer of next year, it is indicative of the problems facing United that they do not see that as an issue to be addressed immediately, though they want him to stay.
MORE ON MANCHESTER UNITED...
Dry January for United in the transfer market
Moyes: There is an 'urgency' for new players
The stats that tell the sorry story of United's season
United need to 'break the bank' says Bosnich
Mandzukic a target for United - reports
Buttner insists: 'I don't want to leave'
Manchester United - January transfer targets
Show all 21
Join our commenting forum
Join thought-provoking conversations, follow other Independent readers and see their replies