Tyne-Wear derby: 'It's difficult to go back after that T-shirt,' says former Newcastle and Sunderland man Lee Clark
Lee Clark played for both Newcastle and Sunderland so has a unique view of what Sunday's match will be like. He tells Martin Hardy about derby-day nerves, regrets at how his time in red and white ended... and being naked with Sophia Loren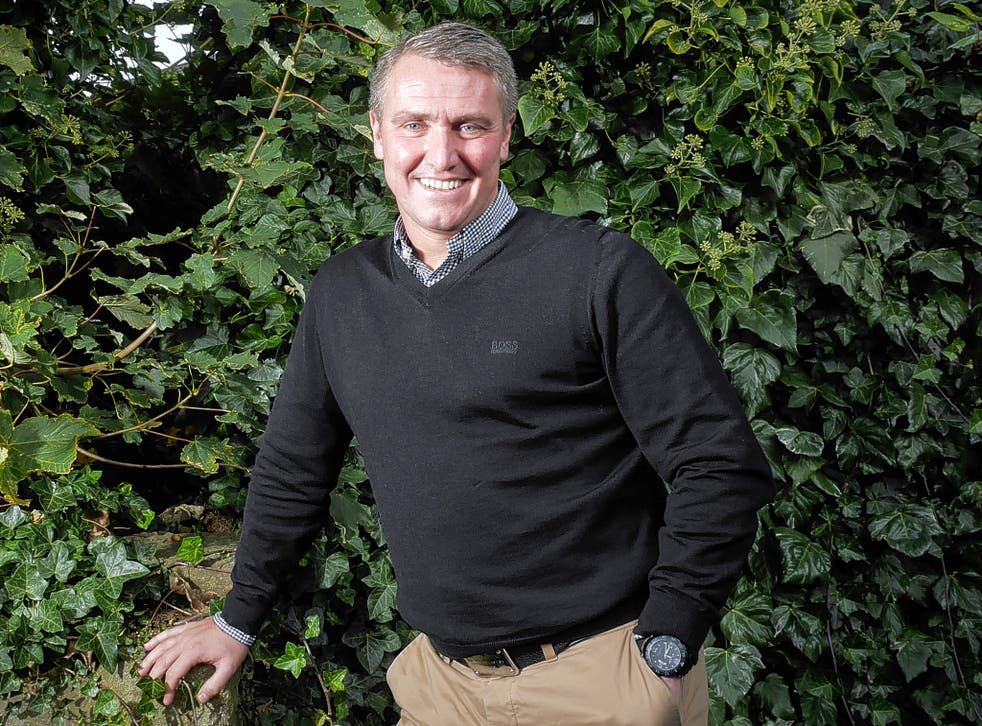 "Whatever you do, don't wear any f***ing colours." They were Peter Reid's final words to Lee Clark before Newcastle played Manchester United in the 1999 FA Cup final.
Clark was a key figure in Reid's Sunderland side, who had just gained promotion to the Premier League. In two seasons, from central midfield, he had scored 16 goals.
Before that, from the age of 10, he was with Newcastle United. He lived in Pottery Bank, in the east end of the city. His dad was a Newcastle fan. His family were Newcastle fans. So were his mates.
He was the rising star of English football as a schoolboy. Tottenham and Manchester United came to his front door. They were turned down. He saw Kevin Keegan's debut for Newcastle in 1982 against Queen's Park Rangers, on the terraces. He watched Peter Beardsley score a hat-trick against Sunderland in a derby at St James' Park.
He won promotion with Newcastle in 1993, after Keegan had returned in spectacular fashion as a manager, then made a space on his mantlepiece for the Premiership winners' medal that did not come with "the Entertainers" in 1996.
He was as black and white as you could get, and then in 1997, Lee Clark signed for Sunderland.
"I walked into the dressing room at the training ground and David Kelly [who had also played for Newcastle] was there," recalls Clark this week when we meet ahead of Sunday's Tyne-Wear derby.
"Going across to your biggest rivals, it was like the first day at school. It was a huge move. The opening gambit to break the ice was from Ned [Kelly]. He went, 'F***ing hell, you must be getting paid a few quid to come over here.' The lads started laughing.
"Peter [Reid] designed the old training ground so it was one huge dressing room. We were all there together. The banter was relentless; Alex Rae taking the mickey out of [Niall] Quinny's dress sense. Michael Bridges getting it off Micky Gray. The black and whites v the red and whites stuff. It brought the players together.
"I was playing with lads who were staunch red and whiters. Michael Gray and Kevin Ball, cut them open and they bleed red and white. When Kevin came to Fulham we shared a flat together. Before I went to Sunderland I never thought that was possible. Before I went to Sunderland I was usually on the end of one of his tackles. It is a friendship that you never think will happen."
And then, after two great seasons under Reid – interrupted only by a broken leg at the start of his second campaign – he went to watch Newcastle play in the FA Cup final.
"We jumped out of a black cab at Baker Street and there was a Geordie who owned a pub," Clark explains.
"As I got out it was very jovial and the shirt [which bore the words "Sad Mackem Bastard"] got whipped over my head. I actually had a cricket hat on and it came over the cricket hat. The cameras went for fun. People got wind of it and then it hit the media.
"Of course it was a difficult time. There was a lot of hatred towards me and rightly so. I don't blame the fans for that. I disrespected people who were paying my wages. They had to find a new entrance for me to go into training.
"We had to deal with the situation as best we could. Peter was adamant I wasn't leaving the club but it couldn't happen. I knew deep down I couldn't stay. The club made a decision I was going.
"After we had won the title I went to see the manager and said it's time to move on because I knew I would have to come up against Newcastle in the Premier League and I couldn't do it, not for Sunderland against Newcastle. The fans should always have players who give 100 per cent and I couldn't do that. People might think it [the T-shirt] was premeditated, but it wasn't.
"Being older and being a manager myself now, the incident is something I look back on and it is tinged with regret. It's difficult to go across to Sunderland to watch a game because of that, and that's sad because for two years I played some good football there."
Fulham came before management. On his second day at the club he stood naked in a room with Sophia Loren. "I did part of my medical at Harrods, on the sixth floor, and they had the famous big sale on," says Clark.
"Sophia Loren was doing the sale that day. The chairman [and Harrods owner] Mohamed al-Fayed walked past me with her when I was on the scales and went, 'Hey, look! There's an athlete, one of our new signings.'
"It's not every day that Sophia Loren, one of the most beautiful women in the world, walks past a naked kid from Pottery Bank."
He returned to Newcastle for a final spell as a player and when Sam Allardyce became manager in 2007 joined his backroom staff at St James' Park. "He was good to work with," says Clark of the man who is now in charge of Sunderland – Sunday's derby will be his first home game. "He gets pigeon-holed as a certain type of manager but I have to say not once did I hear him coach the players the long-ball game.
"He encouraged the payers to express themselves in the right areas. He had a decent start to his career at Newcastle. He was big on tactics, 11 v 11 in training and set-plays. You've seen cup finals decided by set-plays so that's not to be derogatory. I don't think Sunderland could have made a better choice.
"It was a wrench to leave, I had a good chat with him. Sam didn't want me to go but I wanted to progress my career."
Clark became No 2 to Glenn Roeder at Norwich, and then he flew into management with Huddersfield. The club reached the League One play-offs twice and went on a record unbeaten run of 43 games. "When I look back I didn't embrace it and enjoy it enough," he says. "I wanted to be intense and successful. We built something good with the team and the training ground facilities. The team were successful and so were the players."
As a young player Clark had spent pre-seasons on Tynemouth beach, working with the fitness coach and psychologist Steve Black. He took Black to Huddersfield with him. On Sunday, when the North-east goes into meltdown and swirls with an intoxicating mix of passion and hatred, Black will be in the visitors' dugout, stood by Steve McClaren's side, keeping an eye on those players in black and white.
"Steve was one of Kevin Keegan's first signings when he took over at Newcastle," says Clark. "I got him on board at Huddersfield, it was no coincidence it was my most successful period. The players have to buy into him. He's a psychologist, he is a head doctor, yeah. If things weren't going well, he could see through the mess.
"It hasn't started the way Steve McClaren would have liked and Steve Black will have helped him."
Huddersfield felt like a club moving in the right direction under Clark but the chairman, Dean Hoyle, with whom he is still friends, surprisingly relieved him of his duties in 2012. He took over at Birmingham and fought financial fires. The wage bill was slashed and in the 93rd minute of the final day of the 2013-14 season, Paul Caddis scored an equaliser at Bolton to keep them in the Championship. Clark ran into the delirious away fans.
"People said you must have celebrated late into the night. I went out with my wife and family and at half eight we went home. I was physically and mentally drained because of the tension."
A chaotic spell at Blackpool followed Birmingham. "The decision to take over is one I regret," he says. Before one game Blackpool's goalkeeper did not have a shirt. They had to use a signed one that was supposed to be a raffle prize. Before a game in London, having been booked into a hotel on the wrong side of the city, his assistant Alan Thompson had to jump off a bus stuck in traffic and run a mile to hand the team sheet in.
Now Clark is back travelling the country, watching games with Thompson, and at 42, is ready for another crack at management. One day he hopes it will be in the Newcastle dugout, a dream that started when he coached Walker Central boys club as a 17-year-old.
On Sunday, he will watch the region's struggling clubs collide. Sunderland have won the fixture an unprecedented five times on the trot. Bottom of the Premier League, they cannot afford to lose. Meanwhile, Newcastle cannot imagine the darkness of another derby defeat.
"What's the first thing you think about on the day of a derby? The game," he says. "Oh aye. It's there as soon as you open your eyes. I was an early riser to try and get a bit of breakfast in. As soon as you're up the butterflies start.
"It's intense. If you cannot handle that intensity and pressure, you won't be able to perform and help your team get that result.
"It's the first time for all the Newcastle staff to experience what this is about. If they don't realise what the club is about they certainly will by two o'clock. If they've won, Sunderland will be in real trouble. If Newcastle lose it will be a huge setback.
"You have to show the fans you have character, passion and the fight to keep going."
--
Born 27 October 1972, Wallsend
Playing career
1990-97 Newcastle United
240 games, 27 goals
1997-99 Sunderland
89 games, 16 goals
1999-2005 Fulham
178 games, 22 goals
2005-06 Newcastle United
25 games, 1 goal
11 England U21 caps
Honours
First Division 1992-93, 1998-99, 2000-01
Managerial career
2008-12 Huddersfield
48.9 win per cent
2012-14 Birmingham City
28.5 win per cent
2014-15 Blackpool
9.1 win per cent
Join our new commenting forum
Join thought-provoking conversations, follow other Independent readers and see their replies