Louis van Gaal sacked: Manchester United confirm manager's dismissal after day of negotiations
Dutchman thanks club for opportunity and says foundations are in place for success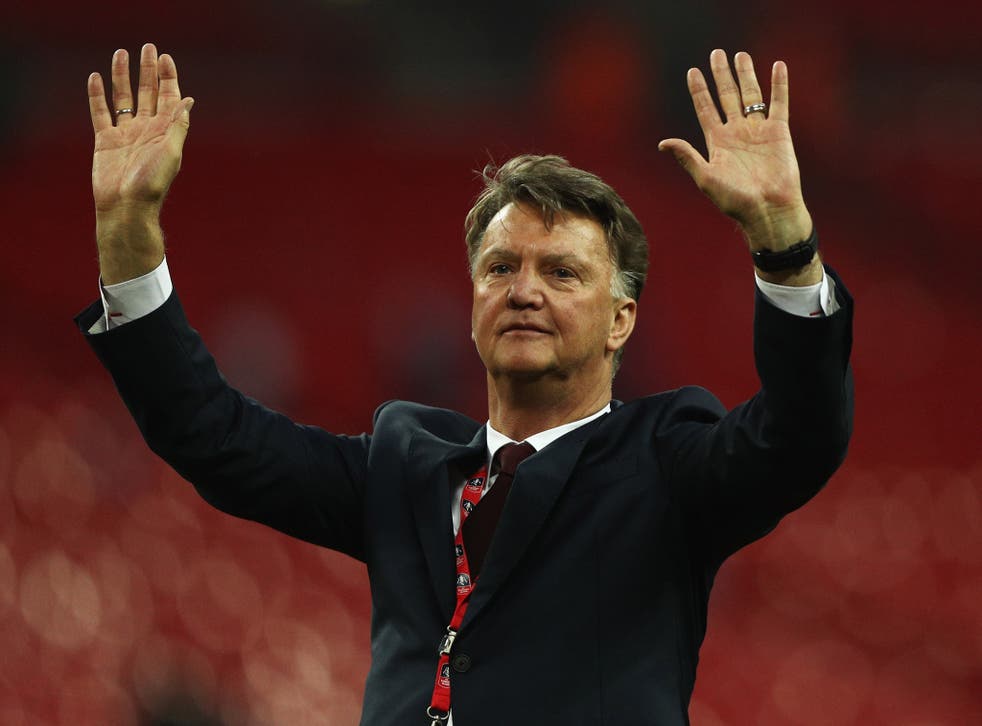 Manchester United are set to announce the appointment of Jose Mourinho as the club's new manager in the next 48 hours after sacking Louis van Gaal — a day after the Dutchman ended Old Trafford's three-year trophy drought with the FA Cup.
Van Gaal, 64, was dismissed by executive vice-chairman Ed Woodward in a meeting on Sunday night at the former manager's home in Bowdon, with a £5m pay-off covering the remaining 12 months of his contract, after failing to secure Champions League football for the club following a fifth-place Premier League finish. Van Gaal asked for the announcement of his dismissal to be delayed until Monday. The Dutchman spent Monday at the club's Carrington training ground finalising the terms of his sacking before flying to Portugal in the evening.
Woodward is set to meet Jorge Mendes, Mourinho's agent, on Tuesday to finalise the new manager's appointment, with an announcement due on Wednesday.
It is understood that Van Gaal, the former Ajax, Barcelona and Bayern Munich coach, would have lost his job, even with a top-four finish, due to the United hierarchy being made aware in recent weeks of the dressing-room disharmony — revealed in The Independent on Monday — that had seen Van Gaal lose the support of the club's leading players.
United finally confirmed Van Gaal's departure at 8.30pm on Monday with a statement from Woodward.
"I would like to thank Louis and his staff for their excellent work in the past two years culminating in winning a record-equalling 12th FA Cup for the Club (and securing him a title in four different countries)," Woodward said.
"He has behaved with great professionalism and dignity throughout his time here.
"He leaves us with a legacy of having given several young players the confidence to show their ability on the highest stage. Everyone at the Club wishes him all the best in the future."
Van Gaal, meanwhile, issued a diplomatic statement, thanking the club for the opportunity to manage in the Premier League, before expressing his regret at the cutting short of his three-year contract.
"I am very disappointed to be unable to complete our intended three-year plan," Van Gaal said. "I believe that the foundations are firmly in place to enable the Club to move forward and achieve even greater success.
"I hope that winning the FA Cup will give the Club a platform to build upon next season to restore the success that this passionate set of fans desire.
"Having managed in Holland, Spain and Germany, I had always hoped for the opportunity to manage in English football and be part of English culture. Both of these experiences have lived up to expectations and been fantastic.
"Finally, my special thanks go to Sir Alex Ferguson and Sir Bobby Charlton for always making me and my family feel so welcome throughout my time as Manchester United manager."
Van Gaal's backroom team, including coach Albert Stuivenberg, goalkeeping coach Frans Hoek and video analyst Max Reckers, have also been sacked by United, but Ryan Giggs, Van Gaal's assistant, is considering a role to remain at the club under Mourinho.
United have moved to hire Mourinho as Van Gaal's replacement, six months on from the 53-year-old's dismissal as Chelsea manager.
The Portuguese will be handed a three-year contract at Old Trafford, with the expectation that he will restore United to the Champions League next season and regain the Premier League title during his tenure.
Man United's worst results under Van Gaal

Show all 10
Mourinho's first game in charge will be a pre-season friendly against Borussia Dortmund in Shanghai on July 22 — three days before United face Manchester City in Pep Guardiola's first game in charge of their neighbours in Beijing.
United could also introduce Swedish forward Zlatan Ibrahimovic on the tour of China with the club understood to be close to securing the out of contract Paris Saint-Germain player on a one-year deal as Mourinho's first signing.
Van Gaal's departure, while no surprise, proved a drawn out process, with the former Holland coach spending eight hours at Carrington resolving his severance and that of his coaches.
The outgoing United manager arrived at Carrington at 8.45am, shortly followed by employment lawyer Paul Gilroy QC, before meeting Woodward and being informed of his dismissal.
Van Gaal subsequently remained at the training ground until leaving at 4.55pm, with the lengthy discussions preventing United from issuing a statement confirming his dismissal prior to the opening of the New York Stock Exchange at 1pm.
While Van Gaal was regarded as "hard work" by many of his players, he was a popular figure with many of the club's staff who personally wished him well during his final day at Carrington.
Having insisted United would he his last job in management after arriving as successor to David Moyes in July 2014, Van Gaal is now expected to retire to his holiday home in Vale do Lobo — a resort he describes as his "Portuguese Paradise."
Mourinho's imminent arrival has led to apprehension among staff at United, however, who fear the former Porto, Chelsea, Real Madrid and Inter Milan coach's destructive reputation could lead to further upheaval at the club.
United's owners, the Glazer family, have turned to Mourinho, despite misgivings from some members of the football board, due to the determination to restore the club to the summit of the game and revive the success of the Sir Alex Ferguson era.
Talks are planned on Tuesday with Mourinho's representative, Jorge Mendes, although confirmation of his appointment is likely to be a formality.
One of Mourinho's first tasks will be to resolve the future of midfielder Michael Carrick, who has yet to be told whether he will be handed a new contract to replace his existing deal, which expires at the end of next month.
Register for free to continue reading
Registration is a free and easy way to support our truly independent journalism
By registering, you will also enjoy limited access to Premium articles, exclusive newsletters, commenting, and virtual events with our leading journalists
Already have an account? sign in
Register for free to continue reading
Registration is a free and easy way to support our truly independent journalism
By registering, you will also enjoy limited access to Premium articles, exclusive newsletters, commenting, and virtual events with our leading journalists
Already have an account? sign in
Join our new commenting forum
Join thought-provoking conversations, follow other Independent readers and see their replies