Van Persie a winner on points and stats
Liverpool 1 Arsenal 2
Ian Herbert
Monday 05 March 2012 01:00 Comments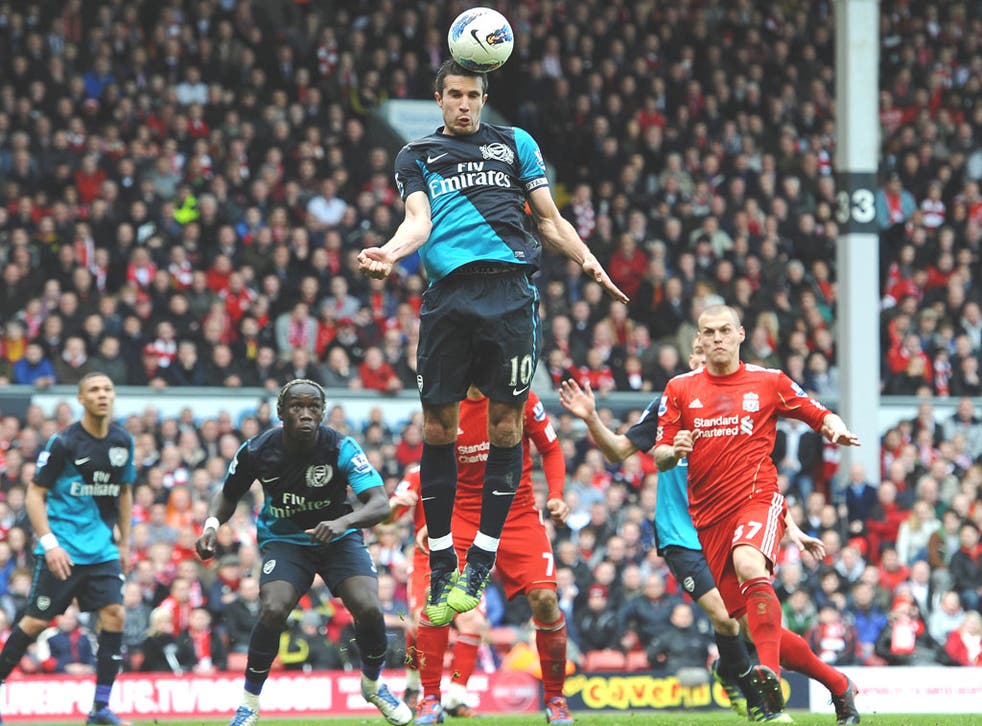 There was so much nonsense emanating from Anfield by the end that it was tempting to think some irony must have been mixed in. The Arsenal fans sang of "by far the greatest team" after Robin van Persie had stolen victory for their fairly dismal side and then Kenny Dalglish started talking of how "if you want to judge it on points it would be disappointing". The last time anyone checked, points were the means of calibrating who should qualify for the Champions League.
Dalglish also invoked the curse of bad luck in his side's defence and perhaps he would also have alluded to this being Liverpool's 13th home game, had he hung around for long enough, though fortune does not come into it. Trot out as many figures as you like about Liverpool hitting the woodwork (21 times now) or missing penalties (six this season, equalling the club record of 1963-64 and 1972-73), nothing can obscure the fact that they lack a 20-goal-a-season striker or midfielders with a game-changing quality.
Liverpool do happen to be blessed with supporters whose statistical analysis provides a lucid interpretation of where the club's strengths and weaknesses lie, accessible through the Tomkins Times website. It is one such analyst, Dan Kennett, who has provided the essential data on "clear chances" created and converted, leaving Liverpool with fewer goals scored as a club this season than Van Persie has all on his own. Creating them isn't too much a problem – one every 40 minutes – but the conversion percentages are something from which Dalglish will want to avert his gaze. Liverpool convert 27 per cent, against a Premier League average of 38 per cent. Luis Suarez, still with only six goals to his name this season, converts a clear chance every 76 minutes and his 24 per cent conversion rate makes him less than half as potent as Edin Dzeko, Javier Hernandez or Demba Ba in those potentially pivotal moments. He perhaps resembles Carlos Tevez in the way he fights through games, but he needs a calm space to construct the kind of scoring record – 81 goals in 110 Eredivisie games – which left Ajax resigned to his departure months before he left for Merseyside.
There was neither rhyme nor reason about Liverpool at times. When Dirk Kuyt powered a low cross beyond Kieran Gibbs, Martin Kelly, the right-back, was standing on the left-hand side of the six-yard box to miss a clear chance. The stadium's frustration with Charlie Adam's concession of the ball to Arsenal was audible. Steven Gerrard – whose sheepish pre-match presentation of the Carling Cup trophy suggested that he knows Liverpool should not be shouting too loud just yet – was missed. Lucas Leiva is, too. More, perhaps, than anyone imagined.
The Arsenal manager, Arsène Wenger, was so surprised by a victory in which the simple, effortless majesty of Van Persie's two volleys rendered Liverpool's bluntness all the more painful, that he even looked to Wednesday night's Milan return with optimism. "We want to make the impossible possible – that is basically our target. You never know in the game." The 4-0 deficit will not stop him throwing Van Persie into the match, he confirmed.
Wenger feels his side have journeyed far from the 2-0 home defeat to Liverpool on 20 August, which came amid the departures of Cesc Fabregas and Samir Nasri. "We were in a bit of a shambles [then]," he reflected. "We were in a little bit of disarray because we had a full transfer period and we were unstable. We lost [Jack] Wilshere as well. We lost [Abou] Diaby. What has happened to us was unbelievable and we have had to rebuild the team. We started from very deep and I don't know if you remember the headlines but people were saying we were playing not to go down."
This game – a pale imitation of the May evening in 1989 when Liverpool led the First Division by three points and somehow surrendered it to Arsenal – didn't feel like a north London rebuild, though Wojciech Szczesny's explanation of his double save from Kuyt's penalty attested to Wenger's powers as a manager. "He [Wenger] said I move my feet too early and I end up losing a few inches by moving my feet earlier," said Szczesny, who had conceded three successive kicks having gone the right way. "Today I said 'I am not going to move my feet and go as late as I can' and it worked. He will try and get all the credit for that! It is always hard to take stick for not saving a penalty because it is hard for a goalkeeper to save a penalty, so he put a little bit of pressure. But it worked, so I cannot say anything."
Szczesny also reflected that he could not see Arsenal ceding a 10-point advantage to let Liverpool into the Champions League, though on this evidence the presence of either in next season's tournament will look like a breach of the Trade Descriptions Act.
Dutch master: In a league of his own
TOP SCORERS 2011-12
Robin van Persie (Arsenal) 25
Wayne Rooney (Man Utd) 18
Sergio Aguero (Man City) 16
Demba Ba (Newcastle) 16
Yakubu (Blackburn) 13
Edin Dzeko (Man City) 13
2010-11
Dimitar Berbatov (Man Utd) 20 Carlos Tevez (Man City) 20
2009-10
Didier Drogba (Chelsea) 29
2008-09
Nicolas Anelka (Chelsea) 19
2007-08
Cristiano Ronaldo (Man Utd) 31
2006-07
Didier Drogba (Chelsea) 20
2005-06
Thierry Henry (Arsenal) 27
2004-05
Thierry Henry (Arsenal) 25
2003-04
Thierry Henry (Arsenal) 30
2002-03
Ruud van Nistelrooy (Man Utd) 25
2001-02
Thierry Henry (Arsenal) 24
LIVERPOOL'S WOES
Missed four out of five penalties in the league this season – including the last two. They have also had the most shots to smack the woodwork.
Hitting the bar
Liverpool 21
Man City 17
Queen's Park Rangers 11
Fulham 11
Blackburn 11
Match facts
Liverpool: REINA 6/10; KELLY 6; CARRAGHER 6; SKRTEL 7; ENRIQUE 6; HENDERSON 6; SPEARING 8; KUYT 6; ADAM 5; DOWNING 6; SUAREZ 6
Arsenal: SZCZESNY 8; GIBBS 5; VERMAELEN 6; KOSCIELNY 5; SAGNA 7; ARTETA 6; SONG 7; ROSICKY 6; BENAYOUN 5; VAN PERSIE 9; WALCOTT 6
Scorers: Liverpool Koscielny (og) 23. Arsenal Van Persie 31, 90. Substitutes: Liverpool Bellamy (Downing, 88), Carroll (Spearing, 90). Arsenal Diaby 7 (Arteta, 53), Gervinho 6 (Benayoun, 74), Oxlade-Chamberlain (Diaby, 81).
Booked: Liverpool None. Arsenal Vermaelen.
Man of the match Van Persie. Match rating 7/10.
Possession: Liverpool 55% Arsenal 45%.
Attempts on target: Liverpool 4 Arsenal 7.
Referee M Halsey (Lancashire).
Attendance 44,922.
Register for free to continue reading
Registration is a free and easy way to support our truly independent journalism
By registering, you will also enjoy limited access to Premium articles, exclusive newsletters, commenting, and virtual events with our leading journalists
Already have an account? sign in
Join our new commenting forum
Join thought-provoking conversations, follow other Independent readers and see their replies