Vincent Kompany truly means business
While Manchester City pursue their goal of world domination, the club's captain relaxes by talking politics and higher education with Ian Herbert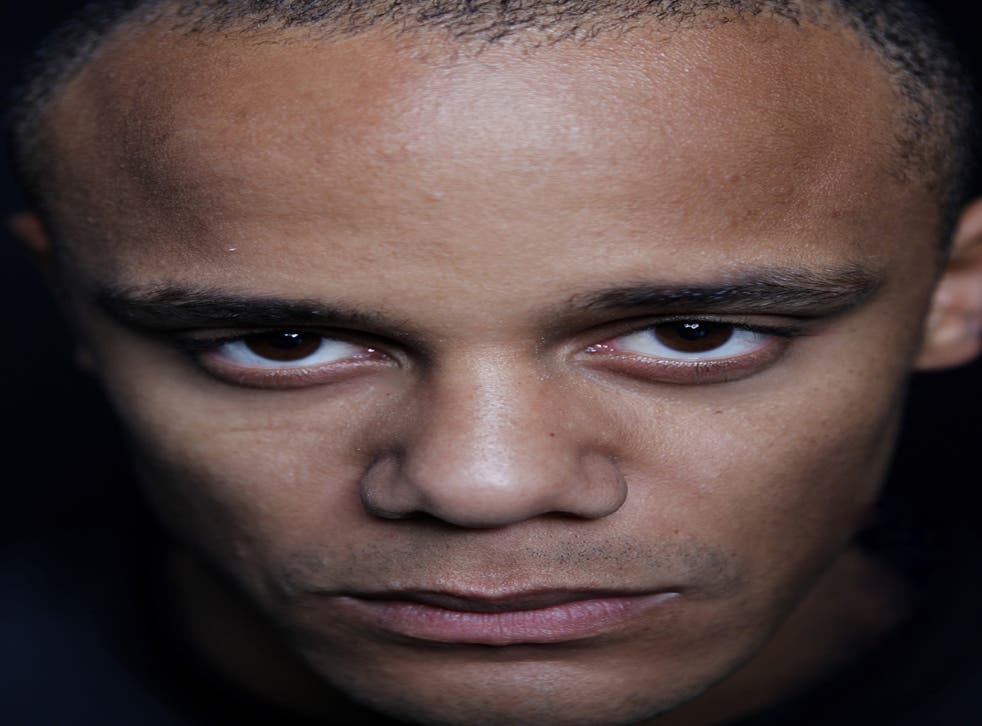 The last time I sat down with Vincent Kompany, he was reflecting on the late night he'd just spent watching the election of Barack Obama, who then seemed untouchable and whose elevation to office would, the Manchester City player believed, make a big statement about what immigrant families such as his own might contribute. Mitt Romney seemed a very insignificant individual at the time, which only goes to show how few certainties come attached to sudden investiture of power.
Manchester City found it thrust upon them at around the same time as Obama, in the form of Abu Dhabi millions, and though the course of their past few years has been far truer, getting to this hugely defining moment in the narrative has been a bumpy business. Kompany has been the man who was asked to take the controls, as captain, and there is no doubt it has changed him.
When we first talked, as he was starting out, he remained something a free spirit: the last man out of the dressing room but one who lingered to discuss casually anything that came to hand. He was reading The Alchemist, the Brazilian writer Paulo Coelho's story of a young man's voyage of self discovery and seemed to be on such a journey himself. Three years later, the searing spotlight has changed him and the experience of having every word he utters deconstructed and reconstructed renders him a far more cautious and reticent soul. "Trash talk" is how he describes the punch and judy business of football talk and it is actually a world he seeks an escape from, when he can.
The Manchester Business School is, Kompany reveals now, the place where he has found a piece of quiet seclusion amid the noise of captaining City to what they hope might be world domination. He has secured a place on a business administration course there and his studies are under way, in some ways a continuation of the baccalaureate he secured as a promise to his parents Pierre and Jocelyne, at a Flemish-speaking school in his native Brussels , before throwing himself into a career in football. "I'm doing it for myself," he says. "I don't want to talk in depth about it because I don't want the pressure of it. I need to perform here and now, at this club. I'd like to succeed or fail [at the course] and not have the eyes on me when I'm doing it. But I think it's a good balance. Everybody is different. Some players need a lot of rest and just be at home. For me it's the total opposite and for the past four years I've been performing like I have been because I've always kept myself occupied outside of football. That's my drive and that's what makes me better. Doing this is not an extra load for me. It's more of a thing that relaxes me."
There are other non-footballing preoccupations in his life too, politics still being one of them - albeit that the electoral names have changed since we last met here in 2009 in the media facility built on the perimeter of the club's training base because Kompany's first City manager, Mark Hughes, wanted no journalists intruding on his players' space. It's Nicolas Sarkozy and Francois Hollande who have been preoccupying him this week – "definitely; not just this week but every week," he says to the question of whether he has been following the French presidential campaign – though neither invite the same enthusiasm as Obama did. Kompany's general view is that Hollande doesn't like the rich and Sarkozy doesn't like foreigners. Marine Le Pen and that ability of the far right to capitalize on economic depression worries him. " L'histoire s'oublie quand elle se répète," ('History forgets when it repeats itself,' he said recently.
You feel that the chance to track such developments, however grave, are welcome though, in a city where every nerve, sinew and shop counter conversation is turned to whether City or United will prevail, two days from now. Kompany's even finds the family he has built in Manchester divided on red and blue lines. Kompany's Mancunian wife Carla - with whom he has a daughter, Sienna, who will turn two in June – brings a family split red and blue into the equation. "Like anyone who has Manchester ties, which I have now, it's like half and half," Kompany says. "Her family are half red and half blue so that's all I can say." He knows he needs to tread diplomatically on this one, though he's not averse to saying that he likes Gary Neville's contribution to the televised football he watches . " Funnily enough I think Gary Neville is very interesting… and talks a lot of sense."
His required text books have included the history of these derbies, too, with the presence of Mike Summerbee around Carrington enough to make the 1968 clash, nine games from end of City's last title-winning campaign more indelible to him than many others since. " I do remember the facts of that game… and Mike just explains to us how great a celebration it was after they won; just the feelings you get," he says. "I guess this has become, after El Clasico, the biggest game in the world in a league competition. Yes, after Real Madrid and Barcelona it is the biggest game in the world."
As City appeared to throw things away before last weekend, the emotions Kompany strives so hard to obscure have been fleetingly evident. The throwing of his shirt into the away end after the tumultuous 1-0 defeat at Arsenal, when all seemed lost, appeared to carry a heavy resonance. " Yes, it was spontaneous," he says. One of his observations on Twitter suggested that the way the club's Posnan celebration vanished for a time had cut him slightly. As captain in the Wembley dressing room before last April's historic semi final against United, he had hatched a plan with the players to 'do a Poznan' before supporters if City won. "The most important thing is that the fans do it when they feel it, that's the thing," he says.
It's fairly obvious from his response that Roberto Mancini's claims that the title race is over are nonsense. " Can I go against what the manager says?" he asks. "You guys can talk about it, and both managers can talk about it, but I am putting my boots on and playing that game. The faint trace of emotion when he's asked about whether second in the table would constitute failure also reveals that the season is, of course, wide open. " I can't answer your question now. It would be wrong to answer it…"
Yet his only strategy this weekend is shut down all extraneous, pointless, random thoughts of Manchester United. This includes any thought of the red card he received early into this season's FA Cup Third Round defeat to United, prompting Ferguson to make the allegation about Kompany's "previous" which has left Mancini still wanting vengeance. " United, as much as anybody, have had decisions go against them this season and we all get them going for us at some stage too, so to be moaning about something is ridiculous because you're going to get the next one," Kompany says. That's not what his manager said. " I'm keeping myself out of that discussion then."
It is when he is confronted by the words of United coach René Meulensteen , who said City "only have individuals who play for themselves" that his wisdom of his desire to seek a space outside of all this is noise really strikes home. "You know what? It's like this," he says. "It's going to be like this. You win the mental war when you have success. You lose it when you don't have success. Ultimately it's all about the players performing for 90 plus minutes and that's when you are right and wrong. It's as simple as that." Kompany, like Obama, will be at the mercy of the fates soon enough. He's holding on to his quiet space, for as long as he possibly can.
Join our new commenting forum
Join thought-provoking conversations, follow other Independent readers and see their replies