Vincent Tan is loved by his Malaysian employees - but Cardiff fans are not so sure
Bluebirds supporters are suspicious of their club's owner, despite him having bankrolled promotion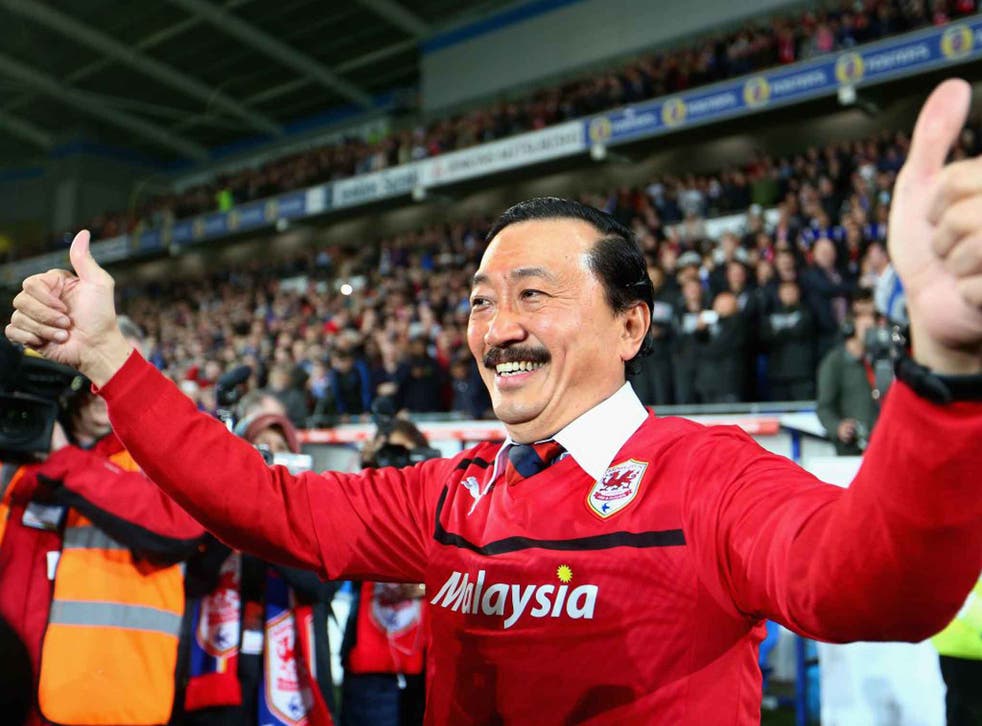 There is an unmissable YouTube film which best illustrates the kind of devotion the Cardiff City billionaire owner Vincent Tan has come to expect from his vast number of Malaysian employees, who sell everything from pizzas and cars to mobile phones and gym memberships.
It is his 60th birthday dedication video: nearly five minutes of cheesy singing and dancing by the workers, using the elite honorific title "Tan Sri" and including such lines as "I love him, I love him, I love him, where Tan Sri goes I follow…" and (à la Frankie Valli) "We love you Tan Sri and if it's quite all right, adore you Tan Sri, every day and night…" This perhaps explains why Tan's relationship with the less adoring fans at Cardiff – the newly promoted Premier League club he bought for £11m before injecting an estimated £70m in loans – remains such an uncomfortable and precarious one.
The uneasiness was never more apparent than this summer, when Tan's acceptance speech for the honorary doctorate bestowed upon him by the University of South Wales drained the colour from City's ashen-faced press officer, who was an onlooker.
Tan, whose sense of entitlement having bought the club stretches way beyond his controversial decision to change their home strip from blue to red, needed no encouragement to warn supporters that they ran a risk by being repeatedly "disruptive", as he put their opposition to the kit.
"If too many fans show they are not welcoming then maybe they [should] have a new owner," he said at the university's Treforest campus. "I'm disappointed that after 51 years of not being in the top flight that there are still some fans who don't think we have done a good job.
"I may say maybe they are not grateful."
Tan also ruminated on Mohamed al Fayed's recent sale of Fulham – "He got his return, I think, at Fulham. The number is not huge, but I'm sure that he got his money back" – aware, no doubt, what a catastrophic outcome it would be if he walked away now, leaving Cardiff perched on a highwire.
The club's finance director, Doug Lee, told the South Wales Echo a year ago that the club would have been in administration "very, very quickly" had the Malaysians not taken over and that there were "very few business people in the world" who could support spending on the current scale, with losses at £1m a week. "I'm not saying they would, but if by some quirk of fate the Malaysians decided to pull out overnight we would be lurching from crisis to crisis within a very short time," Lee admitted.
The "ungrateful" fans are not going away. Membership of the Bluebirds United support group is near 10,000 and the anthem 'We're Cardiff City, we'll always be blue" will ring out when the home campaign begins against Manchester City a week on Sunday. Supporters even sang it at April's player of the year awards – drowning out Tan after he had explained why the treasured bluebird must be consigned to history. "The bluebird was frightened by much bigger and stronger symbols: by the wren and what-not," Tan said in his characteristically eccentric way. "You know I'm a new football fan so I don't know what the other symbols are."
The uneasy laughter that afternoon encapsulated how the Welsh capital just doesn't know what it thinks of this man – savouring the taste of the big time he has delivered after watching Swansea City revel in it for two years, yet knowing that the appropriation of their club is the price which has had to be paid. Tan can follow the course taken by Assem Allam, the owner of the newly named Hull City Tigers and rename the club "Cardiff City Dragons" if he so chooses. No one can stand in his way.
"Never say never," Tan said to that idea. "In two or three years' time I don't want to be eating my own words. That's why I always say 'never say never.' In running a business or any organisation it should be something that is evolving and alive – not something that is dead that you have to stick with."
It cannot be said that he has failed to deliver players for the new campaign, which starts for Cardiff with a visit to West Ham tomorrow. He was quick to promise £25m in the transfer market this summer and has actually gone £2m above that, sanctioning spending which has been only a few million less than Chelsea's. The club's transfer record has been broken three times – initially for 19-year-old striker Andrea Cornelius, from FC Copenhagen, then £8.5m for Tottenham Hotspur's 21-year-old centre-back Steven Caulker and £11m to Seville for the Chilean midfielder Gary Medel.
Just as significantly, Tan has come to a financial agreement with former owner Sam Hammam over £24m of outstanding debt owed to his Langston Corporation, settling with the Lebanese businessman by paying him £15m and making him a Cardiff life president. All of this is seemingly funded through loans, which stood at £37m in the accounts to the end of the 2012 financial year. Tan is yet to make good on his promise to convert them to equity. He has said he would do so when the Langston issue was resolved.
The three big signings have come at top-dollar prices, with some Danish observers believing that Cornelius will be a rookie in need of a year's acclimatisation, rather than a new Christian Benteke – though no one knows until the season starts. Cardiff director Steve Borley said in May: "We'd like to follow the Swansea model. If you get a dozen Michus, you wouldn't do too badly." The summer has proved that £2m goal machines don't grow on trees.
No one is sure how things will play out for the manager Malky Mackay if the season proves to be a struggle and there is something particularly unsettling about Tan's trenchant belief in luck. At Cardiff's 2009-10 play-off final against Blackpool at Wembley, days before the start of his reign, he sprinkled the four corners of the pitch with rice for good luck – to no avail – and it is the same belief system which has turned him on to Cardiff playing in red.
His lack of knowledge of football has been a source of entertainment so far. Mackay expressed amusement about the owner's suggestion that the side should "shoot more" and his incredulity, after a defeat to Peterborough, that a team at the bottom could beat you.
Promotion to the top flight requires a dose of optimism, of course. Tan displayed realism at the player of the year lunch by declaring that this season's aim was "to survive and not to be relegated". And if Cardiff do manage to establish themselves among the elite – their entitlement given such a large catchment area, their captain Craig Bellamy argued in his recent autobiography – there is no better man than Tan to capitalise financially.
He is hugely able entrepreneur. The punt he took on bringing McDonald's into Malaysia and on buying the loss-making social media site Friendster proves that much. He is also a hugely generous philanthropist – one of only a dozen billionaires the world over to have given away more than half of his fortune. Though Manchester United failed to float on the Singapore Stock Exchange last year, Tan feels that he might get his club away on the Malaysian equivalent.
"I look on it as a business," he told BBC Wales in February. "It's not like a hobby I put £100m into. If the fans welcome me and everybody welcomes me I can stay for a long time. But if I find they are rude maybe I will find a new buyer and go off."
Register for free to continue reading
Registration is a free and easy way to support our truly independent journalism
By registering, you will also enjoy limited access to Premium articles, exclusive newsletters, commenting, and virtual events with our leading journalists
Already have an account? sign in
Register for free to continue reading
Registration is a free and easy way to support our truly independent journalism
By registering, you will also enjoy limited access to Premium articles, exclusive newsletters, commenting, and virtual events with our leading journalists
Already have an account? sign in
Join our new commenting forum
Join thought-provoking conversations, follow other Independent readers and see their replies