Ashley Young at the double as Manchester United hold on to sink Watford on night of contradictions
Watford 2 Manchester United 4: Young and Anthony Martial both shone as Jose Mourinho's men held on for all three points at Vicarage Road, despite the hosts' spirited comeback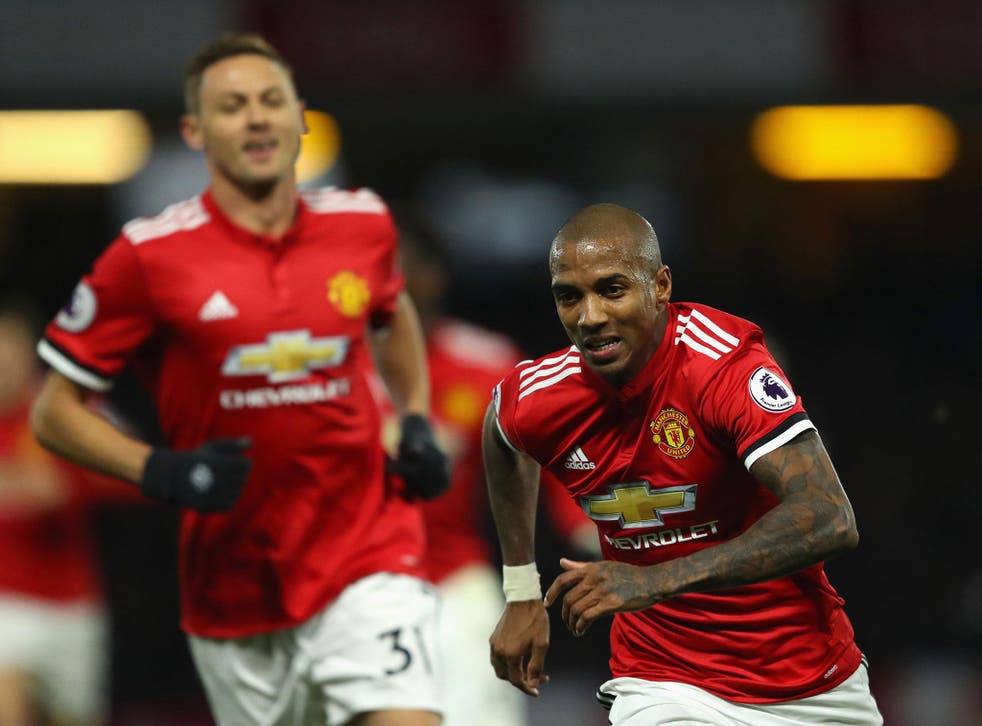 A night of contradictions at Vicarage Road, so oddly but aptly settled by one supreme moment of single-minded directness from Jesse Lingard.
His composed, confident and coruscating winning goal was not just timely for the fact it came in the 87th minute and the score at 3-2, but also when Manchester United looked set to nervously collapse in the face of a forceful Watford comeback from 3-0 down.
Jose Mourinho's side held on, and you couldn't really hold the result against them, given it had looked like they had won the game in the first half with what had been a resounding lesson in ruthlessness. That was one of the many contradictions.
United had been so clinical but yet so sloppy, Watford so assertively composed but yet also so self-destructively calamitous. Marco Silva could reasonably say the 4-2 end result was unfair on his team, but then it was also at once perfectly fair to say it was just-rewards for United.
There was then the fact that the returning and resurgent Ashley Young had been the most productive attacking player on the pitch, and the one that ultimately showed his old club Watford the true value in converting chances with two utterly brilliant goals, despite performing - and performing to increasingly improving standards - as a converted left wing-back.
That is testament to Jose Mourinho's coaching of the player, while the end result was just about testament to his tactical approach to this game, especially against such a highly-fancied compatriot.
Silva's side had been expected to really put it up to United, but instead found themselves 3-0 down by half-time. There was a further contradiction to that, though, given that Watford had actually started the game quite well.
Richarlison had been at the centre of everything and looking like the best player on the pitch for about 18 minutes.
It was at that point United - and, more specifically - Young showed the Brazilian what it meant to really take command, and take your chances. It didn't help Watford of course that the early proactivity that allowed Richarlison to be so involved also allowed Mourinho's team so much space in behind, and they really helped themselves.
There had already been warnings with the way Martial and Young had got in behind on the break in the early minutes, but they weren't heeded. On 18 minutes, Lingard suddenly found himself in space in front of Heurelho Gomes' area, before feeding the ball to Young.
The wing-back - rarely for a United attacker in the first half - actually found himself under a bit of pressure, but that only ensured his finish was all the better, all the more impressive. Young teed himself up so efficiently with one touch, before firing in so effervescently with the next.
This is a player in ever-improving good form and on confidence, as he showed with his very next big contribution. On 25 minutes, from about 25 yards, he stepped up to curl a perfect free-kick into the top corner.
Watford were all over the place at the back then, as further emphasised when Lukaku played a fine ball in the air six minutes later to send Martial through to hit the ball low and hard past Gomes.
United were just picking them off, to the extent their in-form attackers were just picking their spot.
It could have been even worse for Watford had Gomes not pulled off a brilliant save to deny Lingard from what initially looked an open goal.
That will likely be forgotten given the nature of the game, but it was testament to Silva that he wasn't willing to just forget the game and see it out.
Watford clearly did sense something given that Richarlison had hit the bar from a header just before half-time and Sebastian Prodl might have had a penalty for a push from Chris Smalling just after it.
This was the core oddity of this game, especially at 3-0 to United. Watford were actually playing quite well, their calamitous first-half openness at the back notwithstanding.
And it wasn't long until they got their rewards, too, just at the point when United - and particularly Lukaku - started to waste chances of their own.
Just moments after the Belgian had squandered two big opportunities at one end, Marcos Rojo wildly took down substitute Roberto Pereyra in the box for Troy Deeney to score a penalty.
Abdoulaye Doucoure then made it 3-2 with six minutes of normal time left, as a game that had seemed settled suddenly became so gloriously unsettled, so open - until Lingard restored order and secured the result. He stepped in, just when it seemed United were set to falter.
It was one last display of ruthlessness, to punish one of the many moments of sloppiness.
Join our new commenting forum
Join thought-provoking conversations, follow other Independent readers and see their replies