Watford vs Leicester: Claudio Ranieri praises Foxes despite another defeat on the road
The Italian sought to dismiss the suggestion that cracks that are beginning to appear in the defending champions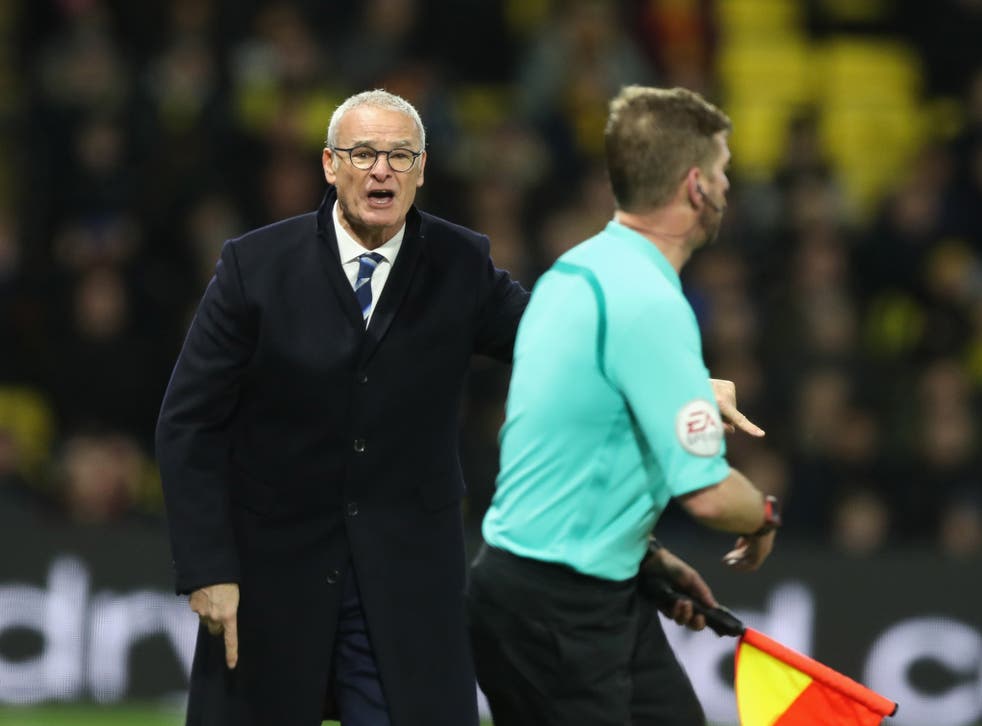 Claudio Ranieri has praised his Leicester City side's reaction to conceding two early goals against Watford on Saturday afternoon, despite struggling to make up the deficit in a game that finished 2-1 at Vicarage Road.
After finding themselves trailing within the opening 12 minutes, the Foxes pulled one back courtesy of Riyad Mahrez's conversion from the penalty spot after Jamie Vardy had been brought down in the Watford box by Miguel Britos.
Leicester fought back in search of an equalising goal, enjoying the lion's share of possession in the closing stages of the match, but the home side held out for all three points to claim their first victory against the Foxes in the Premier League.
Without a win on the road this season, and with now 12 points from 12 games, last season's champions are struggling to recreate the sort of form which saw them lift the title last May.
But speaking afterwards, the Italian sought to dismiss the suggestion that cracks are beginning to appear in his Leicester outfit and was instead keen to focus on his side's positives.
"I think that we had a very fantastic reaction [after falling two goals down]" he said. "We go back in the match, we try to do our best. Gomes didn't make any save [in the second half] but I think that until the end we had a chance to score a goal because the team was alive.
"We had a fantastic reaction. Against us today there was a big wall to stop all of our shots on goal. But am I very pleased with our performance.
"This spirit of the team is fantastic. I am proud of them, of course we lost the match but the spirit is the same, the spirit is high."
When asked if he thought the side faced a growing crisis, Ranieri said: "No, no, there's no problem. It's a problem when we concede a goal. But when an opponent scores after 35 seconds and then a second I think every team goes down, and we reacted very well.
"We go back in the match, we re-open the match and try to do our best. The spirit, everything was right. I think at the end we deserved to draw the match but of course we left some good chances to them to finish the match.
"Is it just a bad period now? That's it now, we are in 2016/17, and we have to react. We have to keep going with this period but of course stay stronger and concentrate from the beginning of the match every time."
Watford coach Walter Mazzarri admitted afterwards that his side had intended to hit Leicester hard from the off.
"We wanted to attack immediately," he said. "We did the same against Hull City but unfortunately against Hull City we couldn't score. But this is our idea, we want to always attack from the beginning.
"I'm happy for the victory in general, it doesn't matter that they were the champions of England. But mainly I am happy for the performance because the team played as I always want them to play, and especially after the big defeat against Liverpool."
Having succumbed to a 6-1 hammering at Anfield two weeks ago, Mazzarri also offered an insight into how his side had worked to react to such a painful defeat.
"We worked a lot on the pitch, we worked a lot on the field. We focused a lot on physicality, to improve physically. But we also worked on the psychological side of the game, especially after a defeat like Liverpool.
"The guys today were great, they played under a top level and managed to forget the defeat against Liverpool as if it was an error that can happen to any team."
Join our new commenting forum
Join thought-provoking conversations, follow other Independent readers and see their replies