Watford vs Liverpool result: Leaders' unbeaten spell ends at feet of inspired Ismaila Sarr
Watford 3-0 Liverpool: The Hornets turned on the style in the second half to rip through a lacklustre Liverpool and haul themselves out of the relegation zone
Melissa Reddy
Vicarage Road
Saturday 29 February 2020 20:40 Comments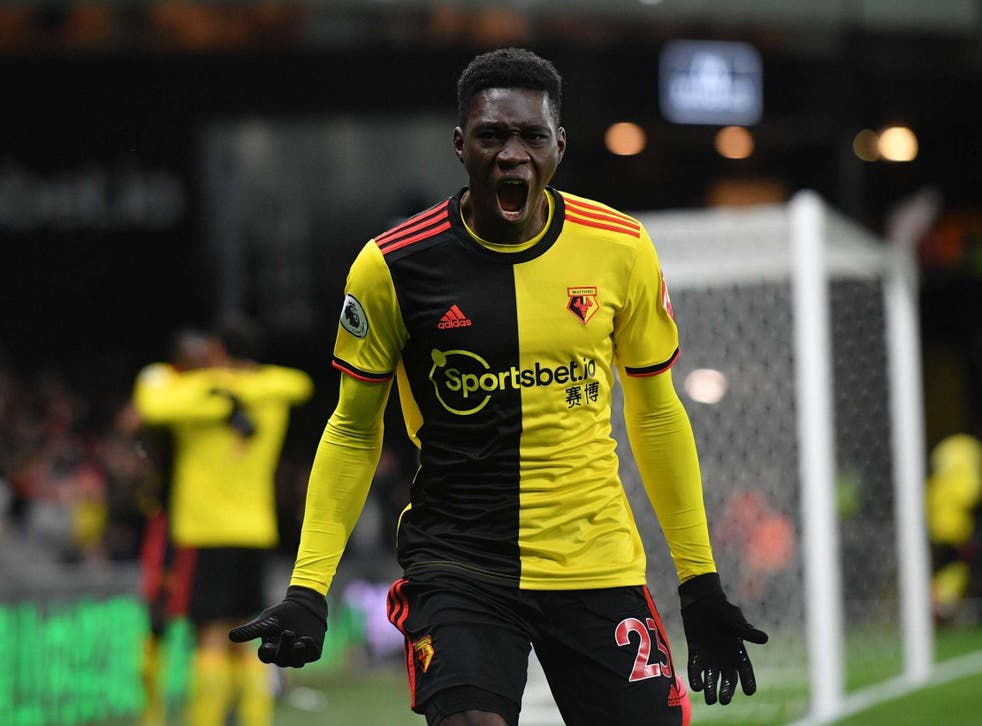 After 422 days of being infallible, Liverpool's Invincibles objective fell in the meekest manner during a 3-0 defeat at Watford.
The home supporters were layered in utter disbelief and ecstasy, arms aloft and voices thundering. Their counterparts were stunned into silence: this doesn't happen, this hasn't happened, what is happening?
If Jurgen Klopp's men were seeking a tonic for the talk that their superiority in the Premier League is on account of the division being weak, they inadvertently provided it at Vicarage Road, where they were embarrassingly annihilated by the relegation strugglers.
Three Premier League champions had finished with the same amount of points – 79 – or lower as Liverpool kicked off with at Watford. Only 42 teams since 1992 have ever earned more in a complete season than their current tally. But for all the evidence to drown out the noise suggesting the Merseysiders haven't actually been very good and everyone else has really been very bad, the performance of Nigel Pearson's side was perhaps the most concrete.
Second from bottom heading into the encounter, Watford were far superior in a hideous opening half staged in baltic conditions.
There were glitches in Liverpool's offensive play and when Alisson wasn't averting danger, the goalkeeper was screaming out for greater protection and focus from those in front of him.
Pearson's men were well organised, aggressive and ambitious – the antithesis of a team in trouble. Despite losing the brightest player on the pitch in Gerard Deulofeu to an awful twisting of his knee on 37 minutes, they still carved the best chance before the break.
Liverpool's No 1 dropped a bouncing ball at the feet of Troy Deeney, who turned and chipped an effort towards goal that Alisson recovered to save. The striker had another bite, but his follow-up was shepherded out of play by Virgil van Dijk.
There could have been no arguments if Watford went into half-time in the lead, having had seven shots in total while restricting the visitors to one.
And they began the second period with the same enterprise, with Ismaila Sarr forcing Alisson to tip a robust shot over. The Senegal speedster was in lift-off mode and with Liverpool so lethargic on Saturday evening, he was primed to punish them and duly did.
His first came after the visitors produced their most promising period of play with Van Dijk sliding a superb pass down the inside-left passage to Andy Robertson, whose shot was pawed away at the near post by Ben Foster.
That bit of positivity fast eroded when Liverpool were passive from a long throw-in the left, which Deeney allowed to bounce through to Abdoulaye Doucoure. He chested it on the run, knocking the ball into the box where Sarr reacted faster than Robertson to convert.
It was a series of individual errors and a collective shutting off from Liverpool that led to the goal, which was to be repeated. Klopp's charges were slow at another throw-in, which resulted in Deeney curling a pass around the defence and putting Sarr through. He blitzed Van Dijk and Dejan Lovren, clipping the ball over Alisson for his second.
"I think first of all credit to Watford – the chances they created they stick to their plan they scored three goals we didn't create too many opportunities and we can't take the credit away from them," Van Dijk said. "We need to improve, it's a tough one to take. If you conceded three goals we have to improve as a team and we will.
"Two throw-ins... we have to look at it, but there is no reason for panic. We have to stay humble and work harder next match. The whole season we haven't lost a game like this – we want to strike back straight away."
Liverpool, at 2-0 down, were already toast. But Watford were not done and revelled in their status as vanquishers with a champagne third: Trent Alexander-Arnold's short backpass was latched onto by Sarr, who rounded Alisson at a tight angle. He supplied the menacing Deeney, who coolly sidefooted the ball over the head of Van Dijk on the line.
"Our best performance by a country mile," the Watford captain said. "We've felt unlucky at times in the past few weeks. No-one gave us a prayer or a hope for this one. Every single man was quality today. They're a proper outfit and they're going to go on to win not only the league but probably a lot more trophies – but we want to keep it about us not about Liverpool."
Klopp's overriding assessment was succinct. "They did exactly what they wanted to do, we did not," he said. "That's how football works. You have to accept it, it's not so easy, but it's the proof we were not good enough tonight."
Liverpool's unbeaten league run ends at 44 matches and while ultimate history is out of reach, a long-awaited title – the holy grail – is only 12 points away with 10 games to play.
Register for free to continue reading
Registration is a free and easy way to support our truly independent journalism
By registering, you will also enjoy limited access to Premium articles, exclusive newsletters, commenting, and virtual events with our leading journalists
Already have an account? sign in
Join our new commenting forum
Join thought-provoking conversations, follow other Independent readers and see their replies