West Bromwich Albion vs Manchester United: Darren Fletcher content with a life turned upside down
After recovering from a long illness, midfielder loves his role as West Bromwich captain even if it is a far cry from his heady days at Old Trafford
Simon Hart
Sunday 06 March 2016 00:03 Comments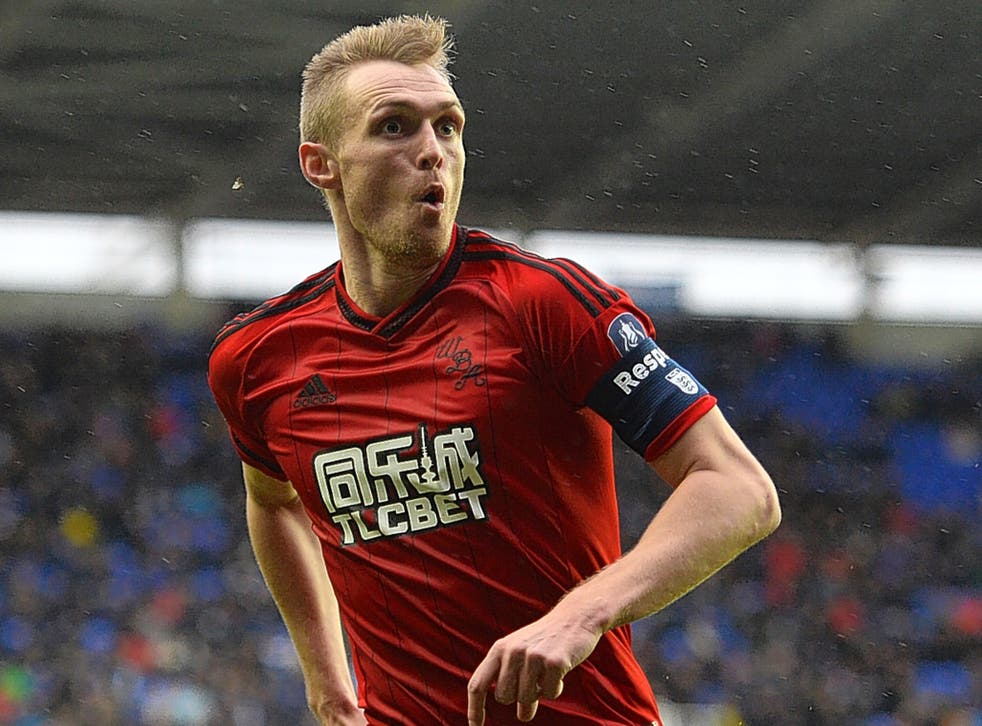 Darren Fletcher might have spent more than a decade as a Manchester United first-team player yet it was not until he swapped Old Trafford for The Hawthorns last year that he truly understood the meaning of pressure.
This was the Scotland midfielder's surprising admission on Friday as he looked forward to Sunday's reunion with his old club, Fletcher suggesting that scrapping for survival with West Bromwich Albion was considerably more stressful than pursuing the big prizes with United. "I found more pressure last season to stay in the League if I'm honest," said the 32-year-old, speaking at Albion's training ground.
"Going for the Premier League is a buzz. There's the pressure to go and perform on the big stage and there is more scrutiny at Manchester United, but the pressure of staying in the League is a lot more intense and that hit me very quickly. I didn't expect that. It was strange really."
Strange maybe, but Fletcher has savoured the pressure. This, after all, is a player who simply wanted the opportunity to play football again week in, week out, following a long struggle with ulcerative colitis. "I felt I would be given the chance to play even when I was not 100 per cent fit and I would be given that time to become match fit," said Fletcher who has started 47 games in his 13 months with Albion.
At United, he was well aware of the sceptical reaction that followed any off-colour performance – "Oh yeah, he's been ill and is never going to be the same player" – in the wake of that challenging two-year period between November 2011 and December 2013 when he barely played. And he believes it has taken a full year of regular football to rediscover the best of himself.
"I thought I was fit when I was playing for United but I probably wasn't as fit as I could've been," he said. "It takes such a long time to get your strength back and your match sharpness back when you've lost weight and been ill. It takes maybe a lot more time than I realised."
It is easy to grow cynical when you read about footballers like Charles N'Zogbia, down the road at Aston Villa, earning a reported £62,000 per week for sitting in the stands each Saturday. Fletcher, articulate and bright, is a different breed. He could have accepted a new contract and been a "bit-part player" at United but wanted more. "Training is fine and being part of a great club is fine but it is irrelevant. The most important thing is getting out on that pitch and playing and pitting yourself against that fellow midfielder or finding a way to win a game and that satisfaction on the weekend of getting those three points. Nothing beats that."
It is a feeling that had been elusive at 13th-placed Albion until recently though he believes that the League victories over Everton and Crystal Palace and Tuesday's 2-2 draw at Leicester City show they have belatedly found the right balance "between being solid and hard to beat but also carrying that attacking threat". Moreover, with two goals in his last five games, he is benefiting from the greater attacking licence granted him by manager Tony Pulis after a December tête-à-tête.
Fletcher, who as captain is allowed "little bits of input" by Pulis, reflects he has learned new ways of winning games at a club which spend much of the week working on team shape. "The manager has got his beliefs and it's great for me to realise that this is more the norm and Manchester United is probably the exception. This has been great for adding different ideas about football and how you can control a game out of possession but still be in control of the match because you are dictating where the opposition play and how you can exploit that."
If the groans of discontent about Albion's lack of attacking flair have been silenced of late, the same goes for United, though Fletcher offers a defence of Louis van Gaal, with whom he worked for seven months before quitting Old Trafford. "It's not joyless [football]," he argued. "He demands a team structure. He's very demanding of your role in the team and that you're patient and you stay in your area and it is very structured. There's no doubt about that but I learned a lot from it. He expects creativity and freedom at the right moments. He doesn't expect it all the time."
Fletcher is happy to see one area where Van Gaal is in tune with United's traditions, namely his willingness to blood youngsters like Marcus Rashford, the hero of last weekend's win over Arsenal. "I love to see young players getting an opportunity. You see they play with no fear and with an exuberance and a confidence and a naivety at times which is good. The club has always been about that and Louis van Gaal has not been shy about putting the young lads in."
That said, Fletcher does add a word of warning. "It is great when you come in at first and you do well and that is when you have to work even harder because it does become even more difficult. I would say to them keep working hard and don't think you've made it just yet. You've made it when you've won two or three Premier Leagues and you've played for four or five seasons – that is when you can buy your Bentley or your super car."
Register for free to continue reading
Registration is a free and easy way to support our truly independent journalism
By registering, you will also enjoy limited access to Premium articles, exclusive newsletters, commenting, and virtual events with our leading journalists
Already have an account? sign in
Join our new commenting forum
Join thought-provoking conversations, follow other Independent readers and see their replies