West Ham vs Chelsea result: Andriy Yarmolenko comes off the bench to stun slack Blues
West Ham United 3-2 Chelsea: A late counter-attack caught Chelsea off guard and earned West Ham a crucial victory in their survival fight
Miguel Delaney
London Stadium
Wednesday 01 July 2020 22:19 Comments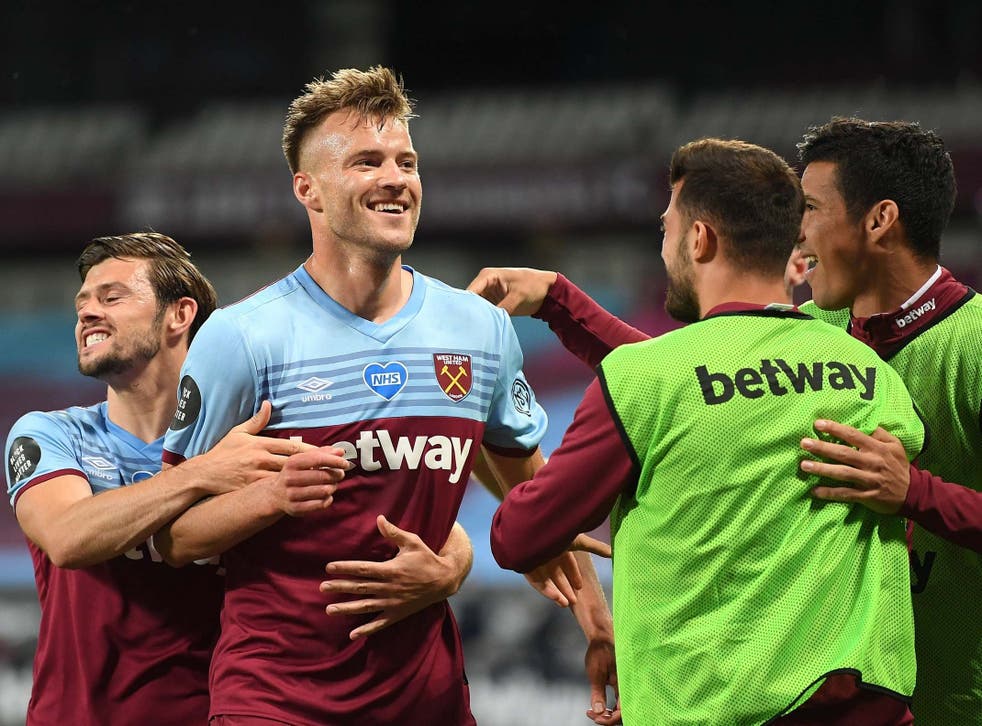 At the end of a game of so many borderline decisions, in a season when races at both ends are so tight, this could well have been one of the biggest goals – and games – of the entire campaign.
Andriy Yarmolenko's 89th-minute scorcher could well be enough to keep West Ham United up, especially in a relegation battle of such low quality that this 3-2 victory over Chelsea was the first win by any of the top five since the restart.
It didn't just mean Frank Lampard's side lost the game, either, and the second to West Ham this season. It meant they lost the chance to go above a free-falling Leicester City, as well as all momentum and initiative.
There are still so many flaws in this team, that had been evident in the last few games, but hadn't been punished.
Here, as Chelsea left almost their entire half open in chase of a winner, they were punished in the most painful way. The brutality of the moment was only matched by the brutality of the strike, as Yarmolenko powered the ball past Kepa Arrizabalaga with an effort that seemed to release so much pent-up frustration.
It may well keep West Ham up.
Moyes' side have many flaws of their own, but that genuinely may not matter.
This chaotic – often farcical – game summed that up.
It was one where so many issues were illustrated, from the teams to the officials' decision-making.
West Ham really don't have all that much in attack, but Chelsea still have so many problems at set-pieces, which Moyes had clearly worked out how to get at. One way was through a novel 'love train', as Glenn Hoddle likes to call them. Three players – Issa Diop, Tomas Soucek and Angelo Ogbonna – bunched up close together in the area in a manner that suggested social distancing wasn't a concern, before dispersing and making runs in three different directions. Clearly sensing danger, Cesar Azpilicueta attempted to aggressively insert himself between them, before being told off by Martin Atkinson. If West Ham were pleased with that decision, they weren't with what followed.
Azpilicueta had been right. The West Ham approach paid off with Diop flicking on Jarrod Bowen's excellent delivery for Soucek to steer in. Or, he would have, had Michael Antonio not been ahead of him on the line. That prevented a straight shot and Azpilicueta blocking it, before Soucek forced it over.
With Antonio's head in an offside position, though, the goal was – belatedly – ruled out after three and a half minutes.
Moyes was livid, and only angrier moments later when Pulisic made the most of Diop's flailing leg to win a penalty. Willian scored it.
If the offside decision was a let-off for Chelsea, though, it wasn't one they learned the lesson of. This team still so struggles with set-pieces.
Their goalkeeper, meanwhile, struggles with a lot more than shots.
Bowen hit another perfect corner, but this time straight for Soucek's head. He found the corner, but that might not have been the case had Kepa not so indecisively and weakly come for it, leaving the midfielder with an almost open goal to head into. Tammy Abraham wasn't much better with a bizarre attempt to clear it, but the majority of the blame clearly lay with Kepa.
It wasn't the first time, and not just in this game.
In this game, mind, he illustrated a raggedness that was characteristic of Chelsea. They're still too easy to get at.
One ball in to Antonio from Declan Rice created havoc, the ball eventually being worked to Bowen for the winger to square. Antonio, initially complaining that Antonio Rudiger had tugged him, was left celebrating as he instantly got up to finish.
That's the way to respond.
Willian then showed the way to hit free-kicks. It's also one element of set-pieces Chelsea are very good at. The Brazilian actually hasn't always been the most popular player among the Stamford Bridge crowd, with some of his traits proving frustrating, but there can be no debating his dead-ball delivery. It has so often been perfect. This effort certainly was. It flew in off the post, leaving Fabianski with no chance.
Chelsea thereafter thought they'd have many chances to win it. They only coughed up the biggest of the game.
Yarmolenko ensured West Ham did the double in this derby, and probably more than doubled his side's chances of staying up.
It was a precious win, when they're at such a premium at the bottom.
Register for free to continue reading
Registration is a free and easy way to support our truly independent journalism
By registering, you will also enjoy limited access to Premium articles, exclusive newsletters, commenting, and virtual events with our leading journalists
Already have an account? sign in
Join our new commenting forum
Join thought-provoking conversations, follow other Independent readers and see their replies