West Ham's players are stepping up to the plate without Dimitri Payet to turn to, says Slaven Bilic
The Croat also addressed speculation linking former Manchester City manager Roberto Mancini with his job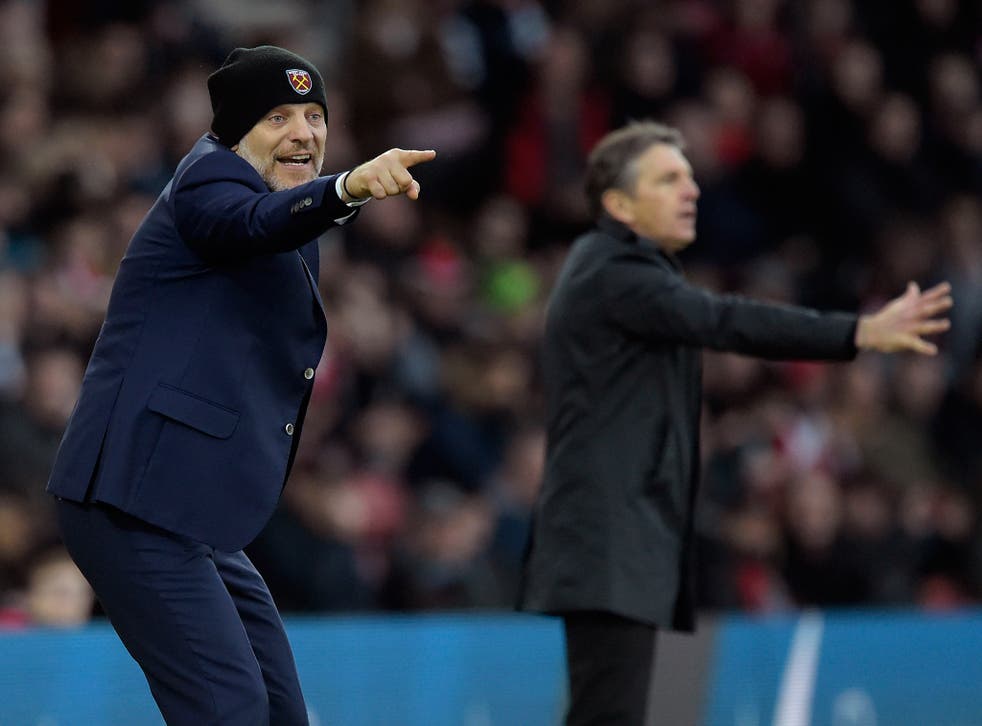 Dimitri who? West Ham moved into the top half of the Premier League after recording their sixth victory in nine matches at Southampton on Saturday and the absence of Dimitri Payet was barely noticeable.
The France midfield player was so often held up as the inspiration behind the Hammers' outstanding 2015-16 season that a slump in the club's fortunes would have been the logical expectation after his return to Marseille. But according to Slaven Bilic, the manager, the rest of the squad have responded to the challenge of doing without him.
"Don't get me wrong, we lost a great player, but these things happen in football and the team reacted in the best possible way," Bilic said. "We have a great team spirit now, we have a really great work rate and atmosphere in the camp. It wasn't because Payet left – Payet was brilliant - but the boys showed in those difficult situations that we ain't going to sink, we ain't going to crumble, we are not going to go: 'Oh no, we have lost our talismanic player.' No, we have to take more responsibility, individually and as a team. And we want to do it."
Bilic admitted that the players had been tempted to look to Payet first to rescue unpromising situations. Without him, other destinations for passes have to be considered, and, of course, opponents can no longer count on stopping the entire team by bottling up one player.
"It [happens] everywhere," the Croat said. "When Barcelona have problems, they give the ball to Messi. When Man City have problems, they give the ball to Silva. There are always those kind of players. Now, without [Payet] of course with people like Lanzini, you spread that. A lot of times it gives you more options because now teams can't say: 'We close Payet down and we are able to close them down, or we are able to take the ball off them.' Now there is danger from here and from there, from the right, danger from long balls. So that is good."

Ah yes, the danger from long balls, which brings us to Andy Carroll. At St Mary's he showed his range of qualities, including a neat finish after a well-timed run between the central defenders and a deft first touch. West Ham became less of a threat after he was substituted as a precaution following a twinge in his groin, which had also bothered him in the win against Middlesbrough. But lesser strikers than Carroll will cause problems to the Saints back four, weakened as they are by the absence of the injured Virgil Van Dijk and the departure of Jose Fonte to West Ham. Fonte may end up congratulating himself on his foresight in avoiding what may turn out to be a relegation battle on the south coast.
West Ham, in contrast, are looking up again after a tough start to the season, which makes questions about Bilic's position following reports late last week that his employers are thinking about bringing in Roberto Mancini in summer all the more surprising – not least to Bilic. "If you ask me honestly, and I always try to be honest, I don't understand those questions," he said. "I'm not the manager of Chelsea or Man City so we are in a strange position that West Ham wasn't expected to be in.
"I can say without being big-headed, me and my staff are doing an excellent job here, especially considering the difficulties of this season, the changing of the stadium, so many injured players, some of the transfers didn't work out, not for the players and not for us. But we are swimming in those difficulties really well."
Join our new commenting forum
Join thought-provoking conversations, follow other Independent readers and see their replies