West Ham news: Hammers aim to ban 200 fans in crackdown following London Stadium violence
Club officials spent Thursday poring over CCTV footage from Wednesday's EFL Cup clash with Chelsea in a bid to root out the troublemakers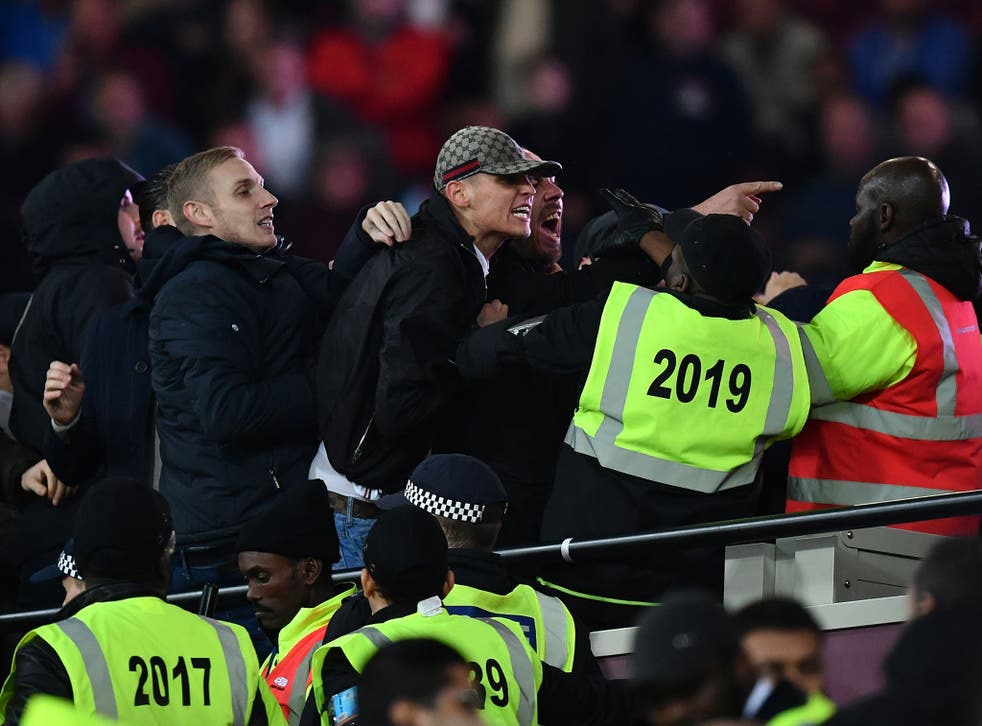 West Ham United are preparing to root out the fans who caused Wednesday's trouble at the London Stadium, and are planning to ban 200 of them for their behaviour at the end of the game. While the club are also planning to review security measures through the London Stadium Safety Advisory Group, their first priority was to ban those responsible for Wednesday ugly scenes.
Club officials spent Thursday poring over the CCTV footage from the state-of-the-art Panomera system, which provides HD footage far clearer than what most clubs have in their grounds. This means that West Ham can identify with real certainty who did what when home and away fans clashed at the end of Wednesday night's game. They have already banned 23 individuals this season for bad behaviour, thanks to the new cameras.
The Metropolitan Police arrested seven men at the game, but West Ham intend a far broader response, to send a clear signal that aggressive and confrontational behaviour will not be tolerated at the London Stadium. Safety and family-friendliness are paramount, and the club never want to see violent scenes at the ground again.
This means that the club are intending to issue life-time bans to any fans who were seen throwing missiles – chairs, coins and bottles – over the segregation line at the Chelsea fans. They will also ask those fans to receive banning orders, keeping them out of any football match. But the club will also be pursuing the fans who charged over towards the Chelsea fans, making aggressive gestures. They will be subject to one-year bans, as the club makes clear its no-tolerance policy for provocative behaviour.
As West Ham made clear in their public statement immediately after the game, they now have 10,000 under-16 season ticket holders, and 25,000 supporters who attend as part of a family unit. The club are desperate for those fans to feel safe, and to attract more fans like them. "The club and stadium partners have been working hard to ensure that the stadium is a safe and family friendly environment," the club said, "for all home and away supporters."
West Ham v Chelsea: FA launch investigation into violent scenes
West Ham will also try to make sure that the structural issues which contributed to the violence are addressed ahead of future big games. The London Stadium Safety Advisory Group, which oversees arrangements at games, will discuss whether the segregation and stewarding plans are sufficient to prevent mass confrontations at future matches.
The club were confident before the game that "adequate and appropriate segregation lines" were established between home and away fans. But when Chelsea fans tried to leave, West Ham fans stormed the open concourse area through which they were leaving, causing a few minutes of chaos before order was restored.
There were 5,200 Chelsea fans at London Stadium and there are only away followings that big for cup games. But West Ham have yet to play a high-profile home game in the Premier League, and there will serious focus on their games with Arsenal on 3 December and Manchester United on 2 January. There will be 3,000 away fans for each of those and West Ham will be desperate to ensure safe segregation between home and away fans, with no repeat of Wednesday night.

Register for free to continue reading
Registration is a free and easy way to support our truly independent journalism
By registering, you will also enjoy limited access to Premium articles, exclusive newsletters, commenting, and virtual events with our leading journalists
Already have an account? sign in
Register for free to continue reading
Registration is a free and easy way to support our truly independent journalism
By registering, you will also enjoy limited access to Premium articles, exclusive newsletters, commenting, and virtual events with our leading journalists
Already have an account? sign in
Join our new commenting forum
Join thought-provoking conversations, follow other Independent readers and see their replies