Exclusive interview
Manuel Pellegrini discusses his nomadic career, the joy of playmakers and the Irons
The Chilean sits down with Jack Pitt-Brooke to talk over a career that has taken in some of the world's biggest clubs, and what lessons he has learned that can restore West Ham to the big time
Thursday 21 February 2019 13:37 Comments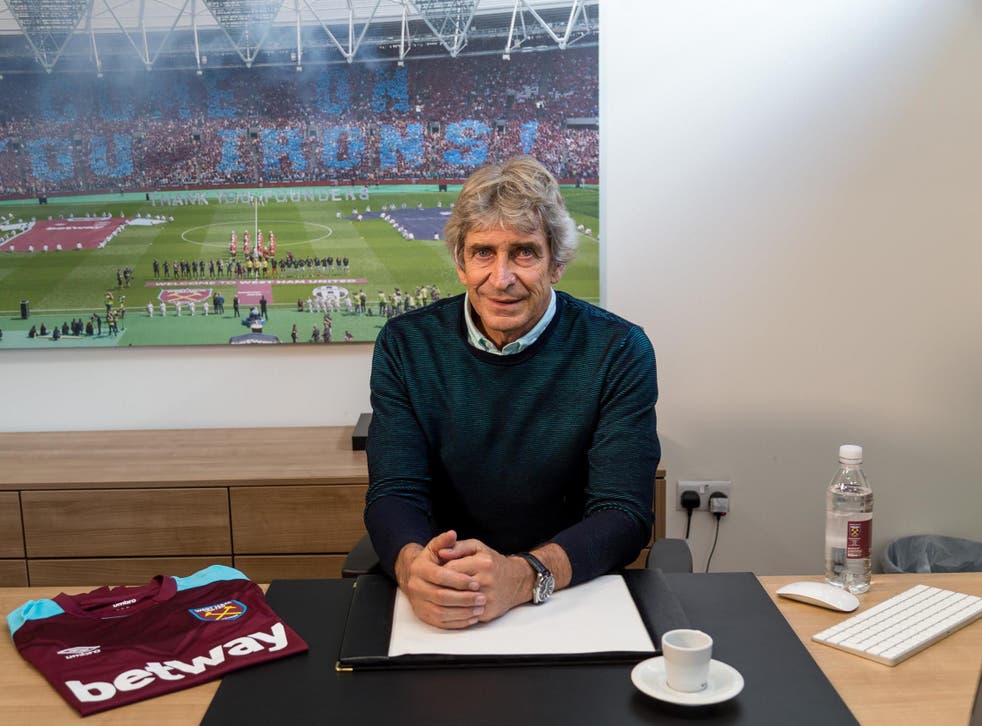 Can West Ham United be a model of good ownership? Can David Sullivan provide a clear vision and direction? Can they be an English Villarreal, with their own Juan Roman Riquelme figure? And if not, what is Manuel Pellegrini doing here?
It was an initial surprise when West Ham recruited a 64-year-old working in China as their manager last season, the man to revitalise the club after a disastrous two-manager season. Why not go for someone younger and fresher to rebuild the club in his image? There must surely have been a Mauricio Pochettino type somewhere in Spain, or another Borussia Dortmund assistant to go for?
But to spend time with Pellegrini at West Ham's Essex training ground is to realise that his passion for the game and for footballers is as strong as ever. And that he has ambitions for this club to replicate some of the best work of his career here. For all the titles Pellegrini has won in Chile, Ecuador, Argentina and England, his best jobs were never rewarded with silverware: Five years at Villarreal, taking them to a Champions League semi-final and a second place La Liga finish. Three years at Malaga, who would have reached the Champions League semis except for an errant linesman's flag.
Even now Pellegrini is still fired with pride at his work there. Not least because they provide a template for this job: Going into a new club with no recent history of success. Telling the players and staff to aim as high as they can. Changing the mindset to "an ambitious mentality". And then delivering on it.
"When I arrived [at Villarreal] and I said what I expected of the club, nobody would believe it. But when we started working, and the players had the trust to do it, we had a lot of achievements: semi-final of the Champions League, second and third place in Spain. You must do it step by step to keep that mentality."
Manuel Pellegrini's career highlights

Show all 16
And for Pellegrini the real lesson of his success at Villarreal is the importance of having a good owner. Fernando Roig, the billionaire supermarket magnate, was the man who saw Pellegrini's good work in Argentina with San Lorenzo and River Plate and then brought him over to Spain in 2004. He had already signed top players from South America – Riquelme, Marcos Senna, Martin Palermo, Rodolfo Arrubarrena – and then he added a top coach.
"For me, Villarreal is an example of how a club must be managed by an owner," says Pellegrini, speaking on behalf of Betway. "First, as an owner of the club, you must choose a style of football. After that, you must find the managers that will work with the young players in your team in that style. After that, you must put a manager in the squad with the same mentality. They followed me, what I did in South America, and they came for me. That is why I was so happy in that club. The mentality of the president is of a big team, that is why it was so easy to work there."
There are not many owners in football like Roig, who have a vision and stick to it. That is why he impressed Pellegrini so much. "He always accepts what the manager says, in the way you build the squad, in the way you play. That is why he chooses you, knowing what you are going to do. You cannot be at a club that at one time finds a manager that wants to play counter-attack, after another who wants pressing, another that doesn't like young players. You must have a line for your club.
West Ham have not had a line for years, jumping from Sam Allardyce to Slaven Bilic to David Moyes to Pellegrini. But maybe their current manager is their chance to start one. When asked whether David Sullivan could be like an English Fernando Roig, Pellegrini spoke warmly about their relationship. And the role that he has been given to imprint a playing style on one that has lacked one for years. "No, I don't think they [Sullivan and Roig] are exactly the same. They have other personalities. But the year I have worked here with David Sullivan, I have not had any problems. I spoke with him long before we signed a contract, he told me what he wanted to do with this club. One of things he wanted to do was to grow as a club. He wants to rest a little bit from working with the players and the squad, so he asked me for a sporting director. [West Ham appointed Pellegrini's old friend Mario Husillos last June]. I told him the way I like to work, he agreed with me. We are not going to have any problems."
You might wonder whether Pellegrini still has the energy and intensity to relaunch this club and provide the identity they need. It would have been tempting to appoint someone 20 years younger than him. But the fact that Pellegrini is here at all is tribute to a life of hard work, self-improvement and difficult decisions. It might have been easier for Pellegrini to become a wealthy and respected engineer, but he decided to pursue a career in coaching instead.
"You must prepare yourself. For me, one of the most important things in this career is when I decided to finish as an engineer, and decided to work 100% of my time as a manager, I continued to try to study a lot of different things. Players, owners, everyone must see you as a person that has very good preparation."
Pellegrini has always been a voracious reader and autodidact, who learned English from reading Enid Blyton books as a schoolboy. And when he started coaching, at the age of 32, he sent himself to Europe to learn more, including time at Coverciano in Italy and at the FA's School of Excellence at Lilleshall. "After my career as an engineer, I start managing and doing the course here in England, in Italy and in France, trying to learn as much as I can."
After proving himself in Chile with Universidad Catolica, winning the Copa Interamericana and the Chilean cup, Pellegrini knew he had to prove what he could do abroad. So he went to Liga de Quito and won the Ecuadorean title. "My first experience out of my country was Ecuador. That was a very good option for me. To know how you can develop your coaching style or your personality being away and being alone, that is not easy."
Then it was Argentina where Pellegrini took over at San Lorenzo. He won the 2001 Clausura, setting a new points record, 47 in a 19-game season, that has not been matched since. Then he won the Copa Mercosur, San Lorenzo's first ever international trophy. From there Pellegrini moved on to River Plate, where he won another league title, the Clausura in 2003, and lost the final of the Copa Sudamericana later that year. But his time was typically marred by fan violence, not least from River fans after a home defeat to Boca in October 2002. They rioted and were met with tear gas and rubber bullets, and the violence spilled over into River fans storming Pellegrini's press conference to attack him. West Ham looks placid by comparison.
Looking back, Pellegrini is able to shrug that off as part of the territory. "First of all I had three very successful years in Argentina. I don't have any regrets about my time there. In River Plate we won the title, but we lost a game against Boca Juniors, and if you lose a game against Boca Juniors, you must accept all the reaction. Because you know you will suffer those reactions. That is the way you must manage."
That capacity to adapt and change has served Pellegrini well, not least during his time in England. It is worth remembering that he won the Premier League in his first season working here, making him the fifth foreign manager to win the English title (three more have won it since) and the first to come from outside of Europe. His success here is credit to his own hard work and adaptability, but also to how English football his changed too. Because Pellegrini knows that when he first came to Lilleshall in 1988, the English league was not ready to be won by a Chilean coach who wanted his teams to pass the ball.
"I think the style of English football has changed a little bit also. This started with Arsene Wenger, when he came to England and started winning those leagues. And Manchester United also made a turn in their football. They tried to make a mix of what was traditional football in England, box-to-box and crosses and second balls and shots. That's very amazing for the fans, I don't think you have to change it. But there is also another football that you can mix a little bit more: with good possession, with good technical players. I remember Arsenal won the league without losing one game, because they had technical players that did not lose the ball."
"You are so used here in England to not recovering the ball. You don't need to recover the ball, because the other team gives you the ball, because they are playing directly box-to-box. You have the ball, and the other team also. You don't need to recover it. But you arrive in Europe, and Barcelona have the ball and they don't lose it any more. Football in Spain is more technical than in England, but here it is more about amusement, more direct, more fun for the fans. But England has started to make a mix of both things, and that is good for the football. Maybe that is why we arrive here, and other managers, who understand how you can do it.
Other managers like Marcelo Bielsa, currently in the Championship with Leeds. Pellegrini has known him well for 20 years, since Bielsa's spell as Argentina manager coincided with Pellegrini coaching many of his top players at San Lorenzo or River Plate. He is full of respect for Bielsa and says that he deserves to have won more trophies because "he is always a manager that gives a style to a club." Pellegrini is especially impressed with what Bielsa did for his own country, Chile, taking them to the 2010 World Cup but giving them something more than that too.
"Bielsa gave another personality to the Chilean players. Maybe he did not win anything with Chile, but playing against Chile was very difficult. He had good success because he was playing as a big team. The same I was telling you about what West Ham must do, we must play with the mentality of a big team. He did brilliant work in Chile, he got Chile to play as a big team in those years."
That is the change Pellegrini wants to make at West Ham, but does he have the players? Pellegrini clearly has a connoisseur's love for good players. He runs off a list of his favourite players he has coached with even more passion than his list of favourite South American authors, "Gabriel Garcia Marquez, Julio Cortazar, Paulo Neruda, Isabel Allende", those who kindled a reading habit in Pellegrini that he still keeps up, for almost an hour every night.
"The most easy to say is Cristiano Ronaldo because he is the top player in the world. But thre are so many other players: Ruud van Nistelrooy, Marcos Senna, Sergio Aguero, David Silva, Yaya Toure, Riquelme, Diego Forlan. I cannot say one name."
But it is clear that Pellegrini's favourite players of all are creators, the men who keep the ball and make his artistic football work on the pitch. Like David Silva, brilliant under Pellegrini when City won the Premier League title in 2013-14. "Technical players make the game easy. They have a view of the pitch different from other players. They put the last pass for the strikers. They are the players that lose two or three balls in a year. The most difficult thing is football is to give the ball to a player that has the same colour shirt."
Or Riquelme, the most talented number 10 of his generation. He is often described as throwback, someone not disciplined or focused enough to make it in modern football. Pellegrini does not see it that way. "Riquelme, with his quality, can play 30 years ago, 20 years ago, 10 years ago or now, where he wants. Riquelme was not a top, top player, because he has other problems. Many years ago, in that moment he had a lack of maturity, he wanted to be number one, did stupid things. But as a player, he can do what he wants. He can play in every league where he wants."
Pellegrini sounds like a man who would desperately love a Riquelme or Silva or Isco or Santi Cazorla or Andres D'Alessandro in his West Ham team, even if he does not want to say so. He points out that West Ham do in fact have four playmakers, Manuel Lanzini, Jack Wilshere, Andrei Yarmolenko and now Samir Nasri. The four of them have started a combined 11 Premier League games all season. Only then will we see something close to Pellegrini football here in east London, after a first season of trying to set standards and expand minds. "Those players make a difference especially for the strikers. When you don't have them, you must try to find another way of playing. But we have playmakers here, and I hope some day we are going to see all of them playing together."
Manuel Pellegrini was speaking on behalf of Betway
Register for free to continue reading
Registration is a free and easy way to support our truly independent journalism
By registering, you will also enjoy limited access to Premium articles, exclusive newsletters, commenting, and virtual events with our leading journalists
Already have an account? sign in
Join our new commenting forum
Join thought-provoking conversations, follow other Independent readers and see their replies