Harry Kane at the double as Tottenham survive late scare in win against London rivals West Ham
West Ham United 2 Tottenham Hotspur 3: The visitors pulled ahead by three goals but were almost held to a draw after Serge Aurier's dismissal in the final 20 minutes opened up the game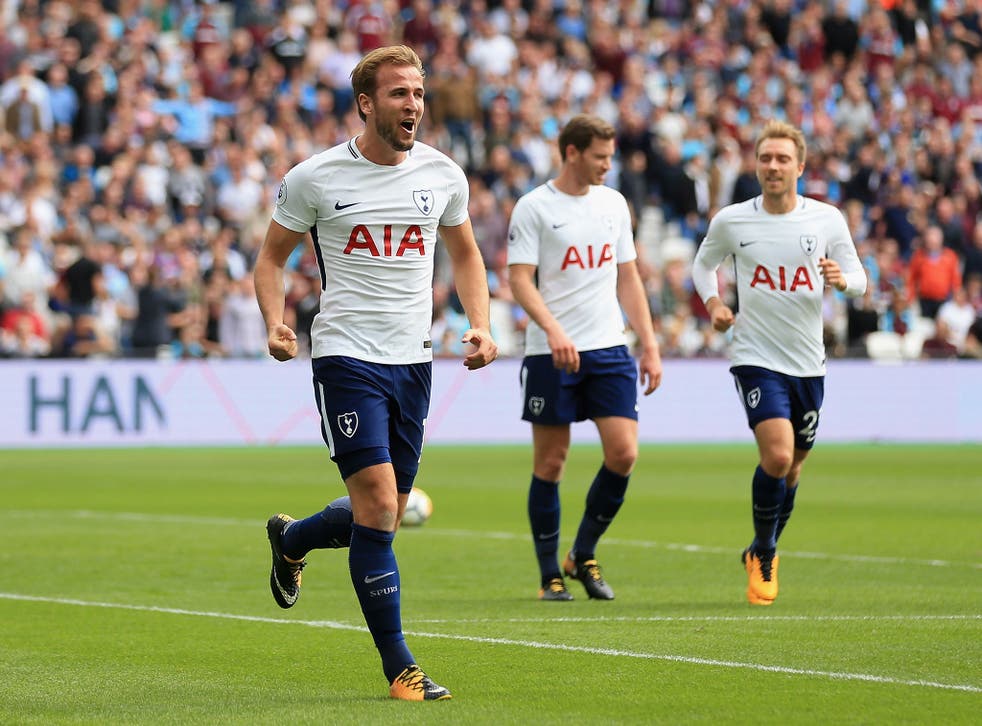 This swung from away-game masterclass to the brink of disaster for Tottenham Hotspur, but it did not swing quite far enough. Spurs were practically perfect for the first hour at the London Stadium, 3-0 up and looking like one of the best teams in the country again. Then they lost focus, lost a man, conceded twice and were staring down the barrel of a 3-3 draw that would have been another painful gut-punch in a season that has already had a few of them.
They lost to Chelsea in the last minute and drew with Burnley in added time - more points dropped that late would have been unthinkable here. But they survived and ultimately this will be remembered more akin to their 2-0 win at Newcastle and their 3-0 win at Everton. That is to say, a performance by a team capable of outplaying decent sides away from home.
Harry Kane was as sharp as ever, scoring twice in the first half as Spurs pulled away from West Ham. Dele Alli had his best game of the season, setting up both Kane goals. Christian Eriksen added the third and played with all of his usual class and imagination.
West Ham have beaten Spurs at home for the last two years but they were barely in this before Serge Aurier's needless red card. Spurs were sharper than them all over the pitch and when Andy Carroll came on for the injured Michail Antonio, West Ham dulled themselves even further. The point, which they nearly won at the end, would have flattered them.
What was impressive about this from Tottenham is that they cannot play the same way right now while Mousa Dembele is struggling with a foot injury. But when they realised they had to go more direct, it clicked. The warning shot came when Sissoko slid a pass through to Serge Aurier on the overlap, and Harry Kane, just offside, could not flick the cross in.
When Carroll came on for Antonio, West Ham became less intelligent and less effective. And when they gave the ball away, as they often did, Spurs knew how to hurt them. The first goal was a move of precise incision. Carroll gifted possession to Eriksen, free in space. He dissected Angelo Ogbonna and Winston Reid with a perfect pass to Alli, racing in behind. The youngster crossed hard but Kane glanced a difficult header into the net.
That was the type of clever cutting move that Spurs are so good at, and that West Ham, at least with this manager, have no hope of achieving. Four minutes later Spurs did it again, with a goal that said so much about their organisation and coherence from back to front.
With Carroll on, Spurs knew they could squeeze up and Jan Vertonghen pushed their back three up to half-way. Joe Hart kicked long and Vertonghen, defending aggressively, nicked the ball from Carroll. Eriksen flicked the ball forward to him and then Vertonghen picked out Alli, making another run into the box. Hart paused but blocked Alli's shot; Kane was there for the rebound.
The second half started the same way. Spurs were in control and West Ham could not even make it hard for them. Kane, gunning for his hat-trick, thumped a free-kick against the post. Aurier picked up the ball, his cross hit Ogbonna and fell to Eriksen. Facing no challenge from the edge of the box, Eriksen stroked it first-time into the bottom corner. Not many players strike the ball as cleanly as the Dane but that is the quality we are accustomed to now.
From there, this should have been a cruise for Spurs, all about keeping the ball and resting players ahead of their trip to Cyprus. It was not that simple. West Ham kept going for it, and when Jose Fonte flicked on a header at the near post Javier Hernandez nodded it in to make it 3-1.
What Spurs needed were cool heads to see it out. But that is not the Serge Aurier way and five minutes after getting booked for an accumulation of fouls, three minutes after Hernandez's goal, he scythed down Carroll and was sent off.
All of a sudden West Ham were on top and the crowd were alive. Lloris had to be sharp to Hernandez's shot and then, three minutes from the end, the second goal came. Arthur Masuaku, not everyone's idea of an impact sub, burst down the left, whipped in a brilliant cross and Cheikhou Kouyate thumped a header in. The siege was on and there was even a shout for a potentially equalising penalty, when Alli pushed Carroll in the box.
But it was not enough for West Ham and ultimately the rousing last 30 minutes could not bridge the gap between the teams over the first hour. West Ham do know how to beat Spurs, but not playing like this.
West Ham (3-4-3): Hart; Fonte (Masuaku, 74), Reid, Obgonna; Zabaleta, Noble, Kouyate, Cresswell; Antonio (Carroll, 28), Hernandez, Arnautovic (Ayew, 66)
Tottenham (3-5-1-1): Lloris; Alderweireld, Sanchez, Vertonghen; Aurier, Sissoko (Trippier, 77), Dier, Eriksen (Winks, 73), Davies; Dele; Kane (Llorente, 89)

Register for free to continue reading
Registration is a free and easy way to support our truly independent journalism
By registering, you will also enjoy limited access to Premium articles, exclusive newsletters, commenting, and virtual events with our leading journalists
Already have an account? sign in
Register for free to continue reading
Registration is a free and easy way to support our truly independent journalism
By registering, you will also enjoy limited access to Premium articles, exclusive newsletters, commenting, and virtual events with our leading journalists
Already have an account? sign in
Join our new commenting forum
Join thought-provoking conversations, follow other Independent readers and see their replies