West Ham fans accuse club owners of doing 'more damage to east London than Hitler' in protest banner
The banner is the latest protest against the unpopular owners of the relegation battlers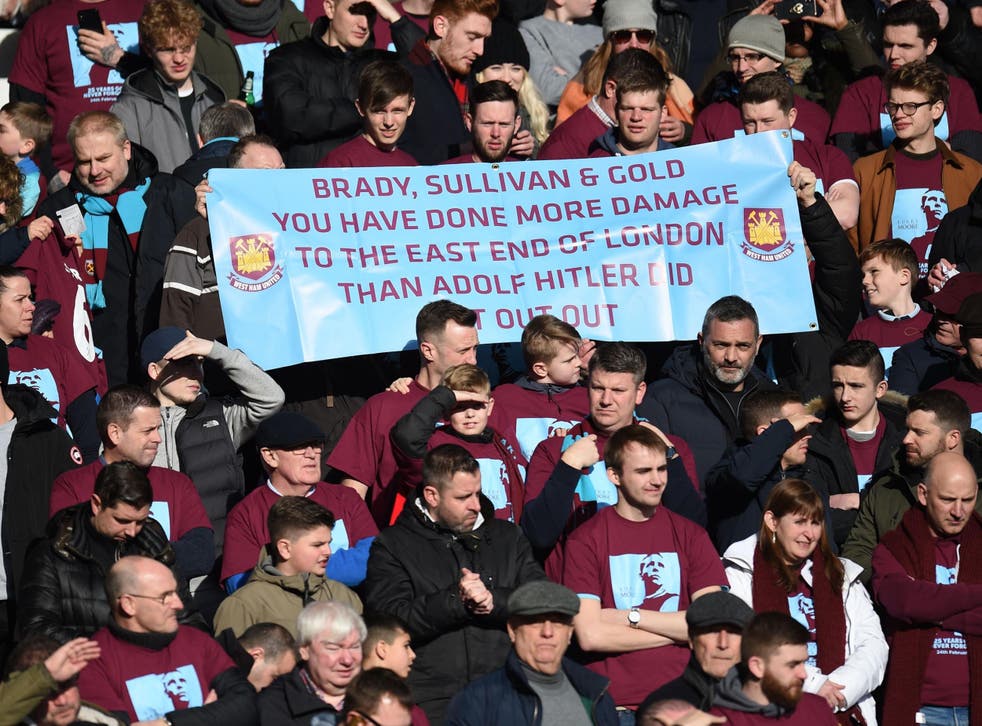 West Ham United fans have taken their protests against the club's increasingly unpopular hierarchy to new levels with a banner comparing the owners to Adolf Hitler.
The Hammers slipped closer to the drop zone with a defeat at Liverpool on Saturday, an away game where fans were also set to pay tribute to club legend Bobby Moore who died 25 years ago this weekend.
But that tribute was somewhat overshadowed by the banner which read: "Brady, Sullivan and Gold you have done more damage to the East End of London than Adolf Hitler did. Out out out."
Karren Brady, Conservative peer and the club's vice-chairman, David Sullivan, co-chairman and co-owner, and David Gold, also co-chairman and co-owner, have faced increasing fan anger in recent weeks and months after a number of botched transfer windows, a race scandal and a controversial move to the London Stadium.
Much of the East End of London was flattened by German bombing in the Second World War under the orders of then-German führer Adolf Hitler, with the Luftwaffe strategically targeting the docks. By 1940 the East End was known as 'Target Area A' by the German Air Force.
Invoking Hitler with reference to West Ham's owners may, however, be seen as insensitive given David Gold is Jewish and spoke openly about his faith in an interview with the Guardian in 2013.
"I know I'm a Jew. I know there's a lot of antisemitism and a lot of unpleasant things said against me," he said.
Gold, then 77, spoke of his childhood trips to the cinema where newsreels would tell of the horrors of World War II.
"What I saw on the black and white Pathé News were Jews, Jews and more Jews stacked up. Jews dead. Hundreds, thousands of them. Jews dying.
"Of course, I've suffered antisemitism at school but you don't quite understand it. Why is there antisemitism? The Americans are going through Poland and Germany and to Auschwitz and all these other camps and I can't believe this."
Register for free to continue reading
Registration is a free and easy way to support our truly independent journalism
By registering, you will also enjoy limited access to Premium articles, exclusive newsletters, commenting, and virtual events with our leading journalists
Already have an account? sign in
Register for free to continue reading
Registration is a free and easy way to support our truly independent journalism
By registering, you will also enjoy limited access to Premium articles, exclusive newsletters, commenting, and virtual events with our leading journalists
Already have an account? sign in
Join our new commenting forum
Join thought-provoking conversations, follow other Independent readers and see their replies