West Ham vs Arsenal match report: Alexis Sanchez scores hat-trick to demolish sorry Hammers
West Ham 1 Arsenal 5: The Chilean scored a sublime hat-trick to pile misery on Slaven Bilic's faltering side, who were left teetering above the relegation zone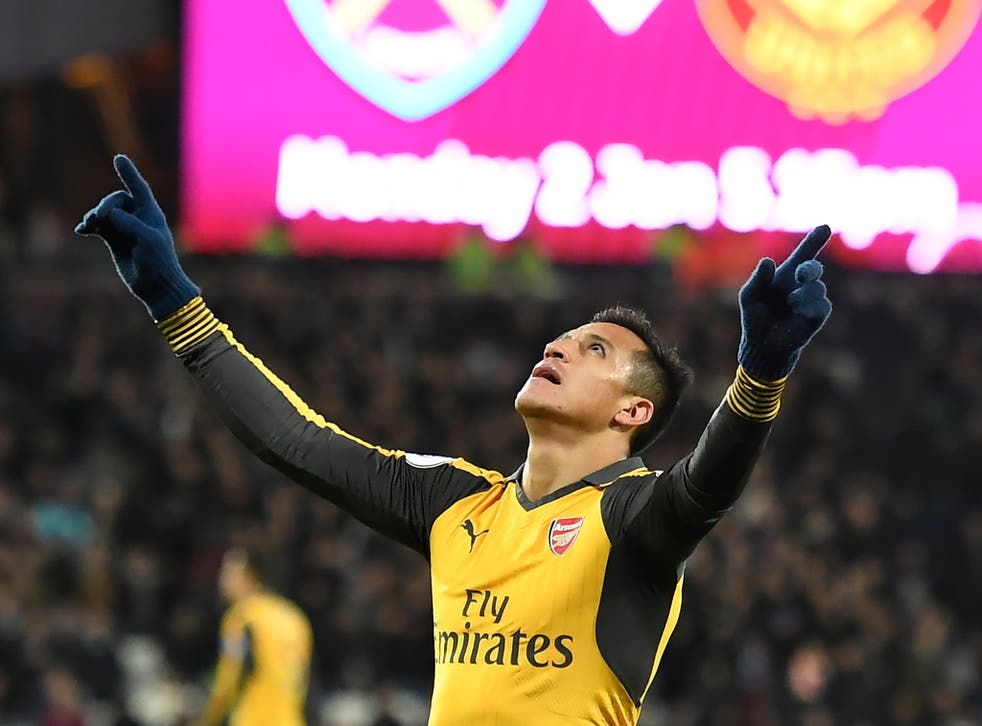 The Olympic Stadium was built to showcase world-class sport in east London, even if that has not been as apparent as often as intended recently. Last night, though, Alexis Sanchez gave a performance worthy of the stage, scoring the best Premier League hat-trick since the glory days of Luis Suarez.
Three very different goals, each of them brilliant, set up Arsenal's thumping 5-1 win over a West Ham United side who contributed almost nothing to the occasion. West Ham were so poor, in fact, and made it so easy for Arsenal, that it would likely have been a comfortable away win even had he not been playing.
But this an evening about Sanchez and his explosive brilliance more than it was about anything else. He is as talented as any other footballer in England, but in his third season here, it is fair to ask whether we have seen the best of him yet. Eden Hazard has won the title and the footballer of the year, but Sanchez has won neither. With his Arsenal future still uncertain, there is a risk that he could slip away before showing just how good he can be.
This was exactly that, an exhibition of individual skill that will not be matched all season. This game was at risk of drifting, with Arsenal just 1-0 up against a West Ham side just thinking about getting back into the game. Then Sanchez ripped it to shreds with a 14-minute hat-trick.
The first goal was the best. There were 18 minutes left and Arsenal were pushing for a second but starting to grow anxious about over-committing. Sanchez, asked again to lead the line up front, received the ball with his back to goal, 35 yards out. Arthur Masuaku was up close to him, and Sanchez had little on. But he spun away from Masuaku, wriggling through no space whatsoever, and sped forward through the inside-right channel. Away from Masuaku, away from Angelo Ogbonna, and he drove the ball past Darren Randolph into the bottom corner while everyone else was still drawing breath.
That ended any tension over the result, but eight minutes later Sanchez did it again. The ball bounced across from the left, 20 yards from goal. Sanchez let it bounce, stepped over it, and drove it into the far bottom corner. The first was about power, this was about precision.
Then, just after a meaningless West Ham consolation, Sanchez topped it off with a witty impudent third. Racing onto Oxlade-Chamberlain's pass, Sanchez ran through, away from Reid, before confusing Randolp with a running stepover and then lifting the ball gently over him and into the net.
By that point Arsenal were rampant, and in between Sanchez's second and third goals, Chamberlain had smashed a goal in from 25 yards into the far bottom corner. The score-line ended up 5-1 which, given the score was 1-0 with 20 minutes left, shows just how badly West Ham collapsed at the end. This is a very fragile team and, as good as Sanchez was, West Ham did not exactly make it difficult for him.
West Ham vs Arsenal player ratings

Show all 22
From the very start it was clear that Arsenal would be put under no pressure here. West Ham barely put up a fight, and as soon as Alvaro Arbeloa came on for James Collins after six minutes, their defence was a mess. Some teams are good enough to play without discipline, organisation and intensity, but West Ham are certainly not. They have completely forgotten how to do the basics and , on another day, Arsenal would have scored their five goals in the first half.
Time after time Nacho Monreal and Alex Oxlade-Chamberlain burst into Arbeloa's unguarded space but their final ball was never good enough to give them the lead. They did not need to worry. This is a West Ham defence that always gives you another chance, and another, until you take it. Under no pressure, Angelo Ogbonna hit a pass at Francis Coquelin. The ball rolled out to Sanchez who skipped past Winston Reid with embarrassing ease. He could have scored, but rolled the ball to Mesut Ozil, who did.
It was a surprise that Arsenal did not score more in the first half, and was the only frustration to Wenger's evening. There was a brief spell at the start of the second half when it looked as if Arsenal might even be punished for it. That 10 minutes of pressure was the only spell in the match when West Ham played with anything near competence. Because when Sanchez eventually turned it on, they could not live with him.
Join our new commenting forum
Join thought-provoking conversations, follow other Independent readers and see their replies