West Ham vs Liverpool: Five things we learned as Reds keep Champions League fate in their own hands
Goals from Daniel Sturridge, two from Philippe Coutinho and a fourth from Divock Origi sealed all three points and keep them in the box seat for a top four finish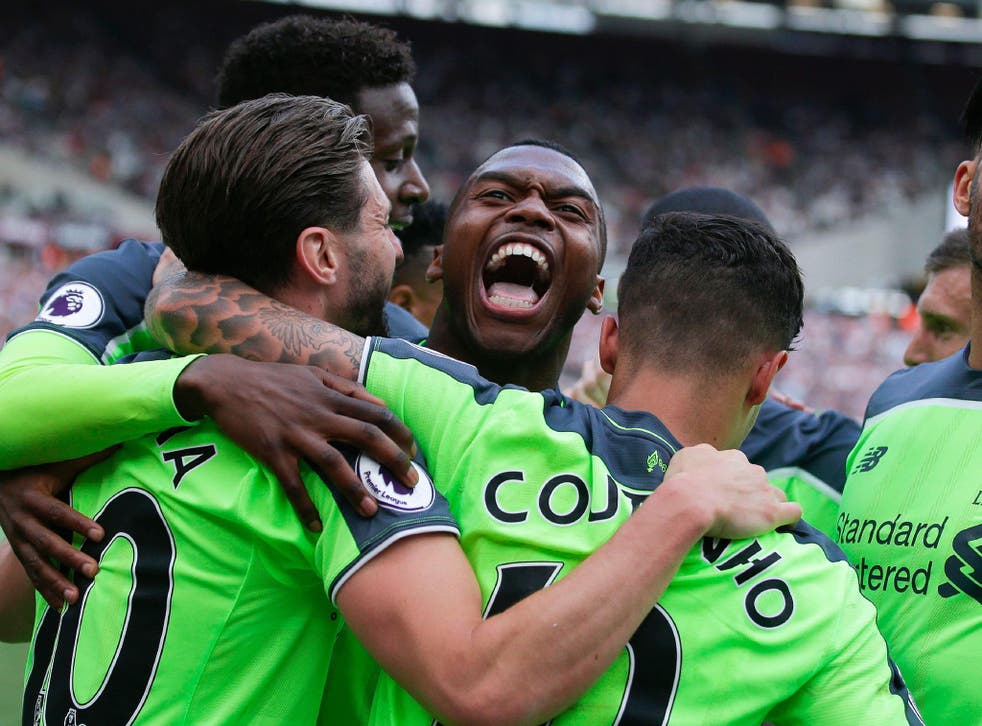 Liverpool kept their Champions League fate in their own hands with a comprehensive thumping of West Ham at the London Stadium.
Goals from Daniel Sturridge, two from Philippe Coutinho and a fourth from Divock Origi sealed all three points and keep them in the box seat for a top four finish. Win against Middlesbrough next weekend and they will once again dine at European football's top table.
Here's what we learned:
West Ham vs Liverpool player ratings

Show all 22
Coutinho revelling in new role
Philippe Coutinho is one of the Premier League's best, let alone Liverpool's, yet here, deployed in different role, it appears he may be about to get even better. The Brazilian, used further from goal at the London Stadium – less a 10 than an 8 – excelled. Two goals and an assist really do only tell half the story. He was Liverpool's metronome, their tone and tempo setter all afternoon long. At his best few can touch him. West Ham certainly couldn't.
Sturridge seizes his chance
There isn't a better finisher in England when on song than Daniel Sturridge. His inclusion here was the headline-grabber and he took his chance, showing a calmness in front of goal that so many of his teammates so often lack, to put his side ahead in clinical fashion. Sturridge is a divisive character and hasn't managed to win Klopp's affections as yet but he really does know where the back of the net is, that most desirable of all footballing talents. Liverpool need him – that was shown here once again – yet it still seems he's more likely to be finding the net at the London Stadium next term than at Anfield.
Ayew's horror show
Every now and again a miss comes along that astounds and intrigues in equal measure. We've all seen them. Chris Iwelumo, Nwankwo Kanu, Ronnie Rosenthal. You can't watch but you somehow can't look away. There are more, ignominious names that will live long in the memories of fans everywhere and even longer in their own. West Ham's Andre Ayew joined them on Sunday afternoon with a howler up there with the very best of them. The Ghanaian contrived to hit the post from a yard out not once, but twice. Twice. He couldn't believe he'd managed it, let alone anyone watching. He looked like he wanted the turf at the London Stadium to swallow him up. Sadly for him it didn't.
West Ham on the beach
Maybe they blew themselves out against Tottenham; perhaps the early summer sunshine went to their heads. Maybe they all went for Sunday lunch beforehand and just needed an afternoon nap. Whatever it was West Ham simply didn't turn up for their final home game of the season. While they competed in the first half they completely surrendered in the second, with the defending for Liverpool's third and Coutinho's second some of most abject you will ever see. If victory over Spurs last weekend saved Bilic's job, this defeat and the manner of it put him firmly back in the firing line. Liverpool were good, clearly, but West Ham were nowhere near good enough.
Liverpool's lack of depth
Victory leaves Liverpool in the box seat for the Champions League – win against Middlesbrough next week and they're in – but if they are going to make their mark on Europe's premier club competition next term then they need to do some serious work this summer. Take one look at the Reds' bench on Sunday afternoon and you see the paucity of resources Klopp has at his disposal. Trent Alexander-Arnold, Ben Woodburn and Marko Grujic are promising youngsters it's true, but Liverpool need more. Klopp himself shouldn't be absolved of blame and must spend wiser but spend he must because this Liverpool squad isn't anywhere good enough or deep enough for where they want to go.
Join our new commenting forum
Join thought-provoking conversations, follow other Independent readers and see their replies