David Moyes shows Jose Mourinho the way to overcome Man United blues in most unlikely comeback
The former Manchester United managers meet with their sides in contrasting form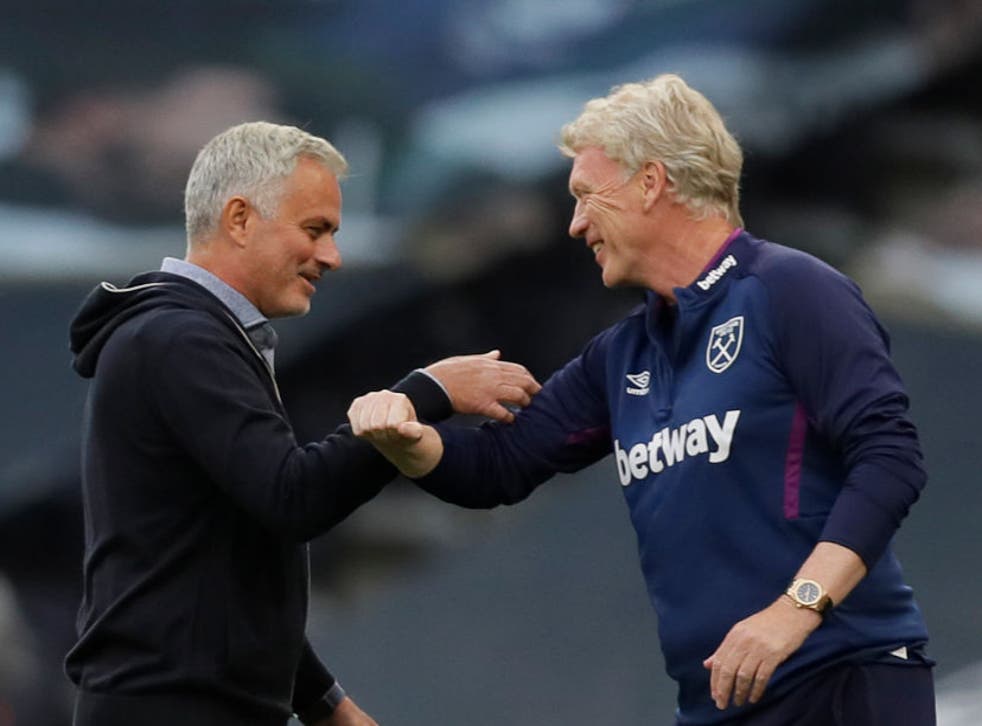 David Moyes has worked miracles. Not to lift West Ham United to fifth place in the Premier League going into today's derby against Tottenham Hotspur at the London Stadium. The implausible part of the Scot's story is how he resurrected his career after his painful period in charge at Manchester United.
Perhaps he could give some tips before the match to Jose Mourinho. The Spurs manager has not yet emerged from his post-Old Trafford funk. The Portuguese is still on track to emulate the League Cup-Europa League double he attained while manager of United but defeat today would make the top four an increasingly distant possibility. Mourinho cannot rely on knockout competitions to save Tottenham's season. Manchester City lie in wait in the Carabao Cup final and a number of dangerous sides remain in Europe's secondary tournament, including United.
Ole Gunnar Solskjaer's team hold a first-leg 4-0 lead over Real Sociedad, where Moyes began his rehabilitation after leaving Old Trafford. It looked closer to retirement than rehab at the time and his career path appeared to be on a downward spiral. His next job at Sunderland ended with the team's relegation to League One. West Ham offered the flimsiest of lifelines and even though he saved them from the drop during his first spell in east London, he was not sexy enough for the club's owners to retain at the end of the season.
READ MORE: Jose Mourinho insists Tottenham can still finish in top four despite slump
Moyes did not reinvent himself in his 19-month West Ham interregnum. So what changed? David Sullivan and David Gold realised it was a mistake to let the Scot go. Despite having grandiose ambitions, the harsh reality for the owners is that Moyes is just about the best manager they can both afford and attract. Now there is a more realistic view from the boardroom and Moyes is more secure.
The squad has improved. West Ham may be punching above their weight in the table but they are a top-half team. Empty grounds have helped, too. Hardly any of the fans were enthused by Moyes's return. The supporters exist in a state of semi-revolt and September's 2-0 home defeat by Newcastle United in the Premier League opener would have sent the London Stadium's toxicity levels to critical.
As much as ability, circumstances define the performance of managers. For the first time since leaving Everton, Moyes is operating in conditions that suit his range of skills. He was never the right man for Old Trafford – United bosses need more swagger – but he has always been better at his job than most of his Premier League contemporaries.
Mourinho had the style that United required but the timing was wrong. He is a considerably more talented manager than Moyes. A younger, more energetic version of the Portuguese might have become the man who filled the void left by Sir Alex Ferguson. Instead, Mourinho gave the impression of not wanting to be in Manchester.
It is now six years since 'the Special One' won a title; 11 since he led a team to the Champions League. These were the trophies he was brought to Old Trafford to win, not the lesser baubles of the League Cup and Europa League. Even during his time at United, there was a sense that the high water mark of his career had passed.
Up until United, the prospect of Mourinho taking over would electrify a dressing room. Spurs represent a lowering of the 58-year-old's ambitions but it is not such a step down that anyone at White Hart Lane should be grateful. Most of the squad were in a Champions League final much more recently than their manager. Even though this group of players may have missed their window to fulfil their potential, they have not responded to Mourinho in the way they might have when he left Real Madrid. It was not the coup it once would have been when Daniel Levy engaged the services of the Portuguese. Like at United, the probability is that he will have to win the Europa League to get into next season's Champions League. Ninth place in the table is where Moyes might be expected to be lurking around, not Mourinho.
Even the best managers need the right environment to maximise their impact. The planets have aligned for Moyes this season; Mourinho's universe has been unbalanced for more than half a decade.
Things can turn quickly for both men. Who could trust a club with owners like West Ham's to maintain any sort of stability? Yet there is a staleness about Spurs that does not bode well for their manager. It is the same whiff of slow decay that swirled around Mourinho during his final days at Chelsea and at Old Trafford.
If West Ham win today, the most unlikely comeback in football will continue. A Tottenham loss would deepen the suspicion that further change is necessary at Spurs.
One former United boss is in prime position to inflict pain on another Old Trafford ex. Who would have predicted that it would be Moyes with the chance to turn the screw on Mourinho? The West Ham manager, unlike his Spurs counterpart, has found himself in the right place at the right time
Register for free to continue reading
Registration is a free and easy way to support our truly independent journalism
By registering, you will also enjoy limited access to Premium articles, exclusive newsletters, commenting, and virtual events with our leading journalists
Already have an account? sign in
Register for free to continue reading
Registration is a free and easy way to support our truly independent journalism
By registering, you will also enjoy limited access to Premium articles, exclusive newsletters, commenting, and virtual events with our leading journalists
Already have an account? sign in
Join our new commenting forum
Join thought-provoking conversations, follow other Independent readers and see their replies