Wilfried Bony accuses Manuel Pellegrini of favouritism after 'unfit' Sergio Aguero plays against Arsenal
Bony had been in good form and said afterwards how 'disappointed' he was to have been dropped for a team-mate who was not 100 per cent fit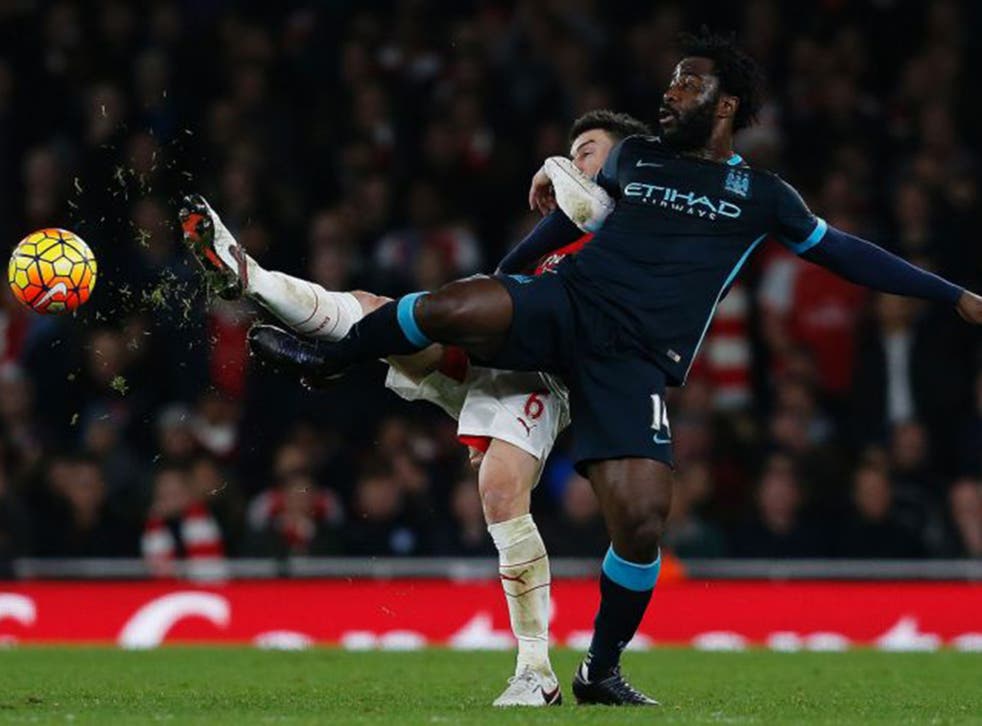 Wilfried Bony has accused Manuel Pellegrini of favouritism by picking an unfit Sergio Aguero ahead of him at Arsenal on Monday. Aguero came straight back into the City team after three weeks out injured, but was off the pace and only lasted 63 minutes.
Bony had been in good form and said afterwards how "disappointed" he was to have been dropped for a team-mate who was not 100 per cent fit. The decision made very clear to Bony where he stands in the pecking order at City. His reaction raises serious questions about Pellegrini's man-management skills.
"I am disappointed that I didn't start," Bony said late on Monday night. He then said that he had deserved to do so. When asked about Aguero being preferred, as a world-class player, Bony pointed to his team-mate's lack of match fitness. "He is coming back from injury," Bony said of Aguero. "He hasn't played for a couple of weeks."
The fact that Aguero returned to the team for such an important game ahead of Bony reveals their relative value to Pellegrini, and Bony knows it. "That is what I mean," he said. "Everyone on the team wants to play, but the coach has to choose 11 players. Everyone must be ready to give 100 per cent. That is my feeling."
Aguero went off with a heel injury against Southampton on 28 November, giving Bony a run of games in which he scored against Hull City, Borussia Mönchengladbach and Swansea City. The fact that those goals did not keep Bony in the side raises the question of what he has to do to become a regular at City.
Arsenal vs Manchester City player ratings

Show all 22
"The coach does what he thinks is best for the team," Bony said. "I am sure everyone on the bench wants to play. He just has to choose 11 players. So when I come on, I just try to do my best to try to score, or give an assist, to help the team to win."
Aguero has been struggling with injuries ever since he scored five goals against Newcastle United on 3 October. He injured his knee playing for Argentina six days later, ruling him out for six weeks. On returning, he started three games, never lasting 70 minutes, and injuring his heel in the third.
City have missed Vincent Kompany even more, having won four and lost four, keeping no clean sheets, in their eight games since his last appearance on 8 November. Bacary Sagna, the full-back, admitted that City have conceded too many goals recently, but said that they have the players to replace Kompany.
"We had a bad moment when we conceded too many goals," Sagna said. "Today, again, we conceded two goals. We know Vincent is a quality defender. He is our captain and we miss him. But we have the quality, we have the players to give their best to replace him."
Meanwhile, the former City defender Danny Mills believes Pellegrini is being "undermined" by speculation he will make way for Pep Guardiola. "The club has to come out and make a statement or at least tell Pellegrini the situation," he told talkSPORT.
Register for free to continue reading
Registration is a free and easy way to support our truly independent journalism
By registering, you will also enjoy limited access to Premium articles, exclusive newsletters, commenting, and virtual events with our leading journalists
Already have an account? sign in
Register for free to continue reading
Registration is a free and easy way to support our truly independent journalism
By registering, you will also enjoy limited access to Premium articles, exclusive newsletters, commenting, and virtual events with our leading journalists
Already have an account? sign in
Join our new commenting forum
Join thought-provoking conversations, follow other Independent readers and see their replies