Wilfried Bony confident that he is the man to keep struggling Swansea in the Premier League
The striker hit a late winner for Swansea against West Brom which lifted them off the bottom of the table and eased some of the pressure on manager Paul Clement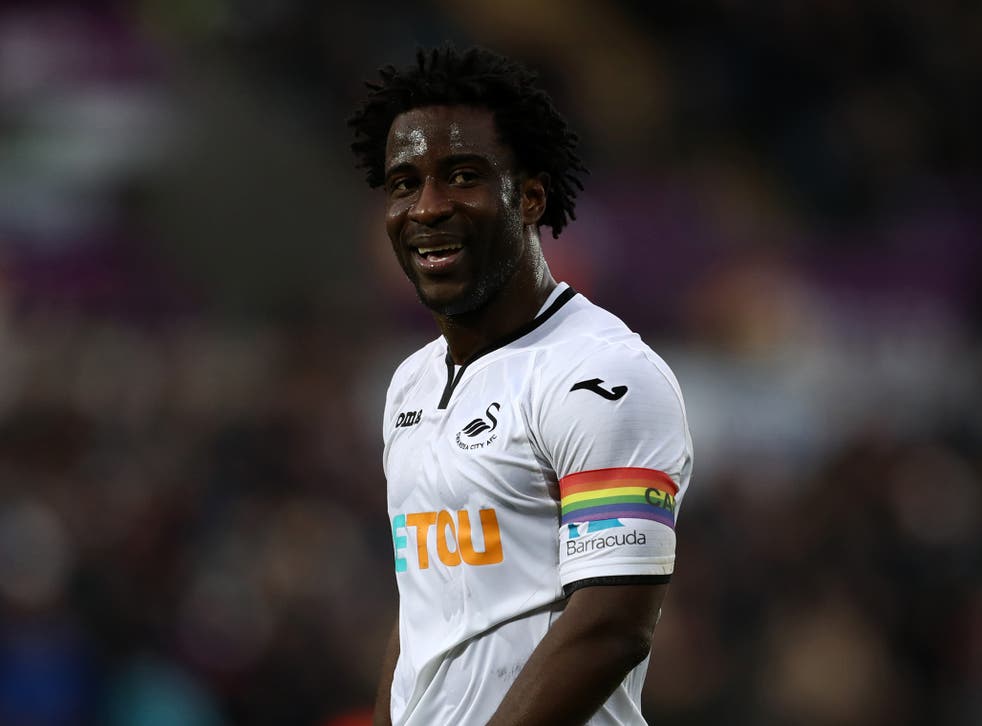 Having repaired his body and restored his scoring ability, Wilfried Bony is convinced he can now keep Swansea City in the Premier League.
Back-to-back goals in successive matches used to be a regular feat for Bony in his first spell in South Wales, but that was before his infrequent appearances at Manchester City and virtual hibernation during a wasted year on loan at Stoke.
When the 28-year-old Ivorian returned to Swansea, manager Paul Clement admitted Bony was out of condition. But tough love on the training field and perseverance through selection when he still short of real fitness has been rewarded.
The striker's winning goal against a punchless West Brom – following his first of the season at Stoke a week before - was the first time Bony had scored in successive Premier League matches for three years.
It was enough to give the Swans their first win in eight games, lifting them off the bottom of the table, and easing some of the pressure that had been building on Clement.
"I've now played four games in a row, which is very good," said Bony, who will face his former club City at the Liberty Stadium on Wednesday night.
"There are five games left this year, so I think after that I'll be there (fully fit). The most important thing is to be fit and ready and when the chances come I will score.
"I'm working very hard. But only one thing can make you really fit and that's to play matches."
Bony's goal in the 81st minute was a rare moment when quality and conviction were combined in an otherwise forgettable match, despite the points at stake for two clubs desperate to reverse decline.
After Tammy Abraham had injected some energy and urgency into the home side, it was the substitute's challenge at a corner that led to the ball dropping invitingly for Bony.
"When the ball came to me, I didn't see either side of me. I just said to myself I need to bang this ball. I knew I had the power and I knew that this was maybe my one chance of the game.
"We are all confident. If you look at the league table, then if we can win two games we can be up to 15th or 14th place. Then, everything can change.
"It was very important to win because it will give us confidence for the next game (against Manchester City). We will be ready for that one.
"Maybe I can share some experiences from my time there. But we all know it is going to be a difficult game, because they are very good at the moment."
Fantasy Premier League tips: Gameweek 16

Show all 10
Just as Swansea have found a bit of dead cat bounce after hitting the bottom last week, shares in West Brom's survival chances seem to be still falling.
This was their 14th match without a win and although manager Alan Pardew has only been in charge for the most recent two, he is already contemplating strengthening his squad by adding more firepower in next month's January transfer window.
"January is not far away and we're going to have to look at that if we can't increase our goalscoring ratio," said Pardew. "It's not great and we need to improve it.
"We have a difficult Christmas programme but a programme where we could get a couple of wins, wins that will make it look a lot different."
Aside from some fleeting moments from Salomon Rondon and Jake Livermore, Albion rarely threatened to score and conceded late on – a regular recent failing, but one which Pardew insists is not down to a lack of fitness.
"I'm 100 per cent confident as a Premier League manager in what I've seen this week that the fitness isn't the problem.
"Maybe it's a lack of confidence, a lack of concentration towards the end of the game. You could argue that. When you haven't won for a while you get a bit edgy and overcompensate."
Join our new commenting forum
Join thought-provoking conversations, follow other Independent readers and see their replies