'Harshly treated' by referees and kicked every week, Wilfried Zaha's evolution into a game-winning talent comes down to mental growth - not physical
Zaha has learnt more about football - and how to be a footballer - and it has changed his life, reveals his former coach John Salako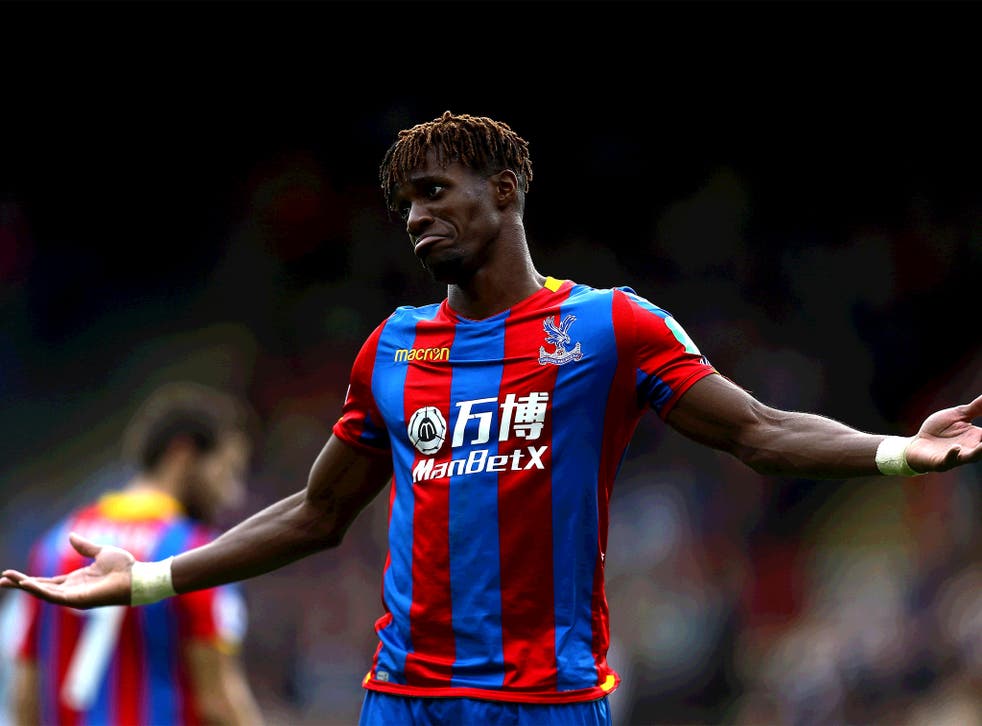 Should Crystal Palace secure Premier League survival this weekend against Leicester City, Roy Hodgson can reflect on a job well done after taking over a club reeling from the brief but fairly destructive reign of Frank de Boer.
But while Hodgson has helped steady the ship, few would argue that Wilfried Zaha wasn't ultimately the key man in Palace's turnaround.
This has been the season that established Zaha as a top-tier talent. His critics linger, focused on a failed move to Manchester United as a teenager and with little patience for the fancy footwork that marks Zaha out from his peers, but those in the game appreciate that he is one of the best dribblers in European football and a game-breaking talent.
Palace's record without Zaha is bleak. P8 W0 D0 L8. His importance in dragging the team out of their own half and into dangerous positions is one thing but his ability to take numerous defenders out of the game in an instant with one flick of an ankle is just as crucial.
"He's got such invention and is so unorthodox to play against," says John Salako, a Crystal Palace hero who was, until recently, a first-team coach at Selhurst Park and returns next month for a Play With A Legend event - where fans have the opportunity to play alongside him and former heroes.
"Defenders struggle to play against him," Salako adds, drawing back into question the topic of the day when it comes to Zaha – accusations of diving.
The casual viewer who only sees the Ivorian in Match of the Day snippets would be forgiven for thinking Zaha spends a lot of his time on the ground. After all, he is the most-fouled player in the Premier League by far this season. As he was last season. And the season before.
Few have doubted the 25-year-old's dribbling skills, the knock on him has always been his end product and a feeling that he went down too easily. He answered the criticisms of his end product emphatically last year and this, while Salako explains that Zaha's twinkle toes are sometimes a curse as well as a blessing.
"I think he is really harshly treated by referees. The problem is mainly his style of play because he's so off the cuff.
"He's got incredible physicality and, in a way, he doesn't know what he's doing next. He's got such invention and is so unorthodox to play against that defenders really struggle to play against him and end up taking him to the ground.
"It's unfortunate that referees haven't been able to get to grips with that and protect him so Wilf doesn't' have to react to that."
Salako, himself a nippy Palace winger back in the day, spent plenty of time with Zaha during his spell on Alan Pardew's coaching staff and saw at close quarters a period of major growth for the homegrown star after returning from Manchester United on a permanent deal.
And much of his improvement comes down to maturity and a greater understanding of football, or more specifically a greater understanding of what it takes to be top-level professional footballer.
"Wilf has always had an incredible talent but I find that a lot of the young players, especially the ones from London, don't have the right mentality and don't tend to think about the game.
"They have agents and people around them telling them what they want to hear at an important time in their lives, but not what they need to hear. They don't get that education and that honesty. They aren't educated enough or knowledgeable enough about the game.
"They lack the footballing maturity."
With Zaha in particular, too much too soon can be a chastening experience.
"When he went to Man United he was ready football-wise but mentally –from a tactical point of view and everything needed to maximise your talent – you have to have an education. When you have the ball you have to have an end product.
"Look at the problems Ronaldo had when he first arrived. The things said about him. He had to develop his game and work on that but because of the time he arrived, with Sir Alex [Ferguson] having just left and a new manager, Wilf wasn't given the time or patience to work on his game in the first team."
And the analysis of his former coach chimes with a recent interview Zaha gave to Sky Sports where he discussed why and how his Old Trafford move didn't work out.
"Me going to a big club when I was like 19 or 20, I didn't know what to expect, how to behave, whatever," he said.
"I was just a youngster who wanted to do tricks, I didn't even care about end product really.
"Now I take things a lot more seriously - the gym aspect, recovery after games, my decision-making. I've learnt a lot in terms of my all-round game.
"I'm totally different now. I'm definitely more mature and more strong-minded. I had to be mentally strong after what I went through at Manchester United. I think in football, most of it is just mental. Once you've got that sorted, then you're good."
And Salako remembers the turning point well. From mornings of frustration with a player who didn't have his head in the right place to a mature father playing the best football of his career.
"Sometimes I'd ask Wilf if he watched the game last night and he'd say 'what game?'
"I'd say 'England at Wembley?' and he'd not have a clue. I was disappointed by that.
"They need to watch these games and learn from better players than them. Watch what other wingers do in certain situations. How they find space or beat a man. Watch full-backs and how they counteract certain players.
"But in the last 12 months the penny has dropped with Wilf and he's finding himself in better positions to be more involved for longer periods which is crucial when you're such an influential player. He pops up in the hole, inside and in the box whereas previously he was isolated on the outside. His crossing and finishing is better. His whole game has come on.
"I know he has a baby and he's matured, settled down now and he's been absolutely sensational this season for Palace."
Play With A Legend, an events company founded by former Arsenal footballer Perry Groves, which gives football fans the chance to play with their heroes are giving Crystal Palace fans the chance to line up alongside Palace legends Clinton Morrison, John Salako, Matt Jansen and Darren Ambrose on the afternoon of Sunday 20th May in a four team tournament. For more information and to purchase a place fans can click here.
Register for free to continue reading
Registration is a free and easy way to support our truly independent journalism
By registering, you will also enjoy limited access to Premium articles, exclusive newsletters, commenting, and virtual events with our leading journalists
Already have an account? sign in
Register for free to continue reading
Registration is a free and easy way to support our truly independent journalism
By registering, you will also enjoy limited access to Premium articles, exclusive newsletters, commenting, and virtual events with our leading journalists
Already have an account? sign in
Join our new commenting forum
Join thought-provoking conversations, follow other Independent readers and see their replies