Wilshere on course for Arsenal return at Easter
Sam Wallace
Wednesday 21 March 2012 01:00 Comments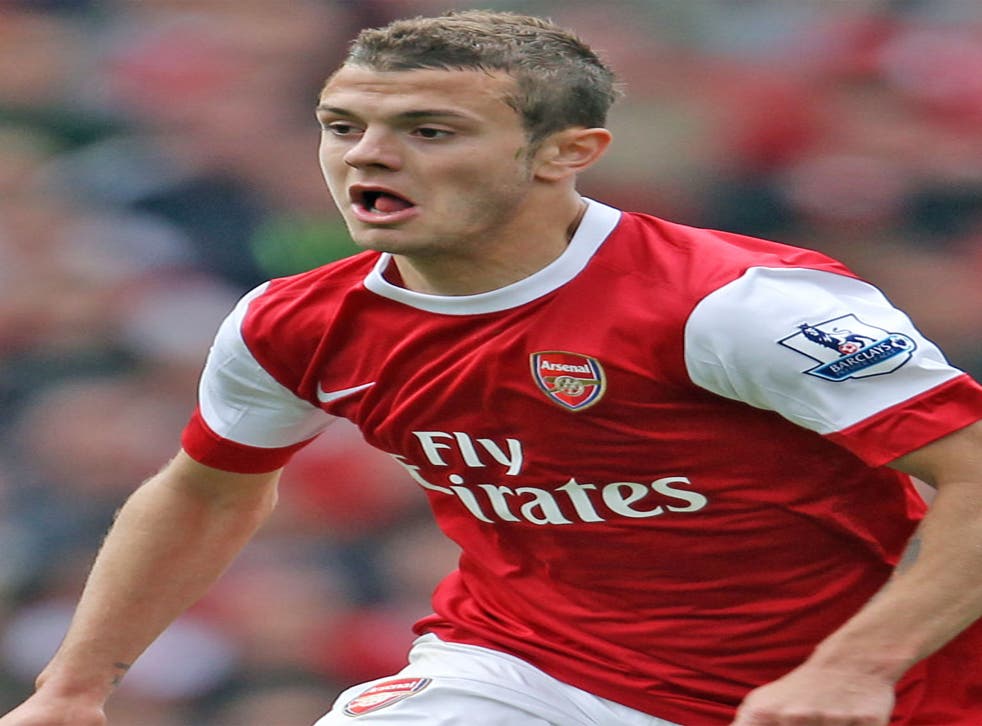 Jack Wilshere is still pencilled in to play some part in Arsenal's season with a return to the first team provisionally scheduled by the club for next month, although Arsène Wenger refused once again yesterday to put a timescale on the midfielder's comeback.
Despite a series of set-backs in recovering from surgery on what was originally a stress fracture to his right ankle, Arsenal are privately hopeful that he will be back in around two to three weeks, leaving him with potentially just five games in which to stake a claim to a place in the England squad for the European Championships.
Wilshere, 20, has not featured at all this season and Saturday will mark eight months since he limped out of a friendly against New York Red Bulls at the Emirates with what scans later revealed was a stress fracture. He had surgery in September but his potential return date has consistently been pushed back to the extent that time is running out if he is to play for England this summer.
Wenger, whose team play Everton at Goodison Park tonight, said yesterday that there are no long-term fears over Wilshere but that it remained impossible to say when he would be in a position to return to first-team action. After a set-back in Wilshere's rehabilitation at the end of January, Wenger said then that he was still certain the player would be back in time to play at Euro 2012.
Arsenal's last five games are against Wigan, Chelsea, Stoke, Norwich and West Bromwich Albion. Wenger said yesterday: "It is difficult to set a deadline on Jack. We go week by week with him, but his last scan was very good so we don't have worry any more. It is about progress and fitness, however I can't set a date."
Aside from Wilshere and the long-term injured Emmanuel Frimpong, Wenger has remarkably few injury concerns. Abou Diaby played an hour for the reserves and scored against Liverpool yesterday and should be back in contention for Saturday's game against Aston Villa.
Otherwise, only Per Mertesacker and Francis Coquelin were not in contention for the 18-man squad that travelled to Liverpool yesterday. Arsenal have won their last five Premier League games and, if Tottenham draw at home to Stoke tonight, Wenger's team could reclaim third place with a win at Goodison.
Wenger said the team had gone through a lot of "negative experiences" last season and once they had ceased to be title challengers they had settled for a place in the top four. He said that this season, the challenge of potentially losing out on the Champions League places had galvanised his team.
He said: "[Last season] We were in four different competitions and we were knocked out in three [Champions League, FA Cup, Carling Cup] in the space of two weeks. You are only human beings.
"On top of that some results were really going against us, when you think about the last minute against Liverpool at home [Dirk Kuyt's late penalty], you think about Tottenham when we were up [and drew 3-3]. These two results killed the hope we had to play for the championship and from then on we felt, subconsciously, too secure that we were in the top four anyway. Once you don't go for the championship anymore it's different.
"This season it's completely different, we were completely out of the top four, we have come into it on a good run and now of course it is taking advantage of that momentum.
"It is so fragile that it is just down to the next performance. Therefore that is what you want to focus on. We had a little bit of a breather because we could come out of the Newcastle game and not play for nine days. It is important for us to focus again and keep the momentum going. We are in a good, positive momentum. We have created some ... but now it is focusing on the next run to keep that going."
Tonight marks the first return to Goodison for Mikel Arteta since he signed for Arsenal from Everton on the last day of the summer transfer window. "He [Arteta] always gives you a certain level of quality," Wenger said. "He is always 100 per cent focused and committed and that's what you want from a real professional."
Register for free to continue reading
Registration is a free and easy way to support our truly independent journalism
By registering, you will also enjoy limited access to Premium articles, exclusive newsletters, commenting, and virtual events with our leading journalists
Already have an account? sign in
Join our new commenting forum
Join thought-provoking conversations, follow other Independent readers and see their replies