Xabi Alonso could follow Jose Mourinho to Chelsea in 'cheap' deal
Chelsea could benefit from two-for-one offer if manager makes return to Stamford Bridge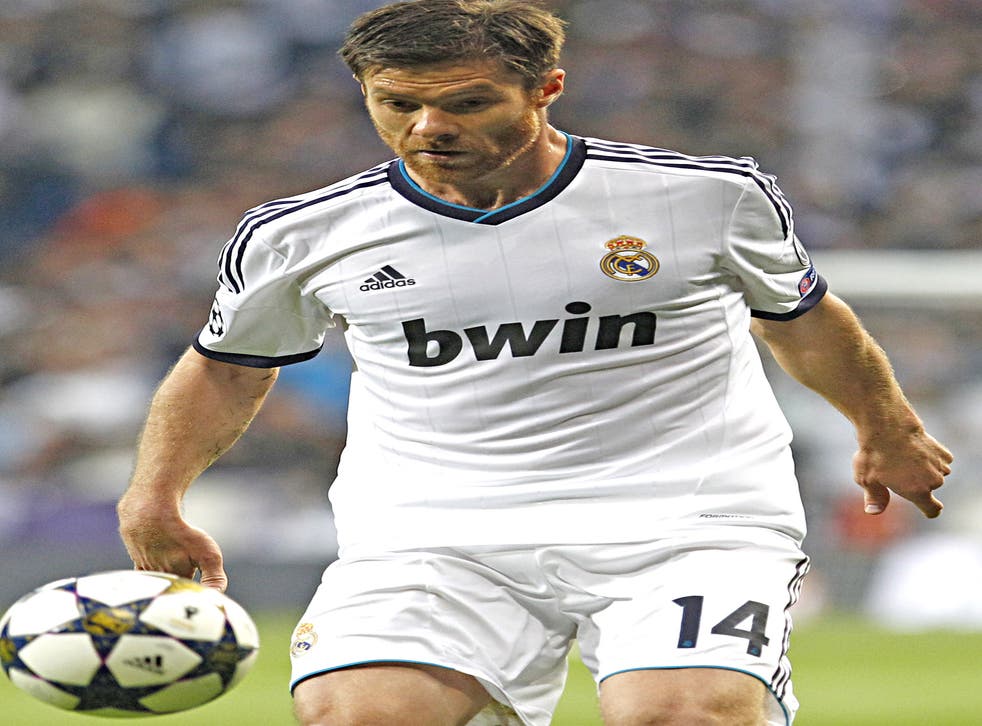 Chelsea could land Jose Mourinho on the cheap this summer and get the former Liverpool midfielder Xabi Alonso into the bargain if the Real Madrid coach goes back to Stamford Bridge.
The contract extension that Mourinho signed in May of last year included a £20m buyout fee but the clause is only payable if he leaves Real Madrid in mid-season. Although he has three years left on his deal, the club are prepared to negotiate a sum much lower than Mourinho's €12m (£10.2m) a year salary, such is the desire on both sides to part ways next month.
Mourinho is understood to not have a problem working with Roman Abramovich's hierarchy, including Chelsea's technical director, Michael Emenalo, and his move away from the Spanish capital will not be blocked by Real, who are already preparing for life beyond him with Carlo Ancelotti. The former Chelsea manager is likely to cost them nothing, having agreed to terminate his €7m-a-year rolling (£5.9m) contract with Paris Saint-Germain.
Alonso is out of contract at the end of next season and has still not responded to Real Madrid's offer of a two-year extension. The 31-year-old has become one of Mourinho's biggest allies at the Bernabeu while other Spain internationals have fallen out with the Portuguese coach.
It is believed Alonso is delaying his decision to see whether his coach remains in charge beyond the end of the season. Mourinho's career has been marked by the close relationships he has formed with his players but at Real that is something that has not happened. Alonso has been the exception in the dressing room, causing friction between himself and other team-mates who have covertly lobbied for Mourinho's removal.
Another option for Alonso is to hold out until the end of the 2013-14 season when he will be in a position to cut his own deal away from Madrid. But the club would prefer to get a fee for the World Cup- and European Championship-winning midfielder and though Alonso is expected to finish his career at his first club, Real Sociedad, where he played before he signed for Liverpool in 2004, he has indicated to friends at the Basque club that he wants one more foreign spell.
A move to Chelsea would be complicated by Frank Lampard being offered a one-year contract extension, as revealed in yesterday's Independent.
Having targeted Ancelotti, Real are also planning to fast-track Zinedine Zidane through their coaching ranks as they prepare to fill the void left by Mourinho. Ancelotti has never been a popular supporters' choice at the Bernabeu but giving Zidane a prominent coaching role alongside the man who managed him at Juventus is being seen as a possible solution. Zidane had already been tipped to take charge of one of the youth sides next season.
Radamel Falcao would appear to be Mourinho's marquee signing on his rejoining Chelsea. The Colombian striker will leave Atletico Madrid at the end of the season and is represented by Mourinho's agent Jorge Mendes. But another Mendes client, Cristiano Ronaldo, put good distance between his own and Mourinho's future after Real's Champions League exit to Dortmund. Asked about his compatriot's future, Ronaldo said: "It is not important to me. What matters to me is my future and Real Madrid's."
Join our new commenting forum
Join thought-provoking conversations, follow other Independent readers and see their replies