Zlatan Ibrahimovic rescues unconvincing Manchester United after Paul Pogba nearly gifts Liverpool victory
Manchester United 1 Liverpool 1: Milner gave Reds the lead from the spot after Pogba's handball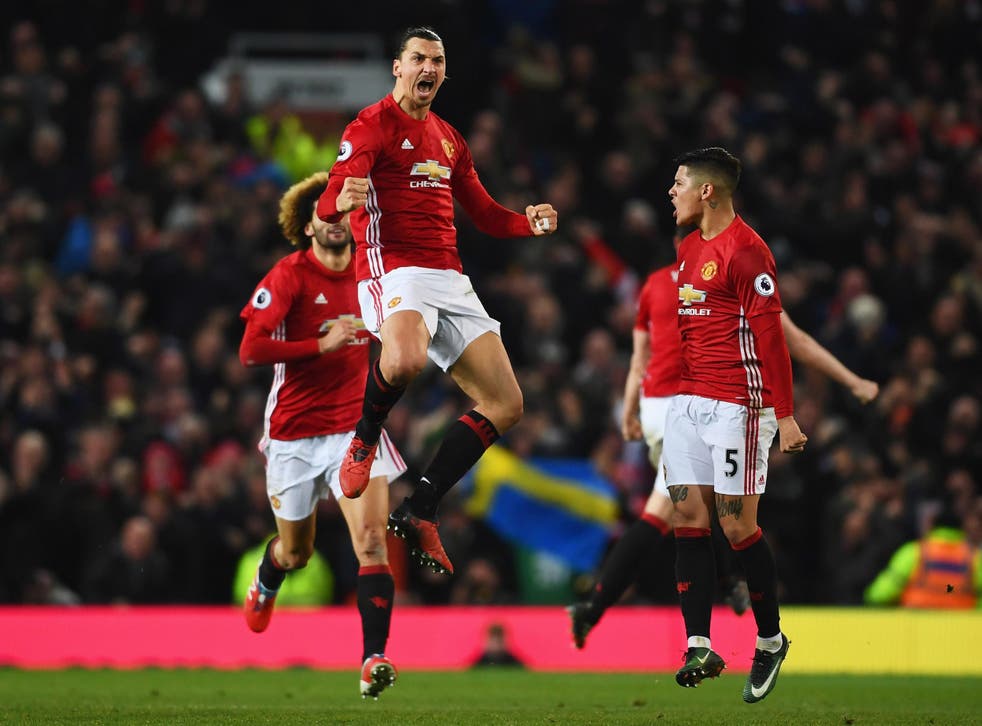 By the end, Jurgen Klopp was squaring up to Jose Mourinho in the technical area, incandescent to see the Portuguese suggesting that one of his forwards should be disciplined when that player had just been hauled back by his shirt. Mourinho extended a hand and, refusing to accept it, Klopp marched away. He jumped up and down in unmitigated fury.
Such is the inhospitability that Mourinho has restored to the place - and to the fixture best remembered in the difficult last four years here for David Moyes suggesting his side were not even favourites. Once more, United don't know they're beaten. The noise which rolled through the stadium when Zlatan Ibrahimovic had ducked down dexterously into a headed 84th minute equaliser was as monumental as anything we've heard since the days when they always expected to win.
After the dust has settled on a game which ignited at times and found moments of quality Liverpool may settle for what they took, despite Roberto Firmino and Georginio Wijnaldum missing excellent second half chances. Those wise heads at Old Trafford – the ones who understand what serial success looks like - will simply hope that Paul Pogba stops believing his own publicity.
He had become the first Premier League player to possess his own emoji, complete with yellow flecks. The first half advertising hoardings promoted #pogba. And yet the recipient of all this attention contributed substantially to his side's struggle. He missed a gilt-edged chance, struggled to find his way and then conceded a very poor penalty. Leaping with Dejan Lovren for James Milner's descending corner, arms outstretched just beyond the half hour, Pogba neglected to watch the flight of the ball which dropped onto his left hand. A certain penalty, which the consummate professional Milner despatched to David de Gea's right.
Pogba would have been the story had not Ibrahimovic – already an Old Trafford folk hero – scored his 19th goal in 33 appearances, though United's long labours to make amends also owed much to Simon Mignolet. The Belgian goalkeeper has had his critics but his two first half saves - clawing away a low, precise Zlatan Ibrahimovich free kick for which he was unsighted and racing out to parry when Hentikh Mkitharyan was sent racing through – reflected the good season he has quietly and impressively put together.
The troubling aspect of United's opportunities from a Liverpool perspective was how regularly the through ball found its way beyond their back door. Pogba was offered a similar gift, sent through with slide rule quality by Mkitharyan. Old Trafford held a collective breath as the Frenchman poked the ball to several inches wide of Mignolet's right post.
Divock Origi and Roberto Firmino provided an attacking intensity of a kind United had not experienced on their nine-game run winning run, though it was a day for physicality, when Adam Lallana could not maintain the level he has set. It speaks for the sea change in United's defence that they held off a Liverpool of such intent. Even the 18-year-old full debutante Trent Alexander-Arnold looked level to the moment. Though robbed of possession by Anthony Martial late on in a dangerous place, the teenager took down a 30-yard cross field as with his left foot and immediately shot with his right, before the half hour.
Manchester United vs Liverpool player ratings

Show all 22
Neither manager looked entirely happy at the interval. Mourinho's players had been profligate and Klopp's the most prone to the attacking thrusts. United adopted a longer game in a second half, for which Wayne Rooney was introduced, though his search for his record 250th Manchester United goal must wait for another day.
Klopp waited barely any longer to deploy Philippe Coutinho, who needed seconds to deliver a cushioned reverse pass which Firmino struck at the keeper when he should have done better. The game should have been beyond doubt on 75 minutes when a fast counter attack saw Firmino away down the right, crossing for Wijnaldum, whose unchallenged headed chance came at a comfortable height. He sent it over.
Rooney played a big part in the equaliser, delivering a sumptuous cross which had been recycled back in by Antonio Valencia when Ibrahimovic manoeuvred his head under it. By the end, United were powering on for a winner. It was Herrera's grab at Firmino's jersey to prevent a counter thrust which provoked Klopp's fury, after the Brazilian shoved at the midfielder in retaliation.
When Klopp arrived to discuss all this he found the low press conference chair difficult to negotiate. "I'm definitely too heavy for the Man United chair," he said, uncomfortable to the very end.
Manchester United (4-2-3-1): De Gea; Valencia, Rojo, Jones, Darmian (Fellaini 76); Herrera, Carrick (Rooney 46); Mkhitaruan, Pogba, Martial (Mata 65); Ibrahimovic. Substitutes: Smalling, Blind, Rashford, Romero
Liverpool (4-2-3-1): Mignolet; Alexander-Arnold, Klavan, Lovren, Milner; Can, Henderson; Wijnaldum; Lallana, Origi (Coutinho 60); Firmino. Subsitutes: Karius, Gomez, Sturridge, Moreno, Stewart, Ejaria
Referee: M. Oliver
Star man: Lovren
Match rating: 7
Join our new commenting forum
Join thought-provoking conversations, follow other Independent readers and see their replies