Man City go from bad to good as PSG go from sublime to ridiculous in Champions League semi-final first leg
A game that contained football of the highest quality was ultimately decided by some schoolboy errors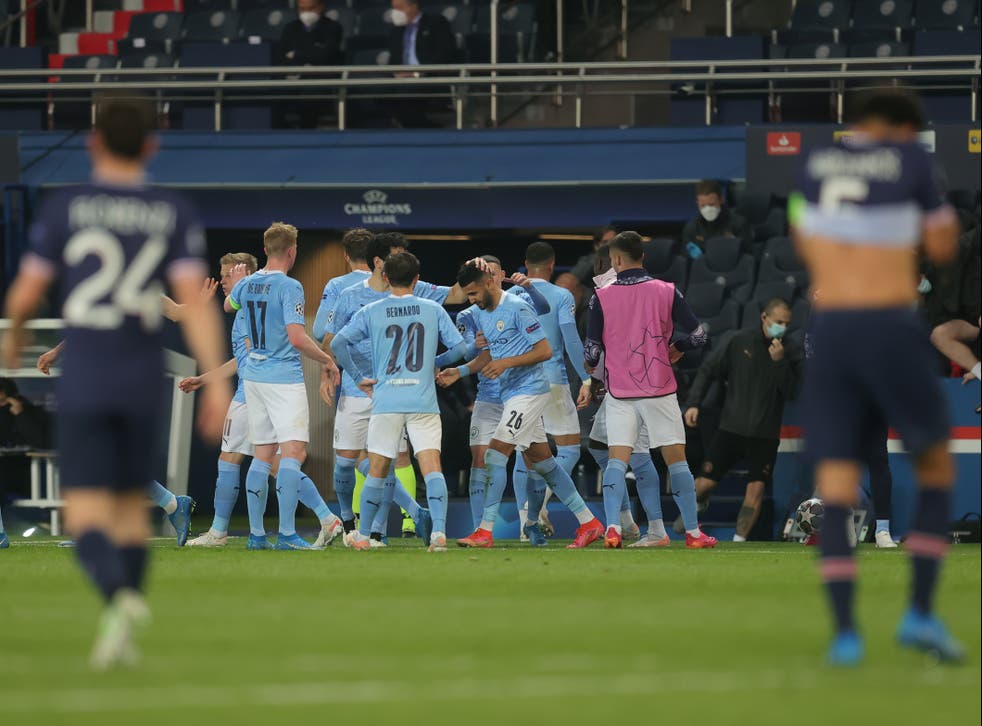 A vintage Champions League performance, in a game of geopolitical dimensions, still ultimately comes down to the kind of errors you'd see in any schoolboy match.
A funny old game of two halves, if you like, as we saw some cliches confirmed but others banished.
Paris Saint-Germain lost their discipline and maybe the tie, Manchester City and Pep Guardiola finally held their nerve at this level.
They have one foot in Istanbul. PSG have a huge amount to do to turn this over at Eastlands, and even more than Guardiola did at half-time.
That recovery and resolve only amplified the exquisitely commanding nature of City's second-half display. All it was really missing was a crowning goal to fit the level of the performance. Maybe that might have happened if they had a striker on the pitch. Maybe the fortuitous – but deserved – qualities of the goals they did score are just knockout football levelling itself out in the way that can happen.It was as if some moments – and particularly those two deliveries – fell for City in the way previous Champions League knockouts hadn't.
Up to then, it had seemed like this was going to be the same old story for Guardiola in the Champions League rather than the same old story for PSG.
The French champions had been superb in the first half, and looked a level above City, as they penned Guardiola's side back around their own half. The corner that led to Marquinhos' headed goal was a consequence of that, but also something else.
As with the second half, it wasn't just that the dominant side were so good. It was that the opposition were playing into their feet.
In this case, it did seem to be building up to one of those occasions where the competition had just got into Guardiola's head.
The Catalan fairly predictably went with a strikerless system, but initially without the kind of impetus from out wide that actually makes it work.
Joao Cancelo and Kyle Walker were playing as orthodox full-backs – almost in the style of Giovanni Trapattoni – rather than the secondary wingers they usually are. It meant City didn't have the same threat going forward, and ceded all initiative to PSG.
It was impossible not to think that this was Guardiola again second-guessing himself in the Champions League, and thereby setting himself up to be second best.
It seemed the same old story. It wasn't quite to be the case.
This time, even in that first-half display, he didn't look as agitated or as frantic as he usually is in such games. There was more of a composure. He was considering everything. He evidently made some key changes at half-time.
His team were transformed. The wing-backs were much higher, and City had more angles, and consequently more of the ball.
It was PSG that were now penned back. City just had the players to break the lines. It was as symbolic as it was significant that a Walker surge ultimately led to that game-breaking equaliser, even if he might have been frustrated there wasn't a No 9 to finish. Instead, they just worked the ball another way.
There was an inevitability about City scoring. It just maybe came in a manner they didn't expect, and that didn't fit the way they were playing. The absence of a striker may even have been influential.
De Bruyne whipped the ball in and Keylor Navas, evidently expecting a No 9 – or anyone – to get their head on it so he could react, just watched the ball fly in.
The second was worse for PSG. Riyad Mahrez's free-kick was well struck but not that accurately struck, except it went straight through two unexpected gaps. One was in the wall, one was somehow almost through Navas.
Presnel Kimpembe and Leandro Paredes disappeared from the wall in the way Neymar and Kylian Mbappe did from the game.
This is what City had done to them. This is football. It was a game involving the unlimited wealth of two states, and yet we were seeing some park stuff from the French champions. Remarkable.
Idrissa Gueye was then responsible for the kind of lashed-out frustration that has long been visible at any level of football, and is a signature of a team losing their way.
This, to be fair, was also a signature Guardiola display – at least in the second half.
The nature of the football was as good as anything we've seen in his spells at Barcelona, Bayern Munich and City. They were just in complete command, as PSG lost control.
It is now going to take something of similar dimensions from Mauricio Pochettino's team to turn this around.
The Argentine is obviously a superb manager, but these are precisely the kinds of challenges where you really need to prove you are up to this level and get a team over the line. At the same time, the last manager to overturn a first-leg home defeat in the Champions League - and to go through to the final at that? Pochettino.
They do have it within them to turn this over. They have too much talent within the side. It is also the nature of both teams in the Champions League that nothing is ever settled with them after a first leg.
There are too many contradictions and complications – much like this very match. City went from bad to good and PSG from sublime to ridiculous, with a match involving some of the highest quality ultimately decided by some of the worst mistakes.
It is all why it isn't close to over, but City still look so close to Istanbul.
Join our new commenting forum
Join thought-provoking conversations, follow other Independent readers and see their replies