Raheem Sterling proves why he is Mauricio Pochettino's most valuable player
Chelsea 3-0 Luton: Two goals and an assist from the forward saw the Blues ease past Luton at Stamford Bridge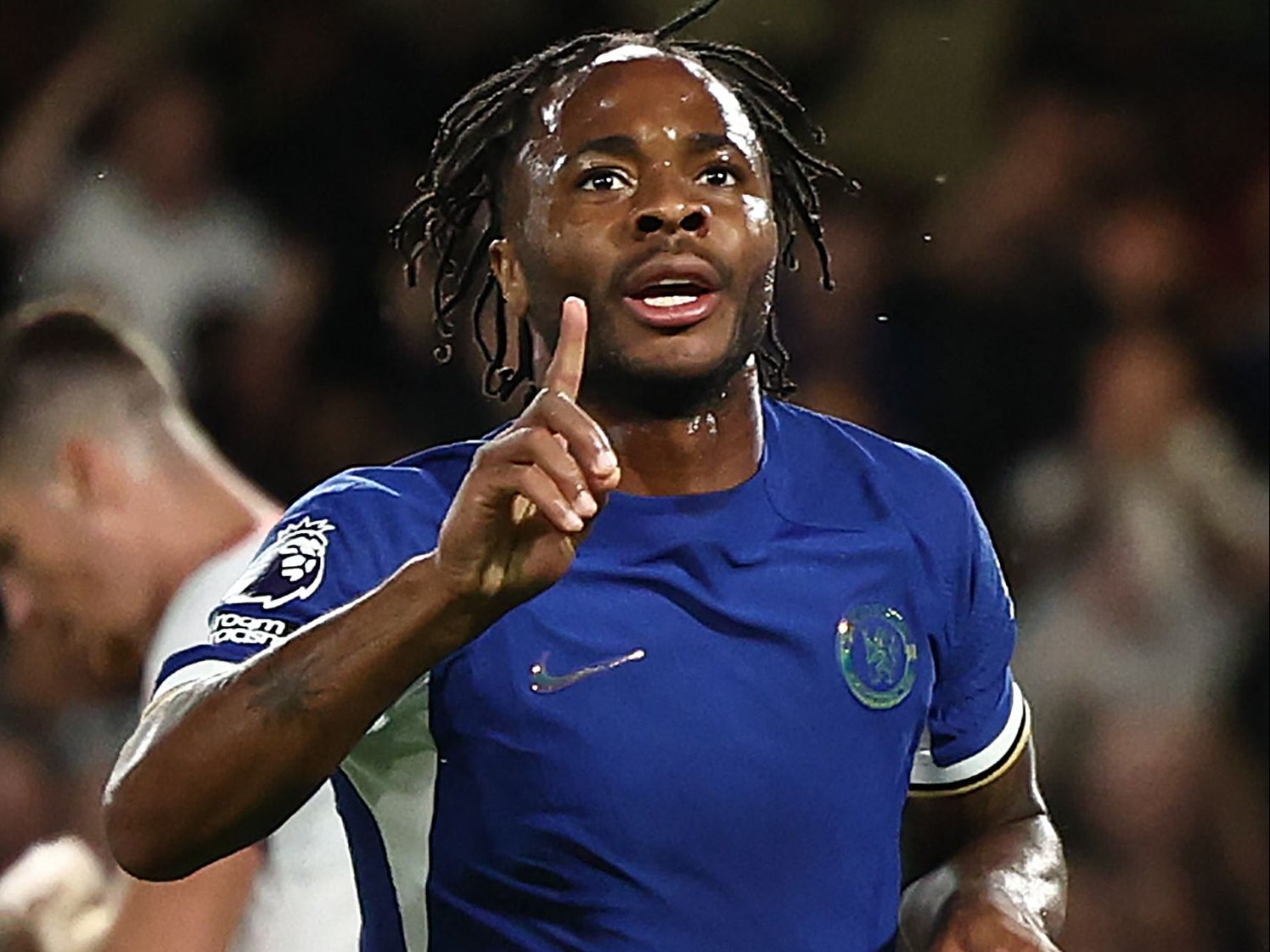 In offering the finishes, Raheem Sterling now looks like he is starting again. This might well be a great career rebirth, as the England forward's goals finally launched the Mauricio Pochettino era at Chelsea.
The Argentine got his first win at his new club – and a first home win at all for the club since Borussia Dortmund in March – with an otherwise resolute Luton Town beaten 3-0.
While the latter was hugely encouraging for Pochettino, this was ultimately all about Sterling. Fittingly for such a fine individual performance, the key goal – and that which essentially set and settled the game – was a sensational solo run. It was like the Sterling of his early years, so much verve and vibrancy, almost impossible to pin down or shackle. The England forward – for that is what he will soon be again if this form continues – just weaved through the Luton defence to slide the ball into the corner.
It was like a huge weight had lifted for Stamford Bridge as a whole. The place was flying by the end, just like Sterling.
While the forward's commitment to his physical condition preceded working with Pochettino this summer, it is precisely what the manager demands of his players, especially those who are supposed to lead by example. He wants them ultra-fit. He has got that from Sterling, who also turned the night from a badly needed win to a nicely encouraging display with a fine team goal.
While the first reminded how devastating the 28-year-old is when he is allowed to just get on the ball, the second reflected how clinical he was for a time at Manchester City, with just one single touch. After a surging team move, Malo Gusto slid the ball across for Sterling to turn it in.
It should be acknowledged that all of this meant more because it wasn't always so free-wheeling or convincing.
The second goal was crucial because Luton had really threatened. The doubt and concerns from the last few months were still very present for so much of this game. They might even have been all the deeper because of the knowledge that, had Chelsea failed to win here, it would have immediately set Pochettino into a "crisis" – no matter how superficial – in the way Frank Lampard and Graham Potter suffered. It would have been impossible to not put those three games without a win into the wider context of last season's dismal run, extending this miserable streak.
There was a long period where Luton sensed that, as they kept getting at Chelsea and caused some moments of nervousness. It will have only played into their mood, too, that many of Pochettino's line-up had as little Premier League experience as their side. With the Argentine, though, such youth can be a virtue. It has been the source of his best sides.
And one thing that can be said for certain right now is that there is already a Pochettino imprint on this team.
The very first moment of the game was Enzo Fernandez playing one of those searching balls out wide. It was of course for Sterling, and it was something that used to regularly be seen in Pochettino's Southampton and Tottenham Hotspur teams. From that, there was an intense pressing, and periods where they were running so hard they threatened to overwhelm Luton.
That never happened, though, because the Premier League's most patronised team also happen to be one of the most defiant. That is how they have overcome so many economic imbalances – and so much else – to get this high.
And they were willing to go for it against Chelsea, constantly seeking to exploit an evident gap on the left flank. That is one flaw in the team Pochettino is going to have to work on, but not the biggest.
The most obvious is the finishing. It was what made this game so tense for so long. It was like Chelsea had so much right up until the finish.
The livewire Jackson was electric until he had the ball in the box, so often opting to pass rather than just go for it in the way he did outside the box. For one huge moment, then, Sterling absolutely blasted the ball at goal only for Thomas Kaminski to hold it. It initially looked like the forward should have scored. On replay, it was so evident it was a remarkable save.
Sterling was in that kind of form. He's got Chelsea back into form.
Confidence followed. A goal from Jackson followed.
Chelsea, for the first time in a while, can eagerly look forward to what comes next. It will likely be more Sterling quality.
Join our commenting forum
Join thought-provoking conversations, follow other Independent readers and see their replies