Chelsea earn encouraging draw at Real Madrid in Champions League semi-final first leg
Real Madrid 1-1 Chelsea: Christian Pulisic's opener for the visitors was cancelled out by Karim Benzema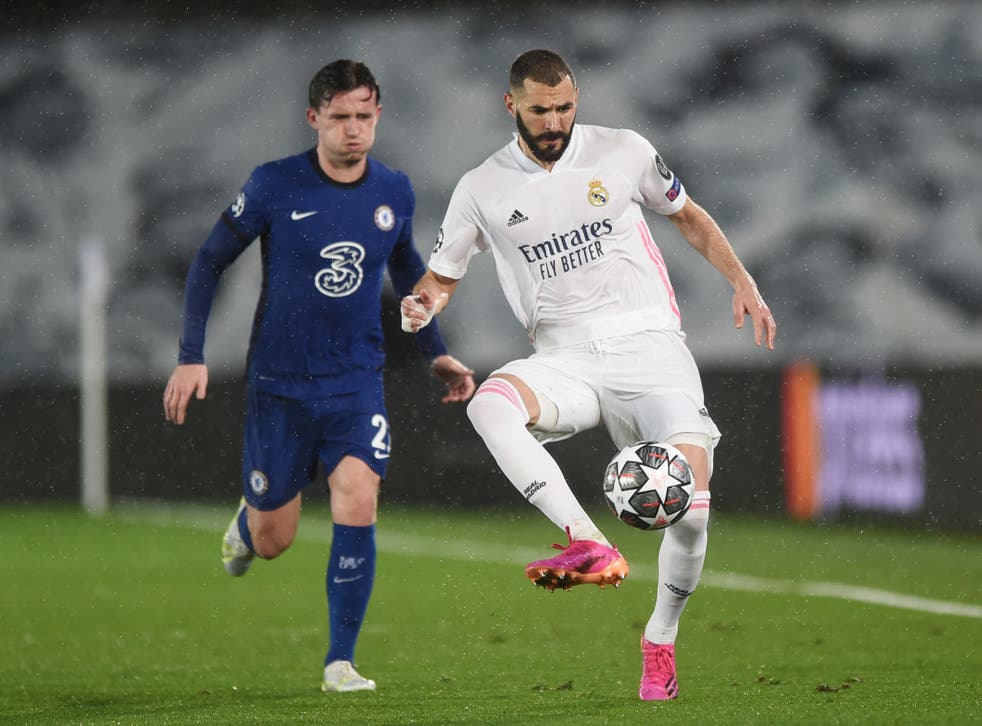 It wasn't as good as it might have been for Chelsea, but was still as good as you could hope for from an away first leg in a Champions League semi-final.
Thomas Tuchel's side have the advantage from this 1-1 at Valdebebas. Real Madrid have the job to do at Stamford Bridge.
They simply have to score, to prevent Chelsea reaching their third Champions League final. It is well set up, but that's also the frustration for Tuchel's team.
They had made the European Cup's most historic club look rather past it for a lot of the first half, and all too human, only for Karim Benzema to show he is a player above.
The French star kept Madrid going, and kept them in it with a superb goal. He was really all they had after Christian Pulisic's supreme opening goal.
The biggest questions from this are whether Chelsea will regret it, or whether Madrid can raise it. There are a lot of obvious lines here about what they might have looked like in a Super League with a performance as poor as this.
Chelsea will wonder whether they could have sent Real out of the Champions League in the first 20 minutes. Madrid couldn't seem to handle the speed of their start, or the speed of their play. The Spanish champions looked fully like the leaden team many had expected against Liverpool. It was as if Tuchel's team were just playing at a different speed of time. At that kind of pace, the tiniest movements were having huge effect. Werner would gesture one way and the whole Madrid backline would go the other. Pulisic would just go in a straight line and the Madrid midfield would scatter like crows.
All that stopped them in this start was, well, the finishing. Werner was unfortunately responsible for one of the worst examples, which is all the more frustrating given how effective his general play is. It was to dog him until he went off, but the worst was that glaring first chance of the game. Minutes later, as Madrid looked like they might unravel, Pulisic had the chance to play the German in but instead rounded Thibaut Courtois and smashed home himself. Antonio Rudiger's lofted pass had also lifted the play.
It was a brilliant goal, and the way the American just drove his way through the Madrid defence indicated Chelsea might do it again and again. It felt like the tie was there to be won. The Spanish champions were that bad.
As tends to happen with teams of such experience, though, they firmed up. Madrid don't have Chelsea's pace, but they do have plenty of nous.
They also have Benzema. The absence of any other attacking stars in this team has allowed him to come into his own. He is no longer the support act, but he did keep Madrid upright here. Such is the way he is carrying the team that we are talking about Ballon d'Or-level performance if they actually go on and win something.
Benzema sparked Madrid by producing something out of nothing, his speculative shot off the post proving a turning point in the flow of the game.
By letting fly, it was like he gave Madrid a foothold.
They still had to use a classic set-piece to get back into the tie. If the nature of that play was as functional as you'd see – right down to the Steve Bould-style eyebrows from Eder Militao – the finish was anything but functional. It was spectacular, as Benzema turned on his own touch to power the ball into the roof of the net.
With the game having levelled out, the general play was like it got consumed by its contrasts. It was speed and sturdiness, experience against exuberance.
It was also as if the freedom had been stifled. The attacking players were having to do that bit more work to fashion an opening. Werner was getting half chances to swipe at rather than big chances.
That suited Toni Kroos and Luka Modric more, who at last began to assert some control on the game. That is itself a lesson for other teams, as well as Chelsea for the second leg.
Tuchel's side couldn't keep up the same level of pressing, other than a brief burst when three substitutions were made. Eden Hazard even came on to little effect.
He currently isn't the player he should be. The game wasn't the encounter it had been.
Chelsea, however, have that crucial advantage.
Join our new commenting forum
Join thought-provoking conversations, follow other Independent readers and see their replies