Sarina Wiegman asks if she's in 'a fairytale' as England reach World Cup final
England set up an all-European showdown against Spain in Sunday's showpiece.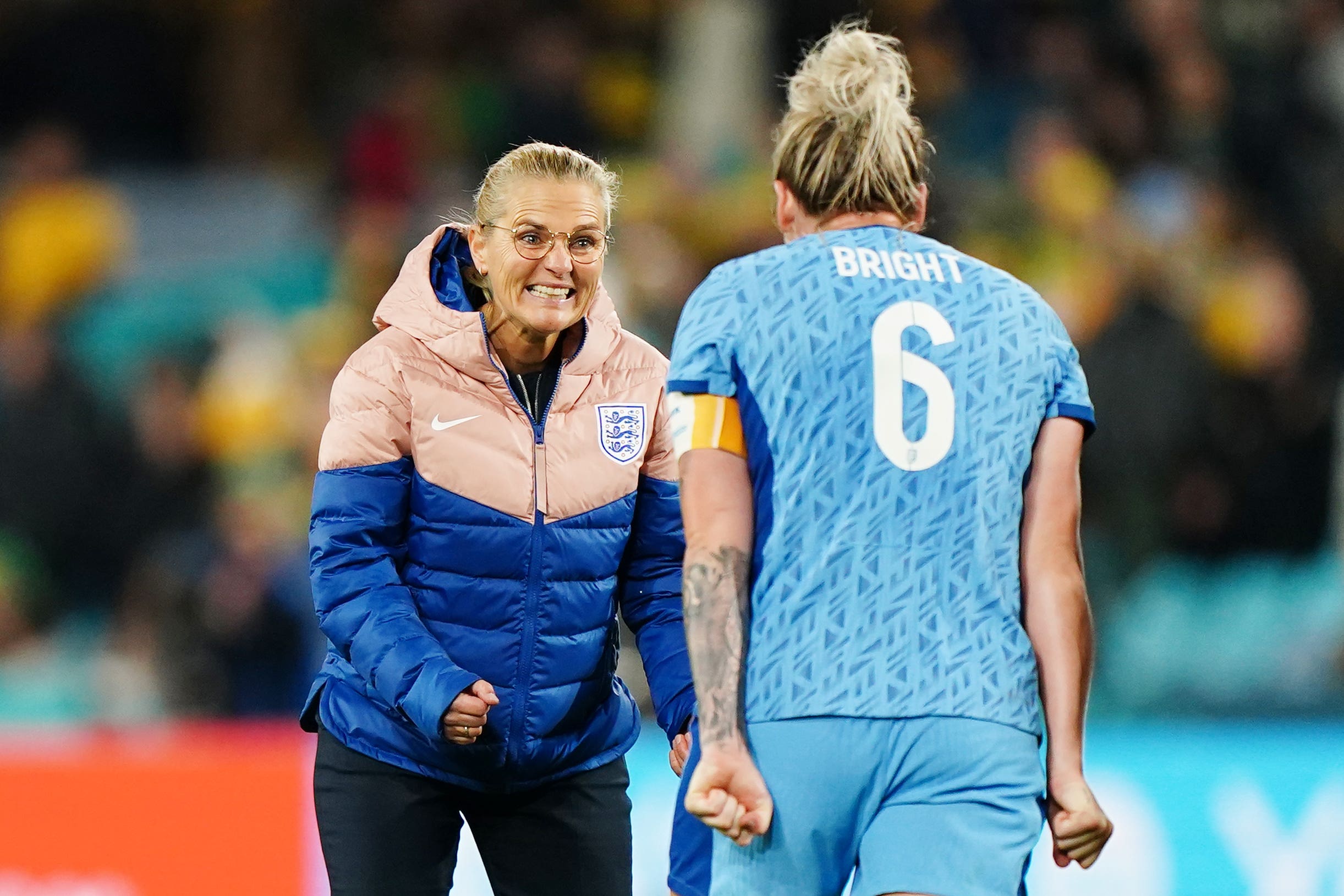 Sarina Wiegman has questioned whether she is "in a fairytale" after guiding England to their first Women's World Cup final following a 3-1 win against co-hosts Australia.
Ella Toone, who replaced the suspended Lauren James for the Lionesses' quarter-final win over Colombia, scored 36 minutes into her third start of the tournament in front of a capacity crowd of 75,784 in Sydney.
Australia captain Sam Kerr, making her first start of competition, equalised for the first-time semi-finalists with a stunning individual goal after the break before Lauren Hemp put England back out in front.
Alessia Russo made it 3-1 late in the second half to cap off the historic encounter and set up an all-European final showdown against Spain on Sunday.
Wiegman will now appear in a fourth successive final as a head coach after winning the 2017 Women's Euros with the Netherlands, who she managed in the World Cup final defeat to the United States two years later, before she led England to European glory last summer.
Speaking after the semi-final victory pitchside, Wiegman told BBC One: "We achieved the final and it's unbelievable, it feels like we've won it.
"But we won this game, it's an incredible stadium, an away game, of course it was a hard game but again we found a way to win.
"We scored three goals, in this team that ruthlessness, whether it's up front or in defence we really want to keep the ball out of the net, we really want to win and we stick together. We stick to the plan and it worked again."
She added: "The chance as a coach you make it to two finals is really special, I never take anything for granted but I'm like – am I in a fairytale or something?"
England defender Lucy Bronze was overwhelmed after finally reaching the World Cup final at the third time of asking after featuring in England's previous semi-final defeats.
"This is the one thing I've always wanted, to be in the final of a World Cup and after two times of getting such disappointment, I honestly can't believe it."
She added: "We all dreamed of being in the final and all our family and friends booked here to stay until the final because they believed in us. To have everybody here and all that support is unbelievable.
"It's been amazing to play against Australia, what a fantastic tournament they had, but I'm so happy to get to the final."
Sunday's final sees Bronze and Keira Walsh pitted against some of their Barcelona team-mates and the defender praised Spain's performance in the tournament.
Bronze said: "They've been very good. Me and Keira know 90 per cent of the starting 11 pretty well so I think we'll be getting asked a lot of questions ahead of the final."
Captain Millie Bright echoed her team-mate's sentiments that "the dream remains alive".
"I think it's a moment that we've wanted for so long, we had amazing success last summer, but we always knew there was something missing and it was the World Cup," she said.
"Now we have that opportunity and like Less (Russo) said before, the dream remains alive. What an incredible semi-final."
Bright will lead the team out on Sunday and admitted it will feel "incredible".
She added: "Crazy, to be honest I'm just keeping two feet on the ground and remaining on task and focused," she said.
"I don't even have any words for that, to be saying we're going to the final is crazy and overwhelming – there's so many different emotions.
"Just so happy we could give the fans the dream they wanted back home and the fans that are here as well, but to lead them out will be absolutely incredible."
This was Australia's first tilt at a World Cup semi-final. The Aussies have been first-class co-hosts for the ninth and biggest edition of the global showpiece, cementing their country as a bona-fide football nation with record-breaking support.
By Wednesday night, it felt almost impossible to walk down the street in Sydney without spotting someone in a Matildas scarf.
Head coach Tony Gustavsson called for more funding for his side when he said: "It's bigger than 90-minute football.
"We're very disappointed that we lost, but hopefully we won something else. We won the heart and the passion for the game in this country.
"I agree with the players. This is not the end of something. This needs to be the start of something and with that comes money as well."