We gave everything – Sarina Wiegman so proud despite 'hard to take' final defeat
The Lionesses suffered a 1-0 loss to Spain in Sydney's Women's World Cup final on Sunday.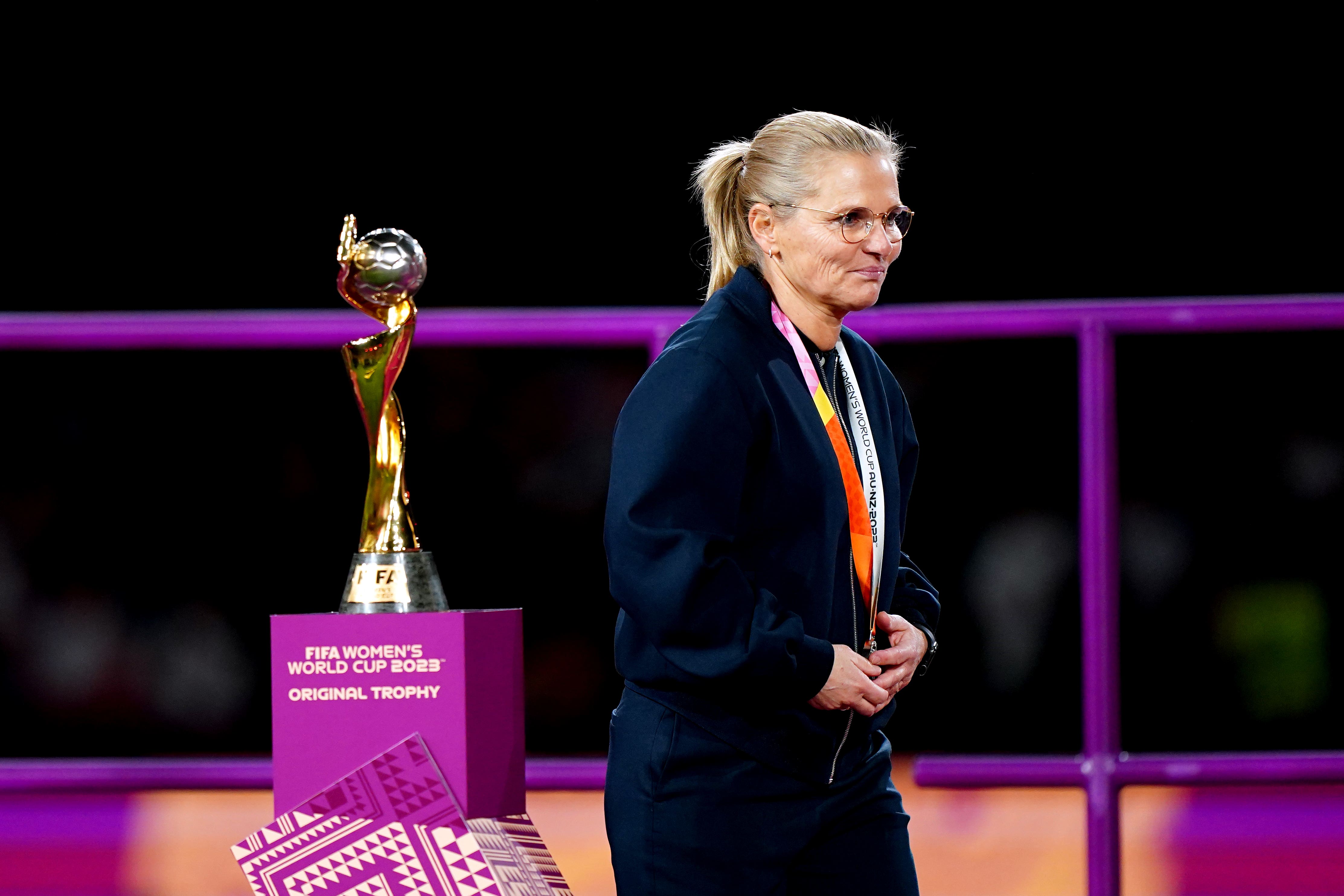 England boss Sarina Wiegman felt the Lionesses exhausted every effort to win their first Women's World Cup final despite coming up just short with a 1-0 loss to Spain in Sydney.
The Dutch boss, who led England to their first major trophy at last summer's European Championship, finds herself with a silver medal in two consecutive attempts after steering 2019 runners-up the Netherlands to the title-decider four years ago in France.
Second place is still a best-ever finish for the Lionesses in a global showpiece, beating their bronze medal from 2015, but the three-time FIFA Best winning coach knows from experience it may take some time before the sting subsides.
Wiegman, who reiterated her commitment to remaining in England on multiple occasions this week, said: "That's hard to take now, and of course we did everything, we gave everything, we've overcome lots of challenges and today we did everything we could to win.
"It feels really bad, of course, and very disappointed, but still very proud of the team.
"I'm just hurt about this moment. Losing a game and in a final, when you're in a final you want to win it. I guess you mean because it's a second final, I don't see it (like that), this was a different game, a different team.
"I was totally convinced before the game that it would be a very tight game but we were confident that we were able to win it. I hope in the future I get a new moment with the team I work with, that would be amazing, because it's very special to play finals."
Lauren Hemp came inches away from scoring an opener with a first-half attempt that clipped the crossbar, and it remained England's best chance of the contest.
Spain took a 1-0 lead when Mariona Caldentey slipped the ball to the onrushing Olga Carmona, who finished past Mary Earps with a left-footed effort into the bottom right corner after 29 minutes.
Wiegman initially employed the 3-5-2 shape that had been so successful in England's 6-1 victory over China, but reverted to a 4-3-3 in the second half, when she brought in Lauren James – available for the first time following her two-match ban – and Chloe Kelly after the break.
Spain could have doubled their advantage in the second half when Keira Walsh was punished for a handball inside the penalty area following a lengthy VAR check, but the competition's Golden Glove winner Earps read Jennifer Hermoso's spot-kick perfectly and produced a fine save to keep England in the contest.
Wiegman said: "I think we played better in the second half. We changed shape, we got momentum, we got more in their half. Then they got the penalty and when Mary saved it I thought, 'OK, now we're going to score a goal and get the 1-1', but we didn't."
The 2027 Women's World Cup hosts will be announced at the 74th FIFA Congress in May, while England will defend their European title in Switzerland in 2025.
First comes UEFA's newly launched Nations League, which also serves as a qualifier for next summer's Olympic Games in Paris.
England, Scotland or Wales would need to reach the final to qualify as Team GB, or finish third if automatically qualified hosts France are one of the last two.
Wiegman managed the Netherlands during the postponed 2020 Tokyo Games, but was disappointed by the Covid-19-impacted experience, remarking earlier in the week that "it felt like a jail. We were stuck in a hotel."
So rather than thinking about the next World Cup in an as-yet-undecided location, Wiegman was looking ahead to just over a month's time when England will kick off their Nations League campaign against Scotland at Sunderland's Stadium of Light on September 22.
She added: "Four years is a little bit of a long time. We will start in September in the Nations League to try to qualify for the Olympics.
"You want to improve all the time. This team and this group of players are so eager to be successful. We want to grab every moment to be better. We hope we come back and play good games again to win."
La Roja's victory was somewhat overshadowed by ongoing unrest within the Spanish federation that extends back to last September, when 15 players staged a so-called 'mutiny' and refused to play for their national side, reportedly over conditions and concerns about boss Jorge Vilda.
He has doggedly remained in his post in spite of his detractors and is now a World Cup winner and seemingly retains the backing of his bosses, with the Seleccion Espanola Feminina de Futbol tweeting a picture of Vilda after the win alongside the caption "Vilda in".
Vilda, who batted away questions about whether or not he would remain in his post, admitted it had been a "difficult year" on a "personal level" but after the win against England was feeling "extreme happiness".
He said: "We've made many millions of people happy that we are aware are watching us in our country. I feel very proud of my team, of my football players.
"The only way to achieve success is working, working, working and that's how we've achieved it.
"Today was a sporting spectacle of the highest level possible, and it's not a question of gender."