2022-23 Season in Review
The year that sportswashing won: A season that changed football forever
The 2022-23 season saw football show its two faces and things will never be the same, writes Miguel Delaney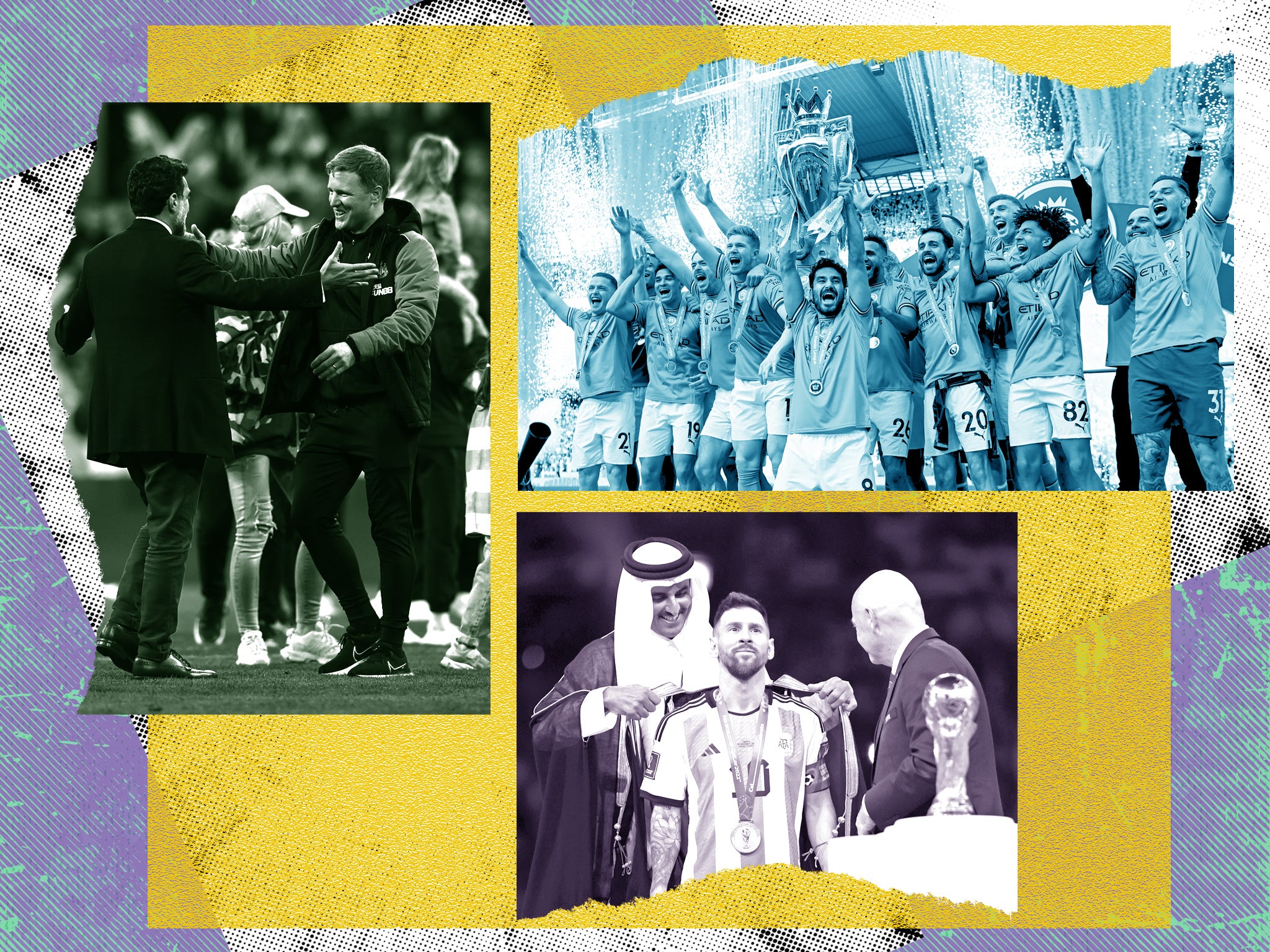 For an illustration of the sort of double-think that has pervaded football this campaign, consider the actions of one prominent figure. They have effusively praised Manchester City in public, but constantly asked when the Premier League investigation is going to be concluded in private.
This could actually refer to a few people, and might well be necessary realpolitik. It's also the reality of the game in the 2022-23 season, one that has gone on so long that two contrasting perspectives on the same subject could both be entirely fair at different times.
This was a campaign that was deeply predictable at one end and wondrously open below that. City may make history by winning a treble but also made history in becoming the first champions to have been charged with breaches that could yet see them expelled from the Premier League. Manchester United were often a shambles in some record defeats but also sensibly getting things together under the astute Erik ten Hag. On it goes, just like the season itself. There's still almost a month left.
Much of this comes from an event that remains more influential than even that seismic day in February when the Premier League quietly announced that City had been charged. That was of course a Qatar World Cup that is still having a considerable effect on the campaign.
Summing this up is that it's hard to get your head around the idea that a tournament actually happened this season. No, seriously. Qatar was more recent than Thomas Tuchel and Antonio Conte clashing over a handshake. It might even be more recent than Darwin Nunez being charitably described as "an agent of chaos" but, like one of his touches, that's lost in the mire.
Yet it is all of a line, as are some of the other facts of the campaign.
It is symbolic that the season of the Qatar World Cup also saw Abu Dhabi's City come to the brink of a treble and Saudi Arabia's Newcastle United get to the Champions League. There is actually a direct cause-and-effect here, since every major football decision these states have taken has seen their Gulf blockade rivals respond. The move to host the 2022 World Cup is still seen as setting off much of this.
One senior figure privately quipped that this is "the year that sportswashing won". It is certainly one where a number of different strands defining the modern game came together. There may yet be more.
If the Sheikh Jassim bid does win the Manchester United sale, to conclude another of the season's major themes, it would mean three of England's Champions League clubs for next season are respectively owned by Abu Dhabi, Saudi Arabia and Qatar.
And yet there is another contrast there, even if you have to go a little deeper.
For all that the top end of the sport has become the preserve of Western billionaires and – increasingly – autocratic states, there has been a joyous unpredictability below that. The Europa League and Europa Conference League have been alive with opportunity and more captivating than ever, just as the Champions League top end – and its group of potential winners – has become so small. There is an enriching vitality in the two lesser competitions that are no longer seen at the elite level. One has the same teams and stories. The other two have revitalising runs at rare glory.
The wildness of the Premier League's bottom two-thirds meanwhile showed what the entire division could and should be like. The EFL play-offs were captivating, and featured two uplifting stories in Sheffield Wednesday's historic comeback against Peterborough United and Luton Town's rise.
Rob Edwards's side will join Brighton and Brentford in the Premier League now, both of whom have continued to defy the wider realities of the game. Leicester City's relegation at the same time showed how difficult and fleeting that can be, how it can evaporate. Any success from outside the elite is therefore to be relished, in the manner that Napoli did in Serie A and Feyenoord in Eredivisie.
Such feats stand as uplifting sporting stories in contrast to what the Qatar World Cup represented. Some were ironically influenced by that tournament, since an unprecedented disruption to the regular club season inevitably had a profound effect. It played havoc with physical conditioning programmes. All had to adapt, some did better than others.
It was undeniably a factor in Liverpool, Tottenham Hotspur and Chelsea having such poor seasons, if obviously not the main reason. The issue is more that, if things go as normal, the wealthiest tend to succeed. This season was anything but normal as it continues to stretch on for so long.
None of that is to excuse many flaws of course, not least in Chelsea's excessive spending. There is a moral lesson there that money can only bring so much, at least in the short term.
There was also classic pantomime underneath the most serious discussions.
Todd Boehly made himself one of the game's modern characters, reminiscent of some of the larger-than-life figures of the 1970s. Frank Lampard's return was an almost comical cameo, that only left bemusement. Conte put on a theatrical performance before ultimately leaving Spurs. Pep Guardiola had a display of his own in dismissing his players as "happy flowers".
The coaches demand focus in another way.
There's a fair argument that every Premier League manager who wasn't sacked has a claim to be the best of the season. All of Roberto De Zerbi, Gary O'Neill, Thomas Frank, Mikel Arteta, Guardiola and Eddie Howe overperformed to varying degrees. David Moyes has got West Ham United to a European final, and the brink of a first trophy in 44 years.
The only exception to this is arguably Jurgen Klopp, but his excellence is beyond question. The uncertainty is just about whether he can rebuild Liverpool to the same degree. There was much more causing their Champions League failure than the mid-season disruption. The effects of that break only went so far, too.
The most lavish football project was naturally best equipped to adapt. Guardiola primed his City team to come good in the same way he did during that Covid season. The Catalan is clearly a genius but fitting a goalscorer like Erling Haaland to a team like City is one of the less challenging problems.
A young Arsenal actually did remarkably to set the pace for so long. If you stand back, it was really an inevitability they were going to be overtaken, regardless of how it ended up happening.
Qatar disrupted things but only to a certain degree. City, Bayern Munich, Paris Saint-Germain and a hugely criticised Barcelona still won domestic titles.
It all points to how the game is actually at a strange point in its historic evolution, split in a few ways.
The most questionable interests are seeking to purchase this glorious unpredictability and pantomime, a dynamic at once eroding such theatricality but also ensuring the defiant displays are all the more joyous. There will come a point, however, where the game reaches a line it can't go past.
We're not there yet but there are signposts.
In 2021-22, Vladimir Putin's invasion of Ukraine forced football to confront realities it wouldn't otherwise have faced, and take decisions it would otherwise have ignored. It was arguably the season the mask slipped. The 2022-23 campaign was one where football had two faces.
Join our commenting forum
Join thought-provoking conversations, follow other Independent readers and see their replies