The art of free-kick taking: Sebastian Larsson on Messi, Ronaldo and why David Beckham is still the best
In the third instalment of our series on football's finer crafts, one of the Premier League's foremost set-piece specialists outlines how one becomes an expert free-kick taker
Ryan Baldi
Wednesday 18 September 2019 11:30 Comments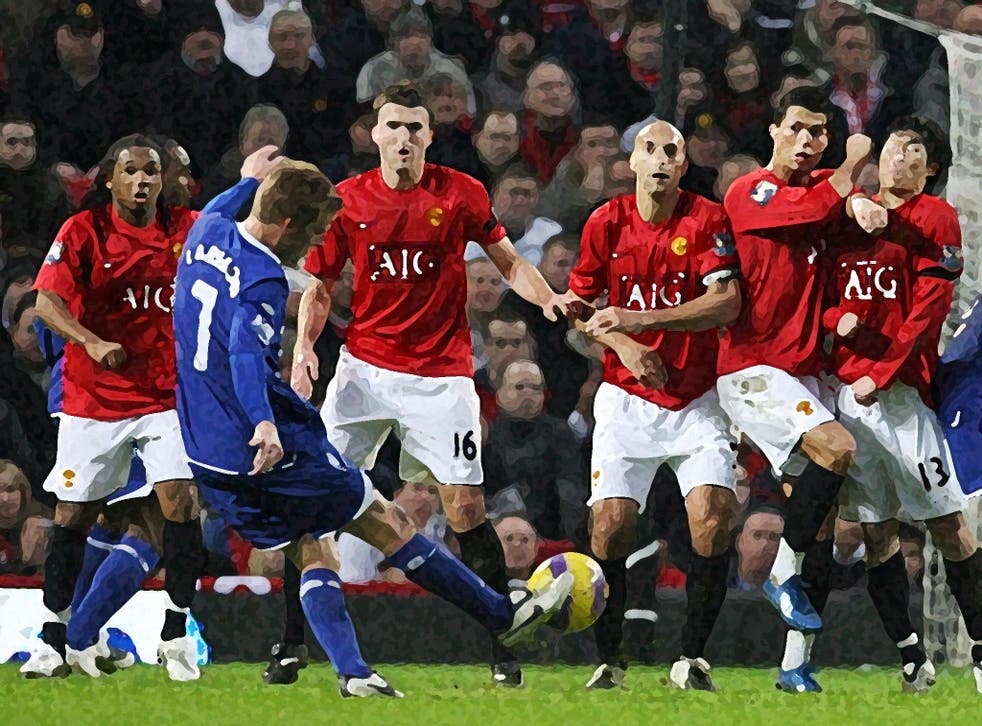 There is no aspect of the footballer's skillset that cannot be improved through hours of studious practise. But few technical tools are honed so clearly and completely by the time invested in their repetition as the ability to score from free-kicks.
There is an art to the inventiveness and misdirection of a clever free-kick, but effective set-piece technique, above all, is a craft, offering no shortcuts to mastery.
For Swedish midfielder Sebastian Larsson, one of the most successful dead-ball exponents the Premier League has ever seen, inspiration to put in the hard hours came early, and from an obvious source.
"As a youngster, you always try and copy someone," Larsson told The Independent. "For me, still to this day, I think David Beckham, when you talk about set pieces, was and is the best I've ever seen. So I definitely looked at him when I was younger, how he would run up and hit the ball, and I'd try to copy it.
"What I remember from when I was younger was his run-up, his angle of approach to the ball, and how he managed to get such vicious dip on the ball. You look at how he connected his foot with the ball, how he hit it; I remember thinking he hit it quite far back on his foot. You keep trying that, trying to see if that is the way forward for yourself, and eventually you find your own way. I've tried to find small pieces of his technique that I can use myself and improve my technique."
The #IndyPL100 countdown

Show all 101
Beckham is the Premier League's all-time leading scorer of free-kicks, having employed his trademark 90-degree run-up and ankle-contorting style to score 18 times for Manchester United. Larsson, whose 282-game Premier League career encompassed spells with Arsenal, Birmingham City and Sunderland, is tied for fourth in the list of the English top flight's dead-ball kings since 1992, level with Cristiano Ronaldo on 11 strikes, and only one behind Thierry Henry and Gianfranco Zola.
Although Larsson never went so far as to copy Beckham's famous method of hanging a bicycle tyre from the top corner of the goal for target practise, the 113-cap Swedish international was relentless and meticulous in refining his dead-ball skills.
"In general, it wasn't very complicated," he says. "It was about trying to hit as many free-kicks as you could and trying to find that right technique. For me, it was always about the dip, trying to be able to put a lot of power through the free-kick but still trying to get it to dip in.
"It was about putting mannequins up in a wall, or friends when you were younger, and hitting it over and over again. You look at an area on the goal and try to hit it as many times as possible, and you know if you can do that on a regular basis you have a chance of scoring."
In Larsson's mind's eye, there is always a specific, ideal patch of turf from which he can easily visualise scoring a free-kick: in line with the left-hand post, 25 yards from goal – far enough out to allow for a powerful strike, close enough to maintain precision.
But opportunities to strike for goal from that exact spot are rare. The key to Larsson's having become one of the most feared set-piece specialists in the world is twofold: he adapts his technique in accordance with the angle and distance from goal of each free-kick, and he knows his limits.
"I've never been one to just run up and blast the ball like a lot of players do from long range," he says. "If we get a free-kick and I realise it's too far to go straight at goal, I either let someone else have a go or will try and find another way of creating a goal-scoring opportunity.
"When I see the keeper and the wall set up, if I feel like I've got an opportunity to score in a certain place on the goal, that's how I'll angle my run-up. Sometimes you can't overdo it, because you'll give the goalkeeper too much of a hint, but the last few steps, I always try and have the same angle when I approach the ball, depending on where I want to hit the target."
As with every other aspect of the game – from centre-backs building play from deep, to stuttering penalty run-ups – the craft of scoring from free-kicks has evolved over the years. One of the more popular modern techniques, often referred to as the "knuckleball" style, sees its exponents approach the ball from a shallower angle than is traditional and aim to deliver a flat and powerful strike which encourages the ball to move wildly in mid-air.
This method was adopted, with some success, in the Premier League by Ronaldo, Didier Drogba and David Luiz. While Larsson is no advocate of this particular type of strike, which sees accuracy exchanged for greater power and unpredictability, he can see its value.
"That's not my style and I don't think I would be very successful in trying that," the 34-year-old admits. "But I guess, overall, the good thing about it is you can score from really long range, when you get the ball to wobble like that with a lot of power behind it. I would say, in general, the percentage of hitting the target when you do it that way would be much lower than when you try to do it the traditional, David Beckham-style free-kick technique.
"You've got your free-kick takers like Ronaldo, who scores amazing free-kicks when they go in, but I think the percentage of goals scored isn't very high compared to how many he tries. It's tough to look past someone like [Lionel] Messi. He can score free-kicks from really close to the box, get them up and down, and even a little bit further out. I would say he has got a little bit more of a traditional technique when it comes to free-kicks. Out of those two, I'd say Messi is the better free-kick taker."
Whatever the next technical evolution set-piece delivery undergoes, maximising dead-ball opportunities will remain a crucial aspect of the game. Larsson, who returned to his native Sweden to join AIK in 2018, has absolute faith that free-kick experts like himself will continue to be prized assets.
"I think it's a massive part of the game. The percentage of goals coming from set pieces is fairly high.
"If I was a manager, I'd definitely want a set-piece specialist in my team."
Register for free to continue reading
Registration is a free and easy way to support our truly independent journalism
By registering, you will also enjoy limited access to Premium articles, exclusive newsletters, commenting, and virtual events with our leading journalists
Already have an account? sign in
Join our new commenting forum
Join thought-provoking conversations, follow other Independent readers and see their replies