Ajax play hardball with Liverpool by demanding £21m for Suarez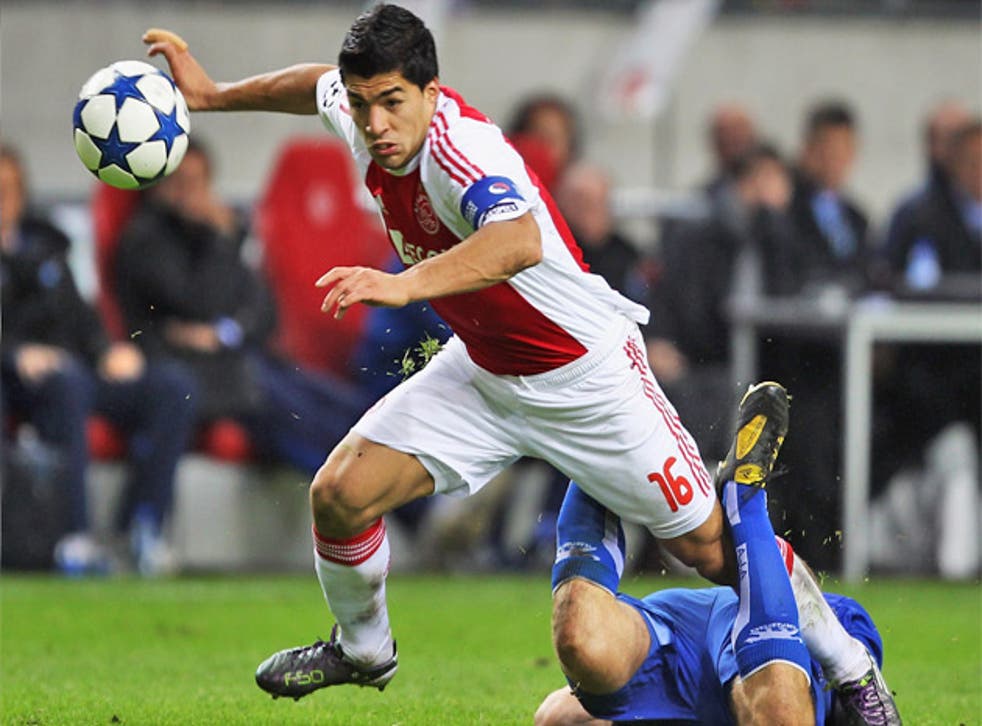 Liverpool are involved in a tough negotiating battle with Ajax over Luis Suarez with the clubs understood to be more than £8m apart on price for the Uruguay international.
The obvious need for substantial reinforcements to a squad that looks short of Kenny Dalglish's requirements has left a club which anticipated a relatively low-budget January now hoping for two or three signings. Aston Villa left-back Stephen Warnock seems the most probable acquisition, with Dalglish concerned by Paul Konchesky's alienation from Liverpool's fans as well as his struggle for form. But Villa's Ashley Young and Wigan Athletic's Charles N'Zogbia are also players of interest, reflecting the absence of creativity in a side which is yet to win under Dalglish. However, Villa have insisted that Young is not for sale.
Suarez satisfies the need for a forceful second striker as well as delivery from the wings. Contrary to internet reports yesterday, Liverpool's principal owner John W Henry did not meet the player's agent, Pere Guardiola, at London's San Carlo restaurant on Tuesday night. Henry was in Liverpool for the evening. There has still been no official bid for Suarez but he would also bring more aggression to the side.
Though Suarez is understood to be keen to leave Amsterdam and attracted by the contingent of Spanish speakers who would help his acclimatisation on Merseyside, Ajax have proved inflexible on price so far. Liverpool are offering ¤15m (£12.5m), Ajax want ¤25m (£20.9m) minimum. Ryan Babel, who will move to Hoffenheim in a £5.8m deal unless a club more attractive to the 24-year-old comes in with a bid for him, was initially offered to the Amsterdam club from whom he was signed as part of the deal, but they were not interested.
Ajax want only to maximise their financial return. They need the money but they believe they can win the Eredivisie – they are currently fourth, six points off PSV Eindhoven with a game in hand – which is why they appear to be ready to play hardball.
Ajax may also take into consideration Suarez's mindset. A combustible individual – he was banned by the Dutch FA in November for seven games for biting an opponent on the shoulder – Suarez is said to be angered by the Dutch club's refusal to sell him. He was also frustrated last summer when a sizeable bid was tabled, which Martin Jol blocked – the then manager threatened to leave if Suarez went.
Manchester United had an initial interest in the player, whose performances in Uruguay's run to the World Cup semi-finals underlined his potential. During negotiations for a contract extension, Suarez pushed for Ajax to sign his friend and fellow Uruguayan Nicolas Lodeiro. They did so, which shows how much they value him. Lodeiro has barely played. Suarez is out of contract in June 2012 so they need to sell him by this summer. Tottenham had been interested in Suarez, though Harry Redknapp was understood to have harboured some doubts about his technical merits and has pulled out of the race for his signature. As a consequence, Spurs are now pursuing Giuseppe Rossi of Villarreal.
Liverpool's new chairman, Tom Werner, has said that Dalglish does fit the criteria to be the long-term manager. In an interview with the club's TV station yesterday, he said: "We've said at his [inaugural] press conference that he fits the criteria that we're looking for in a manager. He's extremely competent, he's excellent at man-management, he knows the philosophy of the club and he's been everything we could have hoped for. At the same time, we are certainly looking at what we can do to strengthen the club in the long term and he would be a candidate."
Of the qualities the new manager would need, Werner said: "You can just study the words and the actions of our great managers, Paisley and Shankly, and I certainly would include Kenny Dalglish as part of that triumvirate. They know what it means to win and what it means to be a big-four club. Our intention is not just to become eligible for the Champions League, but to be the best team in the League."
Werner added: "It is our intention to improve the club short-term. We know there are ways to improve the club and we do have targets. We hope to announce something but we are going to be driven by long-term decisions."
Register for free to continue reading
Registration is a free and easy way to support our truly independent journalism
By registering, you will also enjoy limited access to Premium articles, exclusive newsletters, commenting, and virtual events with our leading journalists
Already have an account? sign in
Register for free to continue reading
Registration is a free and easy way to support our truly independent journalism
By registering, you will also enjoy limited access to Premium articles, exclusive newsletters, commenting, and virtual events with our leading journalists
Already have an account? sign in
Join our new commenting forum
Join thought-provoking conversations, follow other Independent readers and see their replies