Arsenal transfer news: Danny Welbeck in Arsenal's sights with Olivier Giroud set to be out until 2015
It is almost inconceivable that the Gunners will not seek reinforcements before the transfer window closes after losing their main striker to injury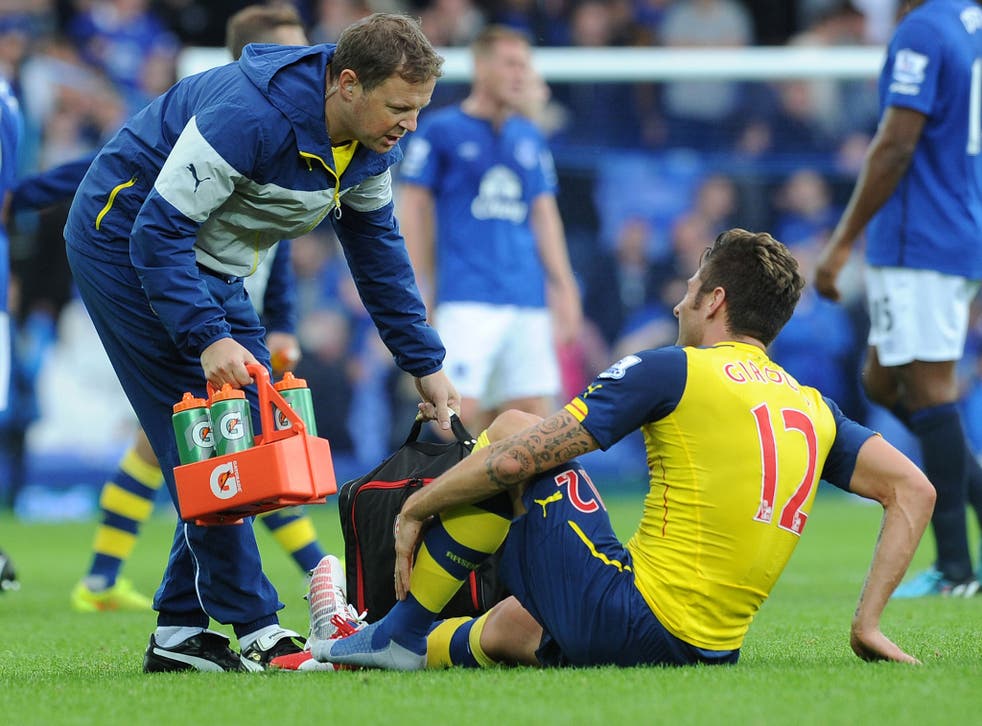 Arsenal fear that striker Olivier Giroud will be out with an ankle injury until the new year, leaving manager Arsène Wenger preparing a move for Manchester United's Danny Welbeck in the final few days of the transfer window.
Giroud was last night undergoing tests on a suspected broken ankle sustained in the 2-2 draw at Everton on Saturday, but Arsenal are braced for the worst, which would rule out their main centre-forward for the rest of the year.
Wenger was coy at yesterday's pre-match press conference for the Champions League qualifier at home to Besiktas tonight and said he was waiting for "further investigation" of Giroud's injury to his tibia, adding that he was "not in the mode to be [talking] about buying or selling". However, it is now almost inconceivable that Arsenal will not seek reinforcements before the transfer window closes on Monday night.
Arsenal have a long-standing interest in Welbeck, whom Louis van Gaal would be willing to part with. Welbeck would be open to joining but United are very reluctant to sell him to a main rival, especially after Arsenal blocked their move for Thomas Vermaelen. They would therefore demand up to £16m for the 23-year-old England international. Arsenal's current valuation is thought to be closer to £12m.
Queen's Park Rangers striker Loïc Rémy would be far cheaper, as he has an £8.5m release clause in his contract to move to a Champions League club, but Wenger has considered signing the France striker in the past and is thought to have reservations about him. Rémy nearly joined Liverpool last month but the move fell through amid claims he failed a medical, though the 27-year-old has started both of QPR's Premier League games this season.
Wilfried Bony, at Swansea City, would be more expensive but after 25 goals in his first season in English football would be a ready-made alternative to Giroud as a conventional No 9. Swansea already have a replacement should Bony leave in Bafétimbi Gomis, who joined this summer from Lyons.
How Arsenal could replace Olivier Giroud

Show all 10
The most ambitious target for Arsenal would be Monaco's Radamel Falcao but if they were even to take the Colombian on loan they would have to pay a substantial loan fee.
Wenger did warn yesterday that spending was not the answer to every problem. Asked whether United breaking the British transfer record by signing Angel Di Maria from Real for £59.7m was a cause for celebration, Wenger said that quality was always more important than a price tag.
"In England as soon as you have a problem people want you to buy," Wenger said. "Unfortunately, I can give you clubs with plenty of players who every time they lose say they have to buy more. But if you give the number of strikers we have it is unbelievable. It shows that we have a financial potential that is one of the highest in Europe, that is quite good."
For the time being Arsenal will have to stick with Alexis Sanchez, Yaya Sanogo, Joel Campbell and Lukas Podolski before they sign a replacement. While Sanchez struggled as a No 9 at Goodison Park, Wenger said he was confident about his use there in the future and would not lose faith after one ordinary performance.
Of Giroud's injury, Wenger added: "He had a medical check and we needed to have further investigation. The first news is not fantastic, but I am not a doctor. So I wait for the complete examination and decision for how long he will be out. It's sad for us.
"It is accidental," he added. "You cannot plan to get an injury like that, in the 94th minute. I still don't understand how he did it. He overstretched his ankle. It was on the ball, not a contact."
Arsenal targets: Four who may replace Giroud
1. Loïc Rémy
Rémy has impressed in spells at Queen's Park Rangers and Newcastle United, showing real pace in behind defences and an eye for goal which would make him different from Arsenal's current forwards. They could easily trigger his £8.5m release clause, but Arsène Wenger has some reservations about bringing him to the Emirates.
2. Wilfried Bony
The Swansea man surprised many with just how quickly he has adjusted to the English game and in terms of profile he would naturally fit into the gap left by Olivier Giroud. Bony is similarly well built and effective with his back to goal, and probably a more natural goal-scorer judging by his 25 strikes last season.
3. Danny Welbeck
Wenger is a long-standing admirer of Manchester United's talented young forward, whose pace, skill and imagination would fit well into Arsenal's team. Welbeck has not made himself indispensable to United and does not feature highly in Louis van Gaal's plans, which means Arsenal may be able to convince them to part with him for £16m.
4. Radamel Falcao
The best attainable No 9 in European football, Radamel Falcao has been a target for Real Madrid all summer and Arsenal could beat them to the Monaco player's signature. Although he missed most of the year – and the World Cup finals – with a knee ligament injury, Arsenal could sign the Colombian on loan, though they would not get much change from £20m in that deal.
Register for free to continue reading
Registration is a free and easy way to support our truly independent journalism
By registering, you will also enjoy limited access to Premium articles, exclusive newsletters, commenting, and virtual events with our leading journalists
Already have an account? sign in
Register for free to continue reading
Registration is a free and easy way to support our truly independent journalism
By registering, you will also enjoy limited access to Premium articles, exclusive newsletters, commenting, and virtual events with our leading journalists
Already have an account? sign in
Join our new commenting forum
Join thought-provoking conversations, follow other Independent readers and see their replies