Arsene Wenger ponders move for Celtic's Victor Wanyama to bolster Arsenal midfield
The 21-year-old is more imposing than Arsenal's current options but likely to cost more than £10m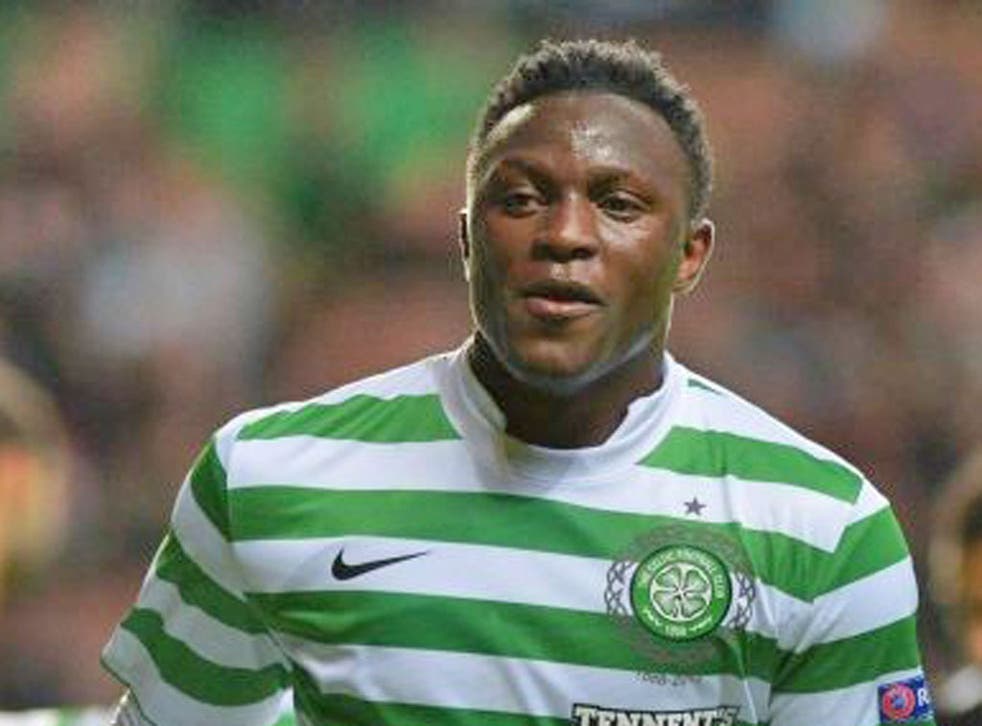 Arsène Wenger is considering making a bid for the Celtic holding midfielder Victor Wanyama in the coming days as he attempts to improve Arsenal's hopes of qualifying for the Champions League.
The Frenchman is concerned by an imbalance in Arsenal's midfield caused by Alex Song's summer sale to Barcelona and is weighing up a bid for a more physically imposing figure than Mikel Arteta, Jack Wilshere or Aaron Ramsey.
Having closely monitored the progress of Wanyama in Celtic's successful progress through the Champions League group stages, Arsenal have made the Kenya international aware that he is a strong option for the position. Though Wanyama's performances have seen his asking price rise above £10m, the 21-year-old's wages are comparatively low and he has refused to extend a contract with Celtic that expires in 2015.
Another option for Wenger is Mohamed Diamé. Although the Senegal international only signed for West Ham United in June, a £3.5m release clause was written into his new contract and the 25-year-old is open to a move across London.
Favourably compared with Patrick Vieira, Wanyama also has the advantage of offering cover at centre-back – another problem area for Wenger. Celtic manager Neil Lennon frequently used the Kenyan in central defence during the player's debut campaign in Scotland. Awarded a regular starting berth in midfield this season, Wanyama has scored seven times in 32 appearances.
Manchester United, who are looking to recruit in central midfield in June, have also scouted Wanyama extensively. He also has admirers among Jose Mourinho's recruitment staff at Real Madrid and is expected to have moved on from Celtic by next season at the latest.
One player Wenger has signed up during this transfer window is Theo Walcott, who has expressed his delight at his contract extension: "I am very pleased that it's sorted. I always said I wanted to stay and I'm happy that we came to an agreement. It has been tough, not just for me but for my family, my partner, they were all getting hit with it every week. I'm pleased it's over."
Walcott now feels Arsenal should show more self-belief. "We need to start realising how good we are," he said. "We showed some great stuff in the second half at Chelsea but it's time we did that from the start. There's a lack of belief as to how good we can be. We've got some very good players. The players don't believe they are good enough at times. But I see them every day in training and they should believe it.
"In the first half we were too slow, sloppy closing down and we've got to show more commitment. As soon as we pressurised them a bit more, pushed up higher [we were better]."
Arsenal play West Ham at home tomorrow night and Walcott admits they must start picking up points if they are to reach Europe. "[Playing in the Champions League] is one of the reasons I decided to stay. I still think we will [make the top four].
"The gap doesn't worry us. We can't worry about Spurs. We hope they do drop points. But we've got to concentrate on ourselves, win games and we've got a big game on Wednesday when we have to pick ourselves up."
Join our new commenting forum
Join thought-provoking conversations, follow other Independent readers and see their replies