Ashley Cole in contract talks to extend his stay at LA Galaxy after snubbing a return to England
Exclusive: The former Chelsea defender has enjoyed life out of the English football limelight during two years in California and wants to extend his stay
Chris Young
Tuesday 17 October 2017 10:22 Comments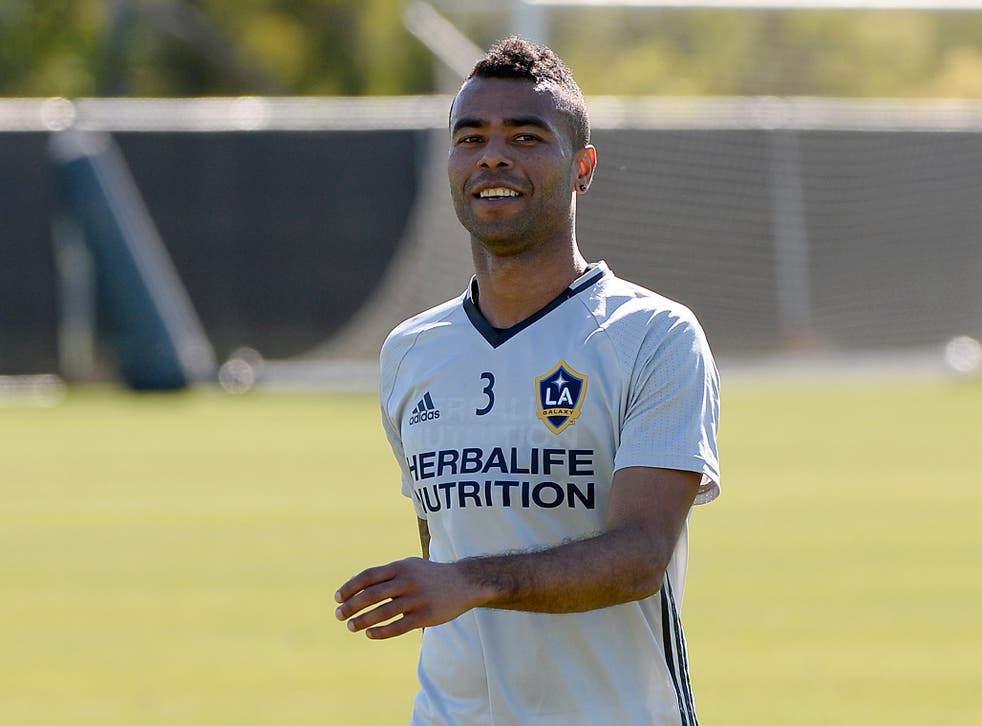 Ashley Cole has confirmed he is in contract talks to extend his stint at LA Galaxy, snubbing a return to England and taking his playing career to the eve of his 38th birthday.
The former Chelsea defender has enjoyed life out of the English football limelight during two years in California, even if Galaxy have endured a miserable campaign on the field and failed to qualify for the end-of-season MLS play-offs.
Cole's Galaxy contract expires after their final game of the season at FC Dallas next weekend and there have been question marks over whether the left-back would hang up his boots and follow in the footsteps of ex-England and MLS team-mate Steven Gerrard by taking a coaching role back in the UK.
But Cole - who will turn 37 in December - wants to stay at the club, if he survives what is expected to be a dramatic close-season overhaul at Galaxy.
"I want to be here. We're speaking. It's in their court with me," he said.
"There's going to be a big change with the club and I think maybe it will happen next season.
"If I'm in those plans, we'll find out. Who knows? I'm 37 so maybe they want to look a little younger."
Galaxy's failure to qualify for the play-offs, coupled by concerns over the impact of new Los Angeles-based MLS franchise LAFC, is expected to see the club bring in a raft of fresh faces over the winter.
After long-term transfer target Zlatan Ibrahimovic penned a new contract at Manchester United, the five-time American champions are still in desperate need of added quality after last year's departures of Gerrard and Robbie Keane.
But Cole has been one of their few consistent players this season and revealed that if he does stay put, then it won't necessarily be the final year of his decorated playing career.
"I don't want to put a number on it," said Cole.
"I'm just disappointed we're losing, but I want to keep going until my legs actually give out. Thankfully they haven't given up just yet.
"My legs feel okay. Maybe the head feels a little bit tired, but I'm enjoying football whether we win or lose. I love the game.
"I only want to stop when my heart for it finishes.
"It's been a terrible season [for Galaxy]. Now we start again next season and hopefully do much better at home to change what we did this season."
Off-the-field, Cole has found himself at home in LA too, alongside girlfriend Sharon Canu and their 18-month-old son Jackson.
He attracts far less attention than some of his Hollywood neighbours and is looking forward to a four-month break from competitive action.
"Yeah [the close season] is long, but hopefully I'll find a few gardens to clean, a few friends to take around the park!" he added.
"I'm happy I get to spend a little bit longer with my son and get ready for next season."
Register for free to continue reading
Registration is a free and easy way to support our truly independent journalism
By registering, you will also enjoy limited access to Premium articles, exclusive newsletters, commenting, and virtual events with our leading journalists
Already have an account? sign in
Join our new commenting forum
Join thought-provoking conversations, follow other Independent readers and see their replies