Aston Villa transfer news: Tim Sherwood tells Christian Benteke to stay - then land Real Madrid deal
'If he scores 30 goals next season then he can go to the best club in the world,' says Villains manager
Kevin Garside Comments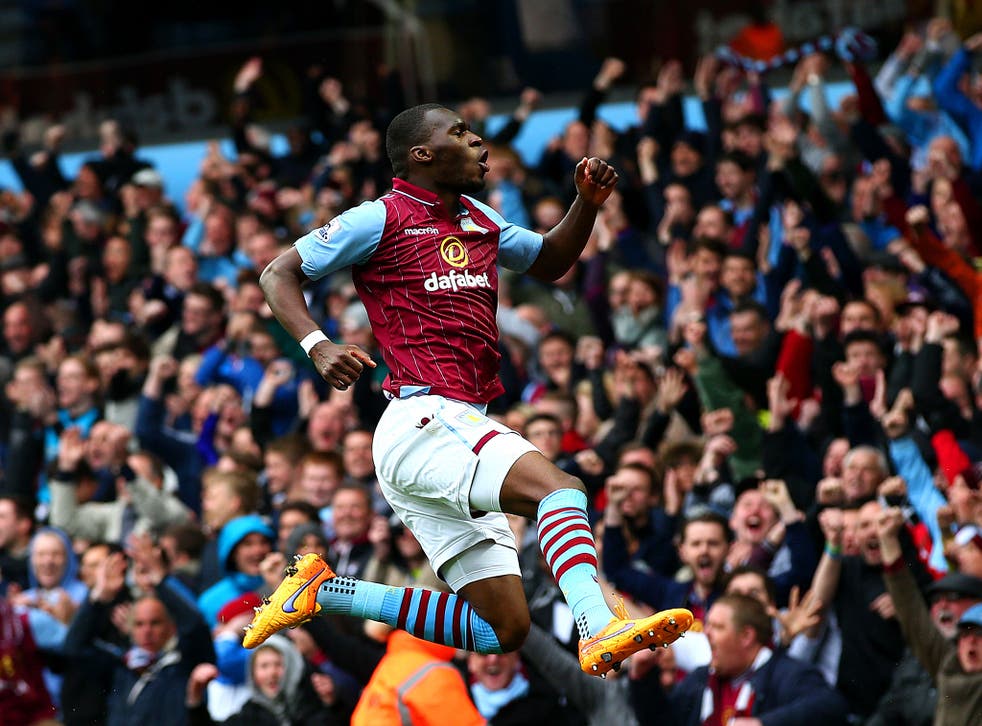 As a motivational ploy, you have to concede the prospect of landing a move to Real Madrid has its merits. That is the carrot Tim Sherwood is dangling before his sought-after striker Christian Benteke ahead of Saturday's FA Cup showpiece against Arsenal.
Forget a move away, son. Stay with us and, after helping us to wallop Arsenal at Wembley, smack another 20 or 30 next season to guarantee your place with Belgium at the European Championship and watch the biggest club in the world come knocking at your door. It's as easy as that. How can Benteke say no?
If Villa are to lift the Cup for the first time in almost 60 years, they will need their big dogs to bite. None has greater potential to take chunks out of the Arsenal defence than Benteke, the subject of interest from Manchester United and Liverpool, to name but two, this summer.
"He has made no indication he wants to leave. I don't think he should be moving clubs before a European Championship. He has a buyout clause. It would be impossible to stop him if they meet that. But the Euros are a huge stage. And playing for Belgium, he will be in a team among the favourites to win it," Sherwood said.
"This is still a huge football club. I can't make the decision for him. It's up to him but I want him to stay. If he scores 30 goals next season then he can go to the best club in the world, [Real Madrid] surely, the kid could be that good."
Sherwood understands the demand and the chance the FA Cup offers his team to gain a leg-up, to attract the right kind of buyer to meet owner Randy Lerner's asking price, and to transform the mood around Villa Park.
"It's a great honour to be taking this club to Wembley but no one remembers who loses," he said. "You have to make sure you win. I never did that as a player. It is a great occasion but only if you win. Victory would galvanise this club. We know we are huge underdogs but every time we have been underdogs and asked them to produce they have, away at Tottenham, Man City, the semi-final against Liverpool and a huge local derby in the FA Cup against West Brom.
"They ticked all the boxes. They can rise to the occasion, they just need to do it one more time. It is a great opportunity to give this club the platform to move on. We shouldn't feel like the poor relations. We are not going to make the numbers up.
"In our dressing room we are going there to win, and that would send a message, it would tell the players they can get across that line and win a major trophy."
It would also be a source of great professional pride were Sherwood to overcome a coach he ranks among the very best.
"Wenger is someone I admire. He never changes the way he plays, as much as people try to tell him he is doing it wrong. For me, he has done a tremendous job. People are entitled to their opinion but I don't feel they should be criticising Arsène Wenger. Criticise Tim Sherwood all you want, but not him."
Register for free to continue reading
Registration is a free and easy way to support our truly independent journalism
By registering, you will also enjoy limited access to Premium articles, exclusive newsletters, commenting, and virtual events with our leading journalists
Already have an account? sign in
Join our new commenting forum
Join thought-provoking conversations, follow other Independent readers and see their replies