Barcelona and Real Madrid to rival Arsenal and Manchester City for Kylian Mbappe this summer
The Monaco youngster dubbed 'the new Thierry Henry' will cost even more than Anthony Martial did two years ago after his brilliant performance at the Etihad Stadium this week
Jack Pitt-Brooke
Thursday 23 February 2017 13:19 Comments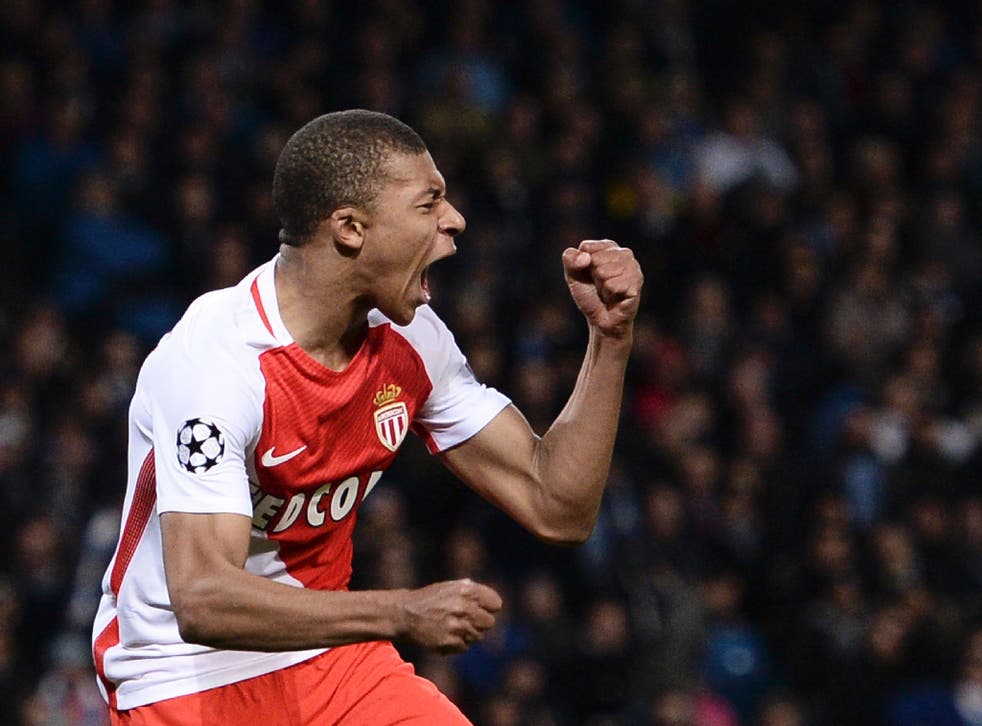 Manchester City and Arsenal will revive their interest in Monaco's Kylian Mbappe this summer, but will face new competition from Barcelona, Real Madrid and Borussia Dortmund in the biggest auction of this summer.
City and Arsenal both tried to sign Mbappe last summer but the teenager opted to stay at Monaco. He has excelled for Leonardo Jardim's side this season, scoring at the Etihad Stadium in Tuesday night's thriller. Now he is on the radar of the biggest clubs in Europe and will be the most sought-after youngster on this summer's market.
The new interest will make Mbappe far more expensive in 2017 than he would have been last year. City were willing to pay at least £40million last summer.
This year, Monaco will demand more money for Mbappe than they got for Anthony Martial from Manchester United in 2015, an initial €50m with another €30m in likely add-ons.
If bidding starts at €60m, without add-ons, the weakness of the pound makes that an initial £50m. The whole fee with add-ons would be expected to reach €90m or £75m.
Mbappe has been highly followed by Europe's top clubs for years. He had a trial at Chelsea when he was 11 years old. When he was 14, in December 2012, he spent a week at Real Madrid, organised by Zinedine Zidane, before deciding to stay in France, playing for AS Bondy, the local team in the eastern suburb of Paris where he grew up.
Monaco eventually beat all the competition to sign Mbappe in 2013 and he has been the latest brilliant youngster to emerge from their academy and into Jardim's first team.
Wenger last month compared Mbappe to Thierry Henry, who he coached as a teenager at Monaco in the 1990s before signing for Arsenal. Mbappe has broken Henry's records to be both Monaco's youngest ever debutant and youngest ever goal-scorer.
"Mbappe has similarities to Thierry Henry," Wenger said. "He has a huge talent."
Register for free to continue reading
Registration is a free and easy way to support our truly independent journalism
By registering, you will also enjoy limited access to Premium articles, exclusive newsletters, commenting, and virtual events with our leading journalists
Already have an account? sign in
Join our new commenting forum
Join thought-provoking conversations, follow other Independent readers and see their replies