Maurizio Sarri agreed against signing more than one player from Napoli on departure from Italian club
Aurelio De Laurentiis, Napoli's president, has revealed his former manager was only allowed to take one player with him to Chelsea to avoid dismantling the Serie A club's squad
Samuel Lovett
Tuesday 31 July 2018 13:18 Comments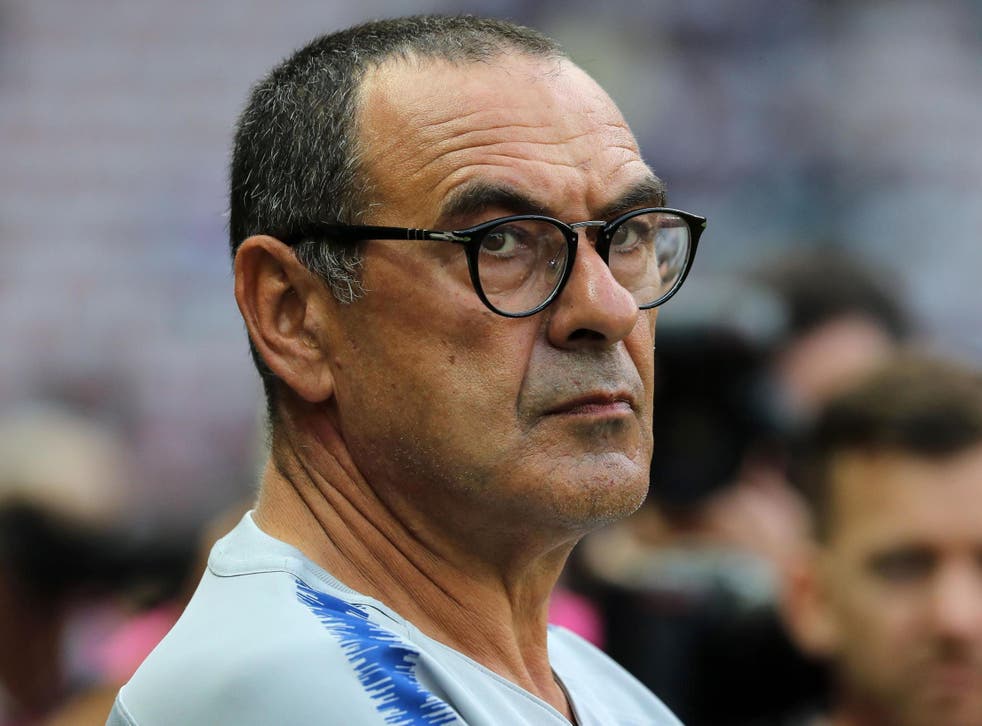 Maurizio Sarri signed a contract agreeing not to buy any Napoli players, excluding Jorginho, on his departure from the Serie A club.
Sarri was confirmed as Chelsea's manager earlier this month after two seasons in Naples during which the Italian club came close to ending their 28-year Scudetto draught.
Despite eventually leaving Italy empty-handed, Sarri received wide recognition for his style of football and managerial approach, drawing notable praise from Pep Guardiola.
Upon his arrival at Chelsea, Sarri moved quickly to bring former player Jorginho to Stamford Bridge. But Aurelio De Laurentiis, Napoli's president, has revealed his former manager was only allowed to take one player with him to avoid dismantling the Serie A club's squad.
"I only let him go once he had signed a contract which stated he would not be allowed to sign any of our players – apart from Jorginho," De Laurentiis said.
"There was a huge battle to take more of our players but they didn't manage it."
De Laurentiis also warned Chelsea against Sarri's stubborn nature, revealing that the Italian rarely rotated his Napoli team at the detriment to the side's domestic and European campaigns.
"Yes. [he is a genius], but he's also very set in his ways," he said. "He would only use the same 11-13 players and it's impossible to compete in two competition when you do that.
"A real, bona fide coach has to win things – not just entertain."
Register for free to continue reading
Registration is a free and easy way to support our truly independent journalism
By registering, you will also enjoy limited access to Premium articles, exclusive newsletters, commenting, and virtual events with our leading journalists
Already have an account? sign in
Join our new commenting forum
Join thought-provoking conversations, follow other Independent readers and see their replies